Ko-fi doesn't handle any money that is sent. The payment is made from your supporter, directly to your PayPal, wholly through the PayPal platform.

You can check the status of your payments from the Received & Given menu. Payments can go into a 'Pending' state in PayPal and if so you will see a 'Pending' status for those transactions. (Here's a description of all the statuses directly from PayPal)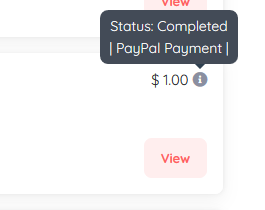 There are many reasons which could cause a Pending status. Sometimes it's when one of the PayPal accounts are new, it will take a few days to complete. When PayPal completes the payment, the support and message will show up in Ko-fi. Other common reasons include:
Common Reason 1: Payment is 'Pending' because email needs confirming on the PayPal website.
If your payment is in Pending, the first thing to do is log into your PayPal account and check to see if there are any messages. Sometimes you will need to confirm your account or email address before PayPal will complete the transaction.
PayPal provides the following instructions for confirming your email address:
"Here's how to confirm your email address on the PayPal Website.
Click Profile next to "Log out" and select Profile and settings.
In the email section click the Confirm this email link under your unconfirmed email address.

We'll send you a confirmation email.

In the email we send you, click the Confirm your email button to complete the confirmation process.
You will automatically return to the PayPal site where you will be asked to enter your password and the confirmation process will be complete."
Common Reason 2: Payment is 'Pending' because the wrong email was given.
If the above didn't work. One thing to double-check is if the PayPal email address you entered in Ko-fi Payment Settings is correct and exactly the same as the email address associated with your PayPal account.

If it's incorrect, PayPal will normally keep trying for 30 days after which, the payment will be returned to the sender.

If you used an email address that you own, but it isn't yet associated with your PayPal account, you can still associate it with your PayPal account as a secondary email address. If this is done within 30 days, often this will be enough to receive the funds.
Common Reason 3: Something else needs verifying with PayPal, such as the linked bank account. Check your account on the PayPal website for any alerts or limitations. If no issues are showing then please visit the PayPal help centre and ask if there are any issues with your account.