Ko-fi Gold gives you extra perks to help you personalize your Ko-fi page, receive more donations and build monthly subscriber income.
Take Commissions
Offer Subscriptions
Set your price
Change coffee to... anything
Shorter Ko-fi name
More social links
Better quality images with downloads
Ability to link Google Analytics
Preview new features
Find out more about Ko-fi Gold.
Personalizing Your Page
Already signed up for Ko-fi Gold? Head over to Gold Settings to update your page.

You can change coffee to anything you like (SFW only please).
Update your unit price to anything from 1 - 10. Remember you can change your currency in Payment Settings and PayPal still take their transaction fee.
Enable recurring payments by ticking the box, but be sure to use a PayPal business account if you would like to use this feature.
Change your Ko-fi handle to a shorter, 5 character name and click set to update it. Don't worry, your old handle will still work.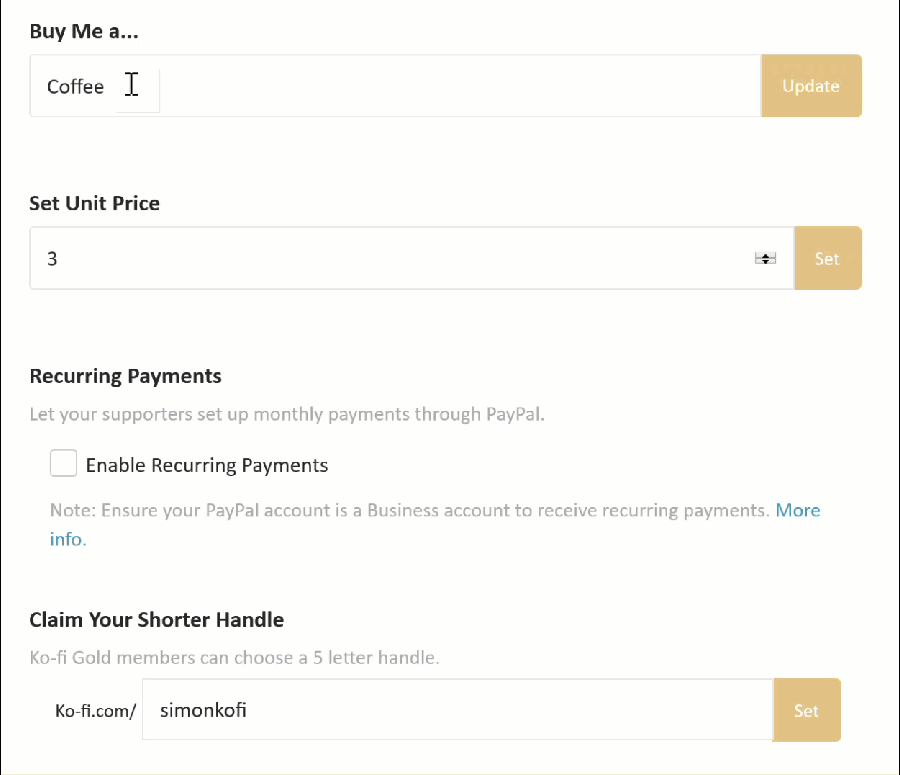 Add Social Profiles
Ko-fi Gold allows you to link your audience to everywhere you create. Add social links to your profile and they will appear as clickable links on your page.