Making my message private on Ko-fi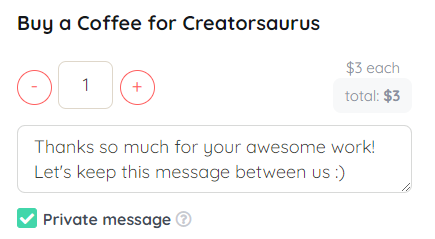 When buying a Ko-fi for a creator, you can make your message private by ticking the Private message box. By ticking the Private message box the message will only be shared between yourself and the creator. If unticked, the message will appear on the creator's Ko-fi page feed.
Real name and Email privacy
Ko-fi does not process payments on Ko-fi, they are made directly to the creator via PayPal or Stripe. Our payment partners may still display the name of the account holder (personal name or business name) and the email address of the account holder to the creator directly within their PayPal or Stripe dashboard.
Upgrading a personal PayPal account for free to a business PayPal account for free lets you choose the name displayed on transactions.