Ko-fi doesn't take a cut of your donations ($2m+ each month is earned with 0% fees from us) and we don't show ads on your page either. Subscribing to Ko-fi Gold helps us run the service and unlocks all Ko-fi features, removes all platform fees for premium features and gives you new ways to personalize your Ko-fi page.
Ko-fi Gold Creators Earn 3.4x More
We analyzed over 80,000 pages comparing what our Ko-fi Gold creators earned compared to free pages. The results showed Ko-fi Gold creators earned on average 3.4x more than Ko-fi free members.
10 Ko-fi Gold Features
Offer subscriptions & supporter-only content with 0% fees
Sell products in your Ko-fi Shop with 0% fees
Take commissions and sell services with 0% fees
Change the "coffee" metaphor to... anything you like
Claim a shorter Ko-fi username (3 letters and up)
Better quality gallery images with download option
Choose a color for your page
Link your page to Google Analytics
Premium, direct support from Ko-fi experts
Preview new features first
You'll also get a Gold badge on your page to publicly show you're supporting the creative community and helping us make Ko-fi better for everyone!
Subscriptions & Supporter-Only Content (0% Platform Fees)
- Patreon alternative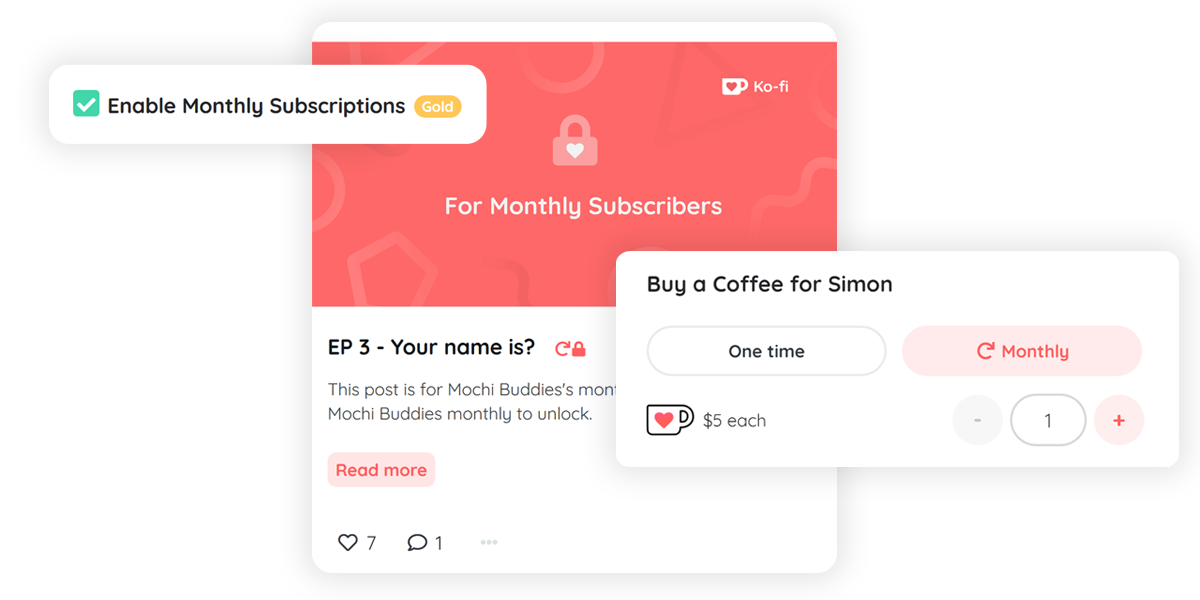 Create a more meaningful income by allowing supporters to set up a regular monthly payment directly to you with 0% platform fees. Give fans a reason to support you by offering unlockable rewards like images, videos, audio clips, or files in return for their support.
Learn more about subscriptions and supporter-only content
Ko-fi Shop (0% Platform Fees)
- Shopify, Etsy alternative
Sell digital or physical products directly from your Ko-fi page with just a link. It only takes 60 seconds to launch your Ko-fi Shop and start selling your products. It's everything you need (file hosting, pay what you want pricing, shipping calculations) without all the hassle or fees of e-commerce software. Plus it links to supporter rewards to give customers extra benefits!
Gold Perks for Shop
0% platform fee on sales
More products (free members are limited to 20),
Let customers unlock supporter-only content if they spend over a certain amount,
20GB File storage (1GB for free members),
500MB per file (100MB for free members)
Learn more about Ko-fi Shop
Commissions (0% Platform Fees)
- Trello, google forms alternative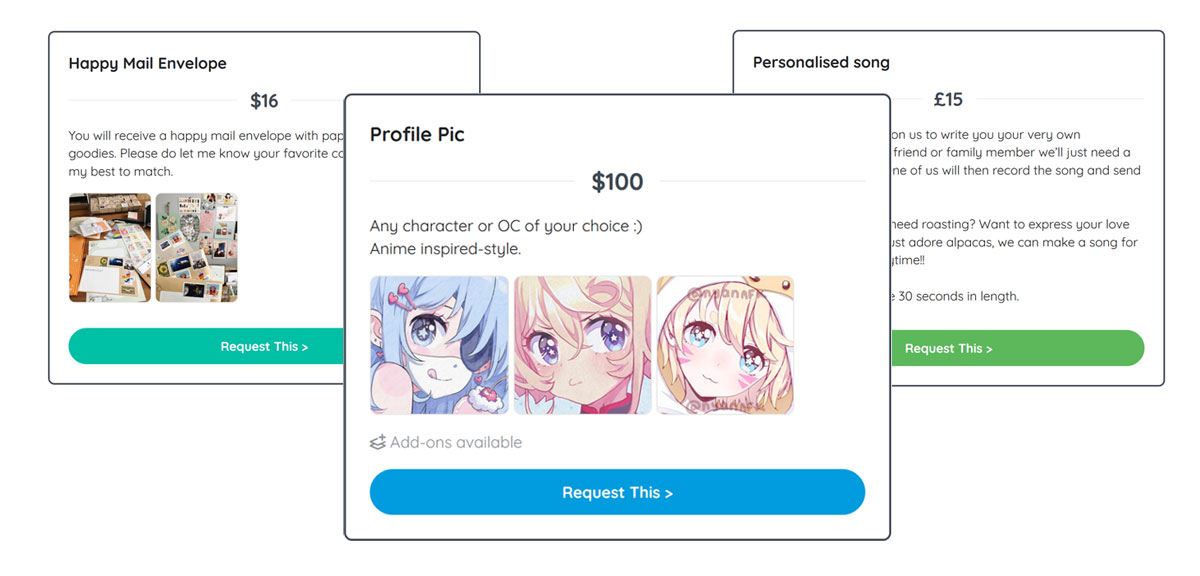 momolovespaper nyanafk The Noise Next Door
Ko-fi Commissions is a super-easy way to sell a service or custom project to your audience from your Ko-fi page. Set up a menu of services like a custom art request, poem, tutorial, or 1:1 interaction like a video call. Offer add-ons and set your own terms. Get paid instantly, directly, and up-front from your commission buyers directly into your PayPal or Stripe account with 0% platform fees.
Learn more about Ko-fi Commissions & Services
Personalize Your Page With Ko-fi Gold
Creators often say how much nicer it is to ask for a coffee rather than just "a donation". If coffee isn't your thing or if there's something more relevant to what you create you can change the metaphor to something more personal to you.
Shorter usernames are another exclusive perk of Ko-fi Gold. Make your page easier to say, type, and remember with a shorter 3 letter+ username.
Start using your Ko-fi Gallery as a portfolio to showcase your work. With Ko-fi Gold your images will be displayed at a higher resolution and you can also allow supporters to download hi-res versions (a really quick and easy supporter reward).
Try Ko-fi Gold (cancel anytime) and supercharge your Ko-fi earnings!