Welcome to Ko-fi! We can't wait to get you earning, let's get started.
The most important thing you can do is to share your page with your fans. We've seen lots of creators share their page and start receiving donations within just a few minutes of joining!
Tip
If you skipped any of the onboarding steps like adding a profile pic or writing your bio text, you can edit it at any time from Settings.
Connect a payment method
To earn money on Ko-fi the first thing you need to do is connect a payment method. That's because on Ko-fi supporters pay you, not us. We think it keeps things simple and means you keep more of your money.
Head to Settings > Payment and choose PayPal, Stripe or both and follow the steps to connect.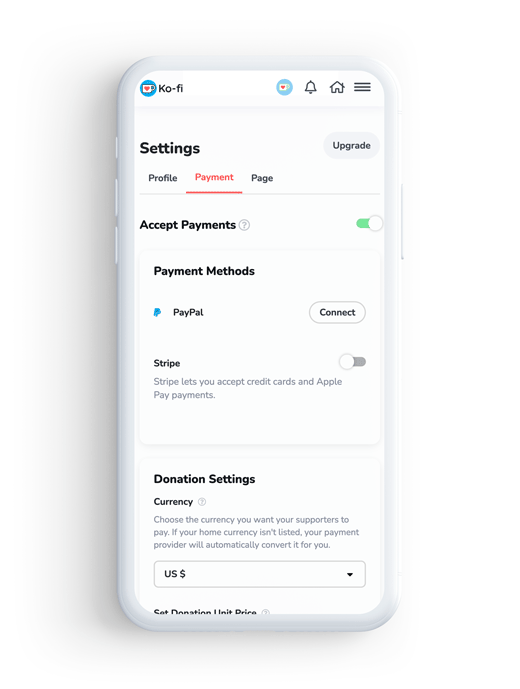 Note
PayPal will also show local payment options for relevant supporters (like Venmo in the US). Connecting to Stripe also let's you offer Apple Pay and Google Pay. Neat eh!
While you're in Payment settings, you can pick your currency (don't worry if your specific currency isn't available you can still receive payments). From here you can also change the "coffee" metaphor and add a short thank you message.
Set up your basic page
Switch over to the Profile tab to add links to your social profiles and then head to the Page tab to pick a custom color.
When viewing Your Page you can upload a cover image, add a goal or an intro video (only if you already have one).
Looking for some inspiration? Here are a few pages to take a peek at:
🎨 Artists: Mochi Buddies, Tofu, Chris Sale
🦸‍♀️ Cosplayers: Lizard Leigh, Black Bettie, Vicious Frockery
✍️ Writers: Lou Yardley, Latoya Shauntay Snell, Shannon Ashley
🎙️ Podcasters: Long Cat Media, Squawking Dead, On Second Watch
💻 Developers: Cyber Barbie, Jenny, Justinpinkney
📺 Streamers: Eric Campbell, Shenanjegans, BobDuckNWeave
▶️ Video Creators: The Girl With The Pilates Mat, Tara, Frank James
🎵 Musicians: Victoria Banks, Kutski, Open Collab
Tip
The most successful creators keep things simple, don't overthink it. Just add the basics and you're good to go.
Add your page to your socials and tell your fans
Make sure your fans can find your page by adding to all of your social profiles and your link-in-bio.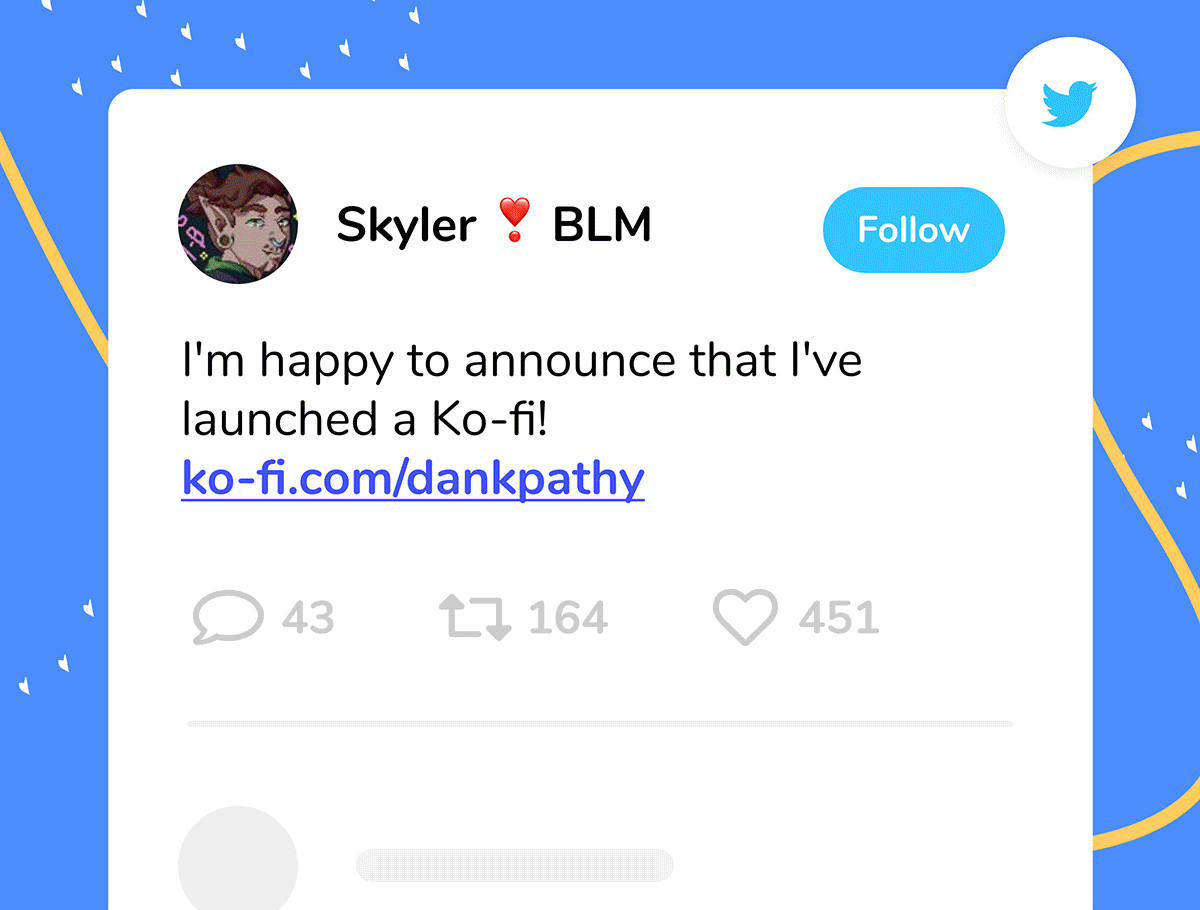 Then let everyone know you're on Ko-fi! Most creators keep it low-key at first. A common launch post goes something like:
"If you'd like to support my <thing you do>, you can leave a tip/donation over at Ko-fi.com/<yourpage>"
Share your page regularly
Since only a small percentage of your followers see each post, it's really important to share your page regularly. Don't worry, there's loads of creative ways to keep things fresh.
Add and share a Goal (just go to Your Page and choose Add Goal). It lets your supporters know what they'll be contributing to and we've noticed pages with a Goal earn on average 2x more!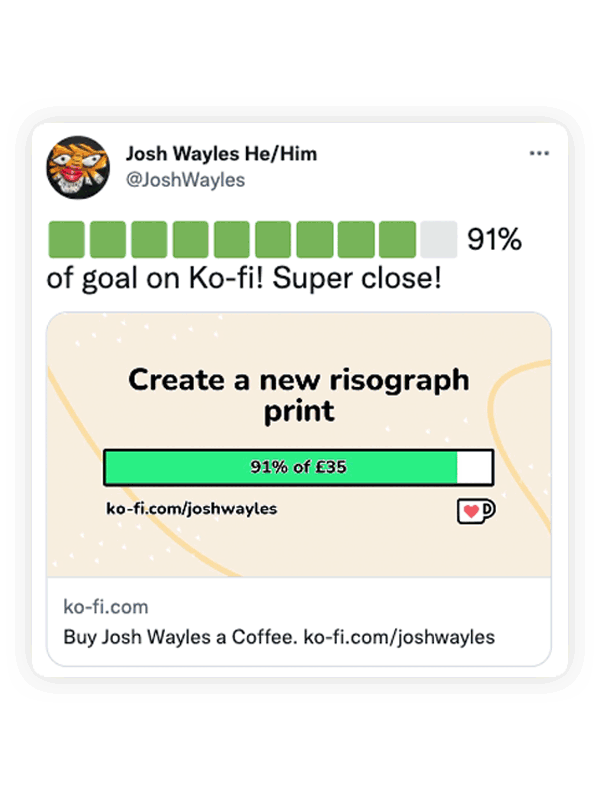 When you share your Goal you'll get a custom preview image and if you share on Twitter there's even a fun emoji progress bar.
Here's a few more ideas:
Share an intro post like Wildcard Wanderer
Add and share some of your latest work from your gallery
Post your milestones and progress updates
Make your Ko-fi page your call to action at the end of each new video, thread or post you share online
Celebrate your top supporter leaderboard and thank you messages
Beyond donations: The new home for your biggest supporters!
You can do so much more on Ko-fi than just earn money from donations.
Isn't it better for your biggest supporters to have just one friendly place to go to support you? Some creators describe Ko-fi as their 'digital home' ❤️. The most popular ways to grow your income are:
Streaming – connect to Twitch or YouTube and earn while you stream for just 0-5% platform fees. Receive stream alerts, add your goal overlay and get payment messages in chat. Set up Stream Alerts
Building a Membership – create membership tiers and offer rewards like Discord roles and exclusive content to build a reliable monthly income. Add Membership Tiers
Selling products – open a Ko-fi Shop and sell digital or physical items. No listing fees and start selling with just your Ko-fi link. Open Your Ko-fi Shop
Taking Commissions – let supporters request original work or services from you like 1-to-1 tutorials, custom artwork or even songs. Manage slots, add-ons and get paid on your terms. Offer Commissions
Congratulations! You've made an amazing step towards making an income from your passions! Why not join the Ko-fi Discord community or tag @kofi_button on socials to celebrate 🎉