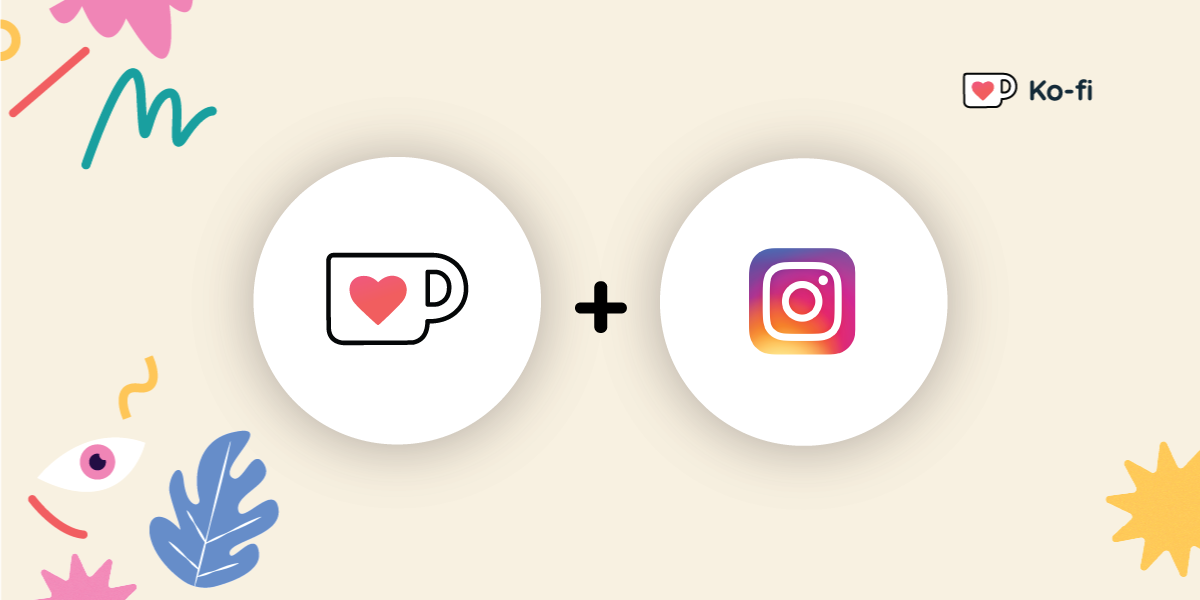 If you use Instagram there are so many ways you can use Ko-fi to help make an income from your work. Here are some ideas and how-to's to get you started.
Link in Bio!
Add your page link to your Instagram bio or to your directory site (like Linktr.ee or Carrd.co).
Share Your Ko-fi on Your Instagram Feed
Sharing your Ko-fi content on your Instagram feed is one of the easiest ways to promote your page!
Let your fans know you have a Ko-fi and what their support means to you.




Share your Commissions menu, Ko-fi Shop items and Membership Tiers.

Share your Ko-fi rewards and exclusive posts like behind-the-scenes content.

Let your fans know they can get early access to your content.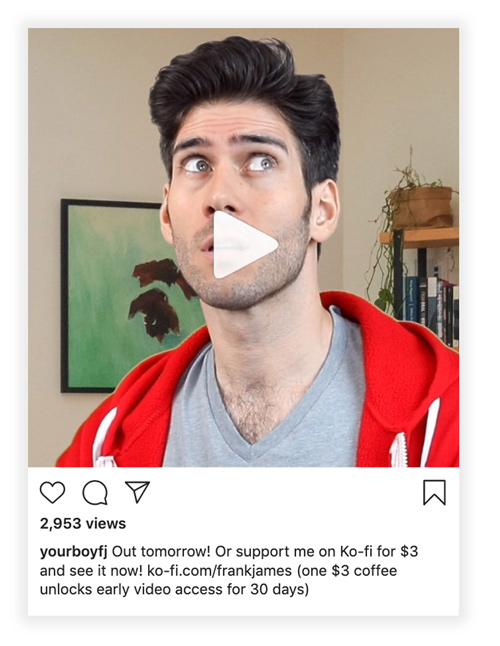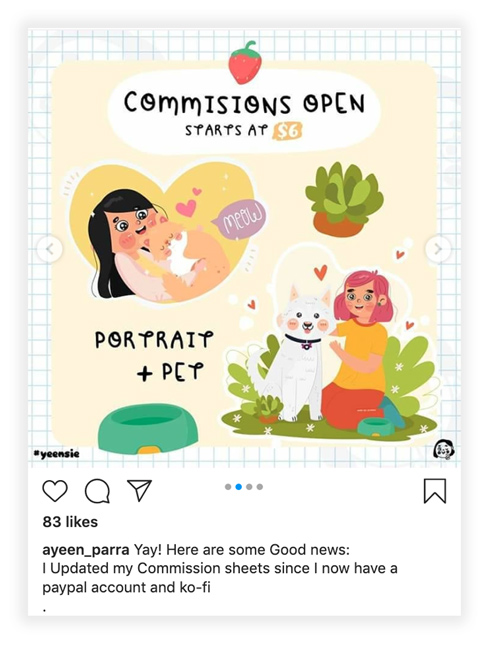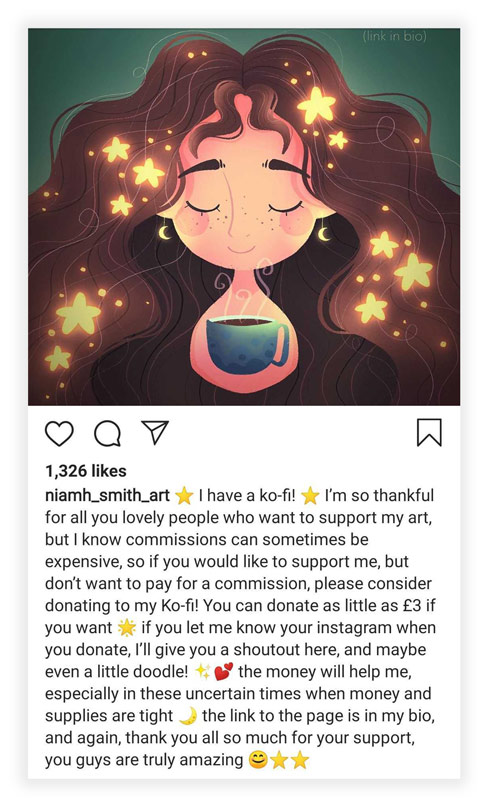 @yourboyfj @ayeen_parra @niamh_smith_art
Share Your Ko-fi on Your Instagram Stories
Use Instagram Stories to engage your followers with updates and get them involved in your Ko-fi journey!
Ask your fans questions and polls to help you decide what content to share next on Ko-fi.

Add Ko-fi

Giphy stickers

to your Instagram stories.

Share examples from your commissions menu.

Add Ko-fi supporters to your close friends list and reward them with exclusive stories.

Tell fans about your crowdfunding goal and what their support will contribute towards.

Share your latest posts, gallery uploads, Ko-fi Shop items, and Membership Tiers!

Shout out supporters who have donated.

Add your Page URL using the link sticker

in your Stories.
💡 Tip: Create a Ko-fi Instagram Stories highlight to keep all of your Ko-fi content in one place and keep them for longer than 24 hours.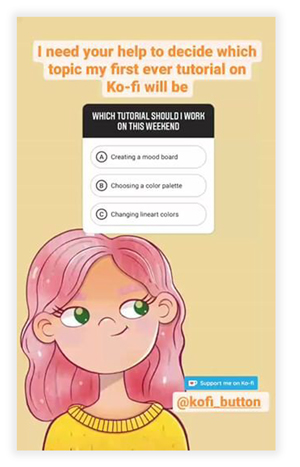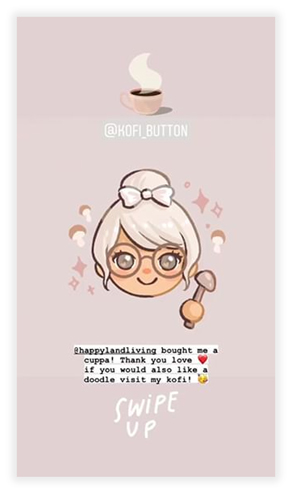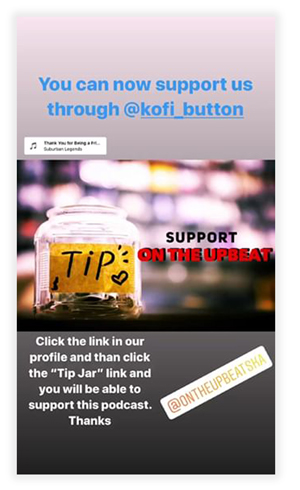 @moonmuffinart @SUNNY_ACNH @ontheupbeatska
Selling Products & Services on Instagram With Ko-fi
Promote your digital and physical Ko-fi Shop products and Commissions on Instagram!
Use Ko-fi as your one-stop shop for selling products and services with Ko-fi Shop and Ko-fi Commissions. Promote your merch, prints, one-to-one services, custom pieces, and much more through posts and reels on Instagram.
Sharing Ko-fi in an Instagram Live
Chat to your fans about your Ko-fi Page on Instagram Live!

💡 Tip: Share a replay of your live video by tapping 'Share' at the bottom of the screen to repurpose your Live as an Instagram Video.
How to Share Your Instagram Videos on Ko-fi
You can share your Instagram Videos and Reels as Ko-fi video posts. It's a super quick way to keep fans on your page and encourage donations.
Upload your video to Instagram and choose 'Post' for videos up to 60 minutes or select 'Reels' for short and entertaining videos (usually to trending audio) that's up to 60 seconds.
Click the 3 little dots (...) on the top right corner and select 'Copy link'.

Login to Ko-fi, go to your page, and add a

Video Post.

Paste your Instagram video link into the

Url

field.

Add a title and description for the post.

Click Preview Post.

Share the link to your post wherever you're active.

We'll also send your followers a message to let them know you've added a new post.
Follow and Tag Kofi_button
Follow @kofi_button and tag us when you share. We love to see the amazing work of the Ko-fi community on Instagram.