Ko-fi Memberships and Membership Tiers
Ko-fi Memberships lets fans support you monthly at different price points (tiers). Each Membership tier can offer supporters unique benefits like Discord roles, exclusive content or physical rewards.
Activating Memberships
Navigate to Memberships from the menu and set Membership Mode to "Membership tiers".

Note: The "Simple monthly donations" option will let supporters make a recurring monthly donation directly from the donation panel without joining a membership tier.
Adding a Tier
Click Add Tier and choose a

Name

and a

Price per Month

. Your price is the minimum price, but Members can choose to pay more if they want to.

Note: New members are billed (and you get paid) immediately when they join the Tier and each calendar month thereafter on the same date they first paid you. It's not currently possible to offer free Tiers or multiple Tiers at the same price.


Add

Benefits

to the Membership tier to reward supporters for becoming a member. You can create your own, or choose from the list of ideas.





Add a

Description

and

tier Image.

Use the Description to introduce your tier and mention anything you want members to know about how they access benefits.

Set a

Welcome Message

that new members will see immediately when their first payment has completed. We will email this to them too.

Note: You can use it to just say thanks or you could even use it to deliver your rewards by including links or codes.

Request Supporter's Address

if you plan on offering physical rewards like merch.

You can

Limit the number of people who can join

if benefits include one-to-one access or other limited-availability rewards like physical items.

Enable the Tier

so it shows on your page.
Tip: You can preview how an individual tier looks by clicking this

icon or just go to your page and choose the Memberships tab.
How to Accept Payment
To use Ko-fi Memberships you need to be connected to a payment provider. You can connect directly from Ko-fi Membership settings or Settings > Payment.
Note: You can use Stripe or PayPal as your payment provider, PayPal Business is not a requirement to use Membership tiers.
How to Default the Donation Panel to Memberships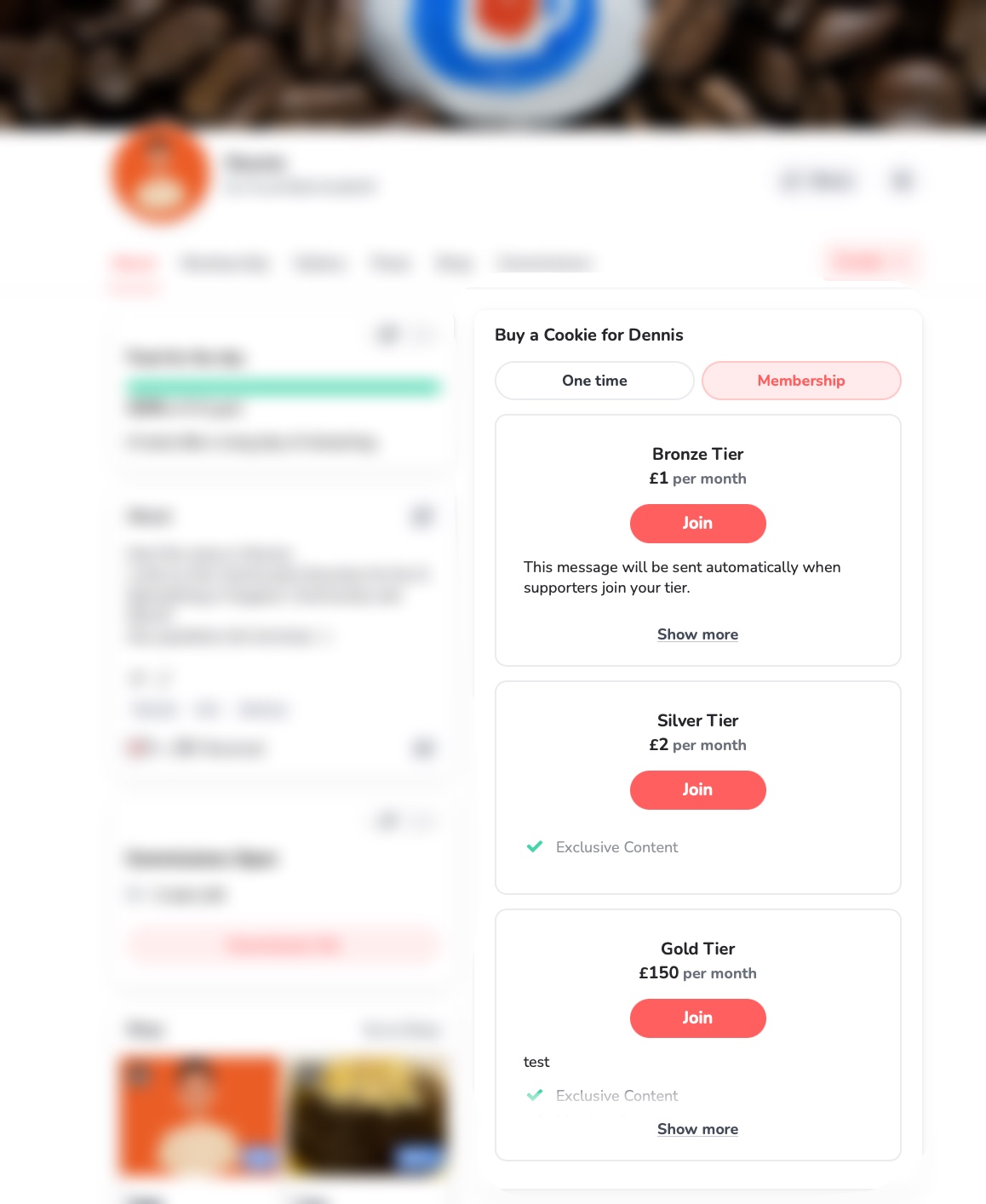 When a supporter visits your page, the Membership option in the payment panel will already be selected and your Tiers will be right there ready to join.
Default to the Membership option through from your Payment tab.

Note: If you are using the Donation Widget on an external site or blog, one time support will always be the default.

What are the fees for using Memberships?
Memberships is available to both Gold and Free creators
5% platform fee for free members.
0% platform fee for Ko-fi Gold members.
Standard transaction fees from PayPal and Stripe also apply.
Note: when you switch on/off contributor or Gold status we aren't able to update the fees we charge on memberships taken using the Stripe payment method.
You'll keep paying the 5% platform fee on all memberships taken prior to switching to Gold and turning off contributor status.
That also means if you cancel your Ko-fi Gold subscription we won't start charging you the 5% platform fee on any memberships taken on Stripe while you were subscribed to Ko-fi Gold.
Frequently Asked Questions
What are the fees for using Memberships?
Memberships is available to both Gold and Free creators
5% platform fee for free members.
0% platform fee for Ko-fi Gold members.
Standard transaction fees from PayPal and Stripe also apply.
When will I get paid?
When someone becomes a member, they pay you directly so you get the money instantly in your PayPal or Stripe account the moment they sign up. No minimum balances, no waiting for payout days. Memberships renew monthly on (or very close to) the day of the month the member first paid you.
What benefits can I offer Members?
We've noticed some of these popular categories:
Exclusive content

- like unreleased or back-catalogue content.

Early Access

- to YouTube videos, podcast episodes, chapters or photoshoots.

Behind the Scenes

- access to videos, pics, tutorials or even sketchbook access.

Access and Input

- exclusive AMA's, 1-2-1 lessons, polls or discord roles.

Member recognition

- like social shoutouts, name in credits or fan signs.
Just make sure your rewards are your own work and don't breach Ko-fi's content policy.
Can I offer Discord Roles to Members?
Yes absolutely, add Discord Access as a Membership benefit then once your tiers are set up head over to the Discord settings screen, connect your Discord Server and you will be able to select roles for each of your tiers.
How do I create content just for a specific Tier or above?

After you have created your tiers, every post (Image, Blog, Video or Audio) will have an audience drop-down that includes your tier names. Simply pick the minimum tier you want to make the content available to. Members of the selected tier or any tiers above will have access to that Post.
When will Members get charged?
Members get charged immediately when they become a member and then every calendar month until cancelled.
Renewals happen on the same day each month e.g. if a new member signs up on 10th of October, they will be charged again (and you will receive the payment) on (or very close to) the 10th of November.
If the renewal payment does not succeed we automatically retry a number of times.

What Happens When A Member's Payment Is Overdue?

An "Overdue" status means that a member's recurring payment has failed. When a Member's payment is overdue, the Member will be sent an email informing them of the failed recharge and an "Overdue" status will also appear on their subscription page.
The most likely reasons for an overdue payment are that the member's card has expired, they did not have enough funds on their account or their bank may have stopped their recurring payment. Your Member will still have access to your content up until their current subscription period.

For example, if a member's subscription started on the 5th January, after 31 days or around the 5th of February, the member will not be able to access any exclusive content until they are successfully recharged.

We will retry the payment a few more times, after multiple failed attempts, your member will be removed from your Tier.

Your member will not lose their Discord role whist we retry the payment. They will only lose their role after they are removed from your Tier.

You can reach out to your members and refer them to the Supporter FAQ, which covers the ways a Member can resolve an "Overdue" status.

Can I track and download information about my Members?
Memberships and monthly donations both count as Subscriptions. You can see a breakdown of your subscriptions in your Memberships tab and Payment History. You can download information about your members from both of these places and your dashboard shows a live total of your subscribers too.

Can I offer Memberships without rewards?
Yes, rewards are optional, but recommended in most cases.

Do Membership payments count towards my Goal?
Yes, both membership payments and recurring monthly donations count towards your Goal.
How do Members upgrade, downgrade or cancel their Membership?
Members can decide to upgrade or downgrade their membership at any time. Members can cancel or update the amount they pay by logging into Ko-fi and visiting More > Account & Billing and heading to Subscriptions.
How does VAT or Sales Tax work?
Depending upon the tax rules of your territory you may need to charge VAT or GST in certain locations or for offering specific rewards. You can manage the locations and rates in the Sales Tax menu. We advise consulting a tax specialist to determine if/where taxes should be collected and remitted.

What happens to my existing monthly Subscribers?
If you have existing subscribers who are donating monthly, they will continue to be charged until you or they cancel their subscription. They will also still be able to get access to any content you previously published with an Audience of "All Monthly Supporters".
Monthly supporters will not automatically become a member of a tier even if you create a tier for the same price. You can upgrade monthly subscribers to your Membership Tiers following the steps in this article.
What if I want to change the price of a Membership Tier?
Changing a tier's price only affects new members. Existing members will continue to pay the same rate.
To update existing member prices:
For Stripe memberships, adjust the subscription amounts by logging in to Stripe.
For PayPal memberships, you or the supporter will need to cancel the current subscription and rejoin at the new price.
We suggest notifying all members before increasing a tier's price.
Will Members gain access to all previously posted content when they join a Tier?
Yes, Members will gain access to all previous content available in their Tier. Not just from the point that they join your tier.
How do I turn off Memberships?
Just switch Membership Mode to "Off" from the Membership setup page and no new members will be able to join. Existing members will remain actively subscribed until they cancel their membership.