What Fee Does Ko-fi Take From Donations?
Unlike almost every other platform Ko-fi takes a 0% cut of donations. Your payment goes directly to the creator's PayPal or Stripe account (who take their normal fee for processing payments)
When Will The Creator Receive My Money?
The funds are transferred to the Creator immediately, with no waiting for payout dates or minimum balances.
Can I Make My Donation Message Private?
Yes, choose 'Make message private' and only the creator will see the message you write (if you choose to leave a message). The feed will just look like this. Learn more about the information that's shared when you donate.
Can I Make My Public Message Private?
Yes, if you've left a public message and want to make it private you can hide the message in the creator's feed. (The creator will still see this message, it just will not be displayed publicly.)
Locate your message on the creator's feed, and click on the three dots to "Make Message Private".

Note: If you chose the "Private Message" option when supporting the creator, it is not possible to make that message public.
Can I Pay in Any Currency?
Creators can decide which currency they will accept payments in. When you make a payment, it will be converted to the currency that the Creator has chosen. Keep in mind that the exchange rate may be different and there may be charges, so make sure to verify this with your card issuer.
If you pay using PayPal, you may be asked if you want to use the conversion rate offered by PayPal or the one from your card issuer (the card registered with PayPal).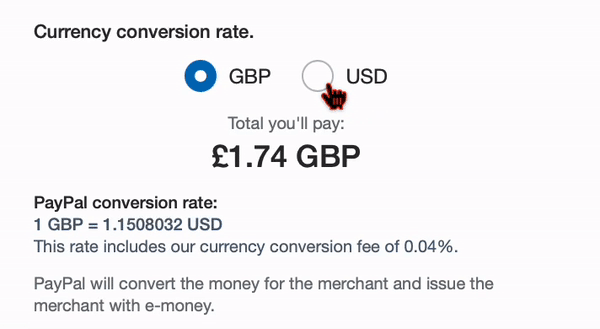 I Can't See Paypal/Stripe as an Option?
Creators can accept payments using PayPal and Stripe, but it's up to the Creator to decide which payment methods to offer. They can choose to receive donations through just Paypal or Stripe, or both!
My Payment Is Overdue - What Should I Do?

An overdue payment means that a recurring payment has failed. Ko-fi will automatically retry the payment again within 3 working days. When the recurring payment fails, you will still have access to the creator's content up until your paid subscription term ends. After this period, you will not be able to access any content.
An overdue payment can most likely mean that either your card has expired, you do not have enough funds in your account or your bank may have stopped your recurring payment.
Do check your payment account to ensure you have sufficient funds or action any notices on your bank account.
If your card has expired, you can update this by clicking the three dots and "Update Card".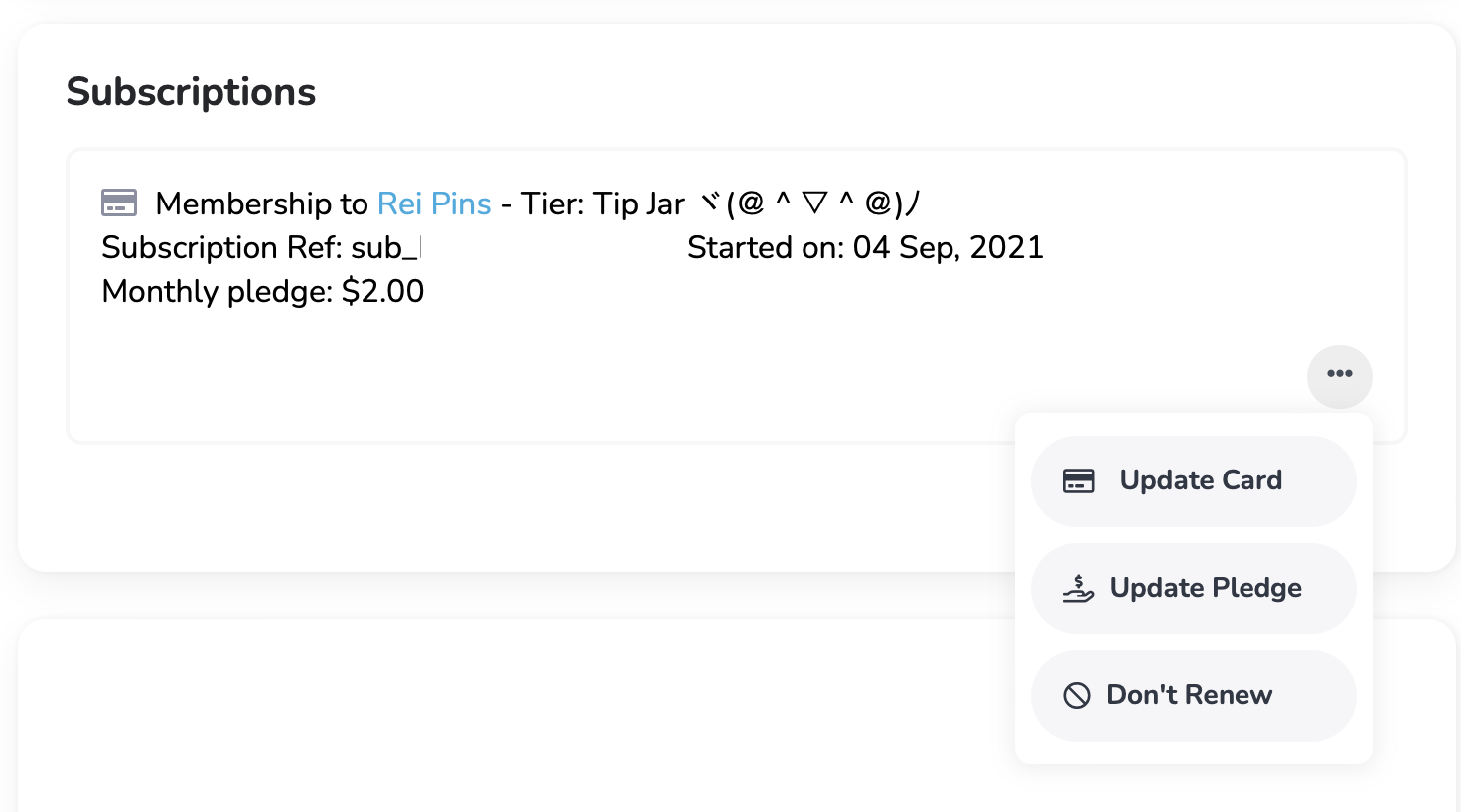 If you are still having problems, please do get in touch.
My Payment Won't Go Through
If you are seeing an error message or are unable to complete a payment consider trying another payment method or an alternative browser/ device.
Your bank or payment provider could also be blocking the payment. You may need to contact them to verify the transaction is genuine.
*Note: On Ko-fi, you are paying the Creator directly and therefore payment issues may be related to the Creator's payment method or your own.
If you are still having problems, please do get in touch.
*Note: Pre-paid cards will likely be declined when attempting to join a membership or make a recurring donation.
I Have Been Charged Twice for a Payment
Occasionally, a bank will display a Ko-fi payment twice, usually, one of these transactions is a pending payment and disappears within a few days. You can verify the status of these payments with your bank, if the charge stays in your account after 5 working days, please do get in touch.
Can I Get a Refund for My Donation?
Because Ko-fi does not process the payments or take a cut of donations Ko-fi can't provide refunds. To request a refund for any reason please contact the Creator or the payment processor you used to support the Creator (PayPal or Stripe).
Someone Used My Card or PayPal Account Without My Permission. How Do I Report it?
You can dispute payments directly with PayPal either from the email you received from PayPal or directly from your PayPal account. If the payment was made directly from your bank (not via PayPal) Most banks also offer you the feature to dispute a specific transaction.
Ko-fi is not part of the transactions between creators and supporters so we cannot offer refunds or manage disputes.
Having another problem? No worries, just get in touch, and we will help as much as we can.