What Fee Does Ko-fi Take From Donations?
Unlike almost every other platform Ko-fi takes 0% cut of donations. Your payment goes directly to the creator's PayPal or Stripe account (who take their normal fee for processing payments)
When Will The Creator Receive My Money?
The funds are transferred to the Creator immediately, no waiting for payout dates or minimum balances.
Can I Make My Donation Message Private?
Yes, choose 'Make message private' and only the creator will see your message you write (if you choose to leave a message). The feed will just look like this. Learn more about the information that's shared when you donate.
Do I Need a Ko-fi Profile to Support a Creator?
No, you can donate to a creator as a guest, all you need is your email address and you can then pay with your PayPal account or card. We'll send you an email so you can sign up later if you want.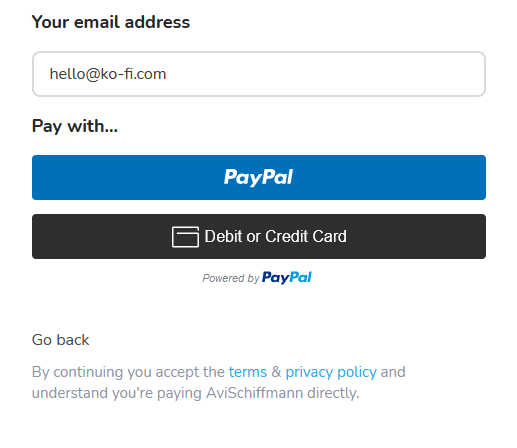 How Do I Access Supporter-Only Content?
Some creators offer content just for supporters such as gallery images and posts only available to recent one-off supporters, monthly recurring supporters or members of a tier.
You'll need a Ko-fi account to unlock this content. If you do not have a Ko-fi account you can register for a supporter account.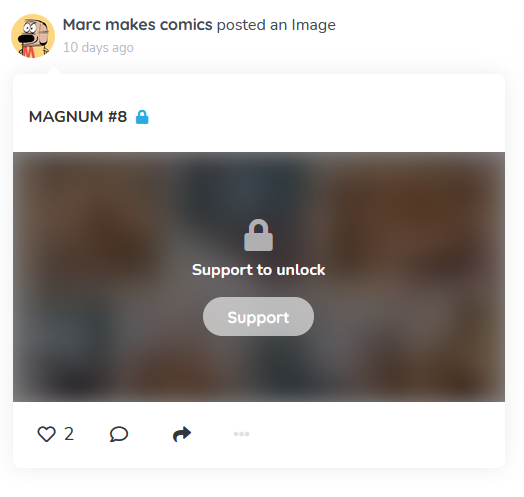 If you've supported a creator without first creating a Ko-fi account you can still get access to that content. We send an email when you pay as a guest, just click the section at the bottom of the email we sent you to sign up and link that payment to your Ko-fi account.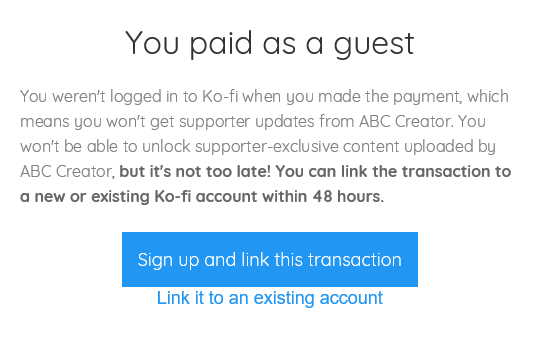 What is the difference between being a Monthly Supporter or Tier Member?
Monthly Supporters = supporters who chose the 'monthly' option when they donated and pay a recurring donation.
Tier Members = Supporters who became a member of a tier.
How can I switch to a different tier?
If you are a member of a Tier and want to join another Tier, simply visit the Creator's page and navigate to their memberships tab and choose Join on the tier you would like to switch to.
You will pay the full monthly pledge in advance for the new tier amount and your existing pledge will be cancelled from the next billing cycle.
Refunds or pro-rata payments for partial months of membership are not offered.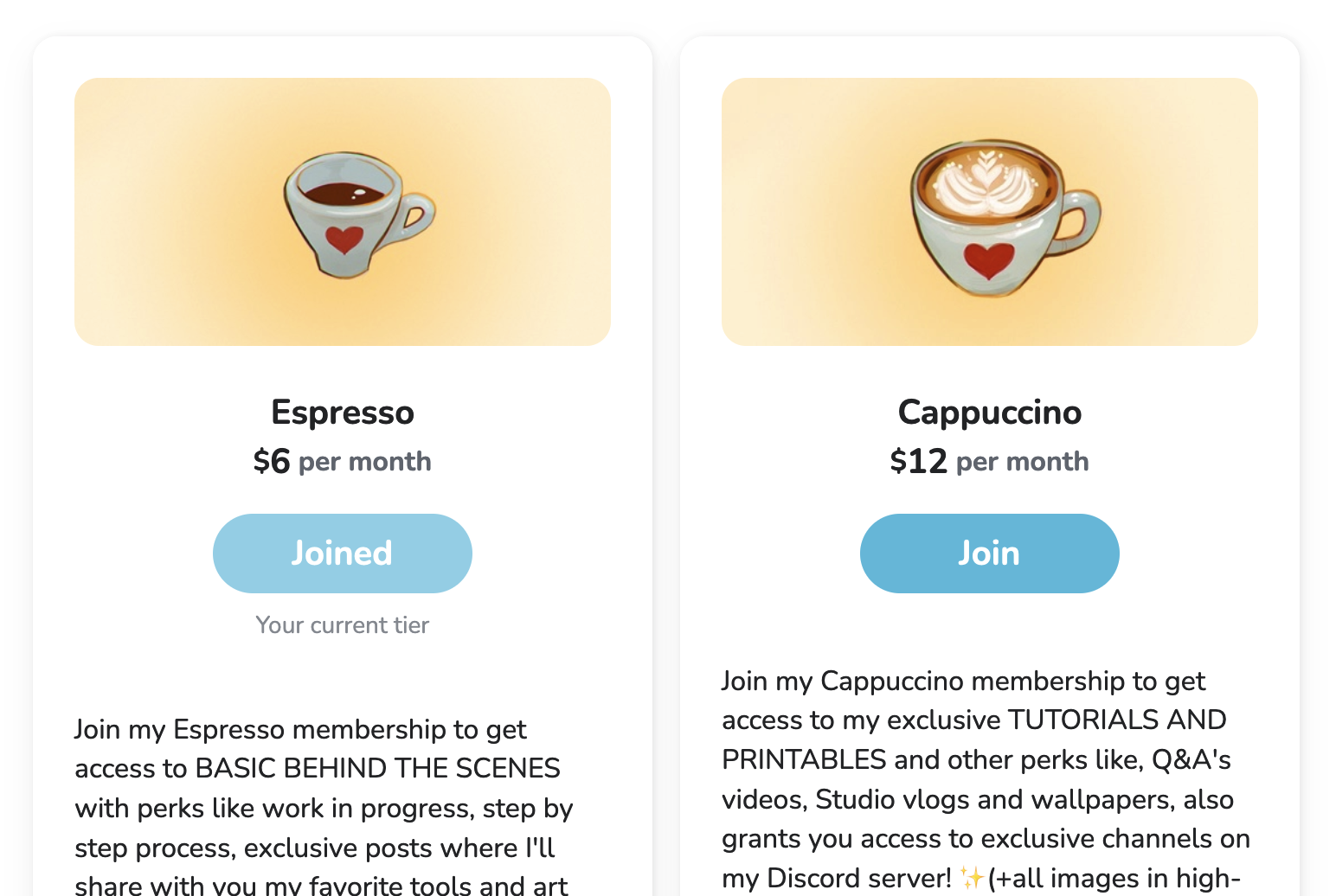 How Do I Cancel a Subscription to a Creator?
If you no longer wish to subscribe to a creator you can cancel the subscription at any time. Login to your Ko-fi account and navigate to More > Account and Billing. Scroll to the Subscriptions selection, you will see all your active subscriptions.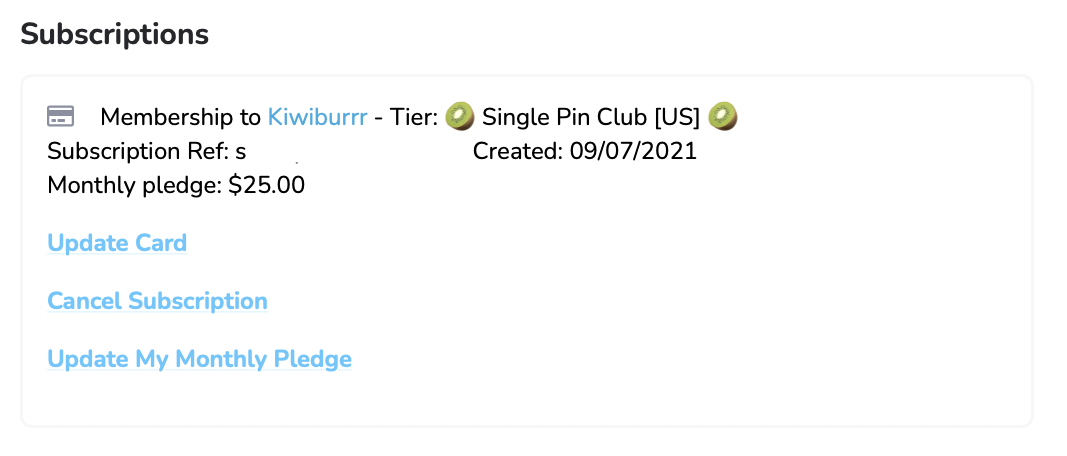 Select the Cancel Subscription option and this will end your subscription to this Creator. You will continue to have access until the end of your subscription. You can read more about how to manage a membership tier subscription.
If you subscribed with PayPal and you don't see your subscription listed in the subscriptions section please follow the steps to cancel your subscription directly with PayPal.
Note: Just deleting your Ko-fi account does not cancel your recurring payments, these must be cancelled using the methods below.
Can I Get a Refund for My Donation?
Because Ko-fi does not process the payments or take a cut of donations it is not possible for Ko-fi to provide refunds. To request a refund for any reason please contact the Creator or the payment processor you used to support the Creator (PayPal or Stripe).
I Bought Something From a Creator (Commission or Product) and I Haven't Received It, What Can I Do?
This is very rare so please attempt to contact the Creator directly using the contact methods offered during the purchase of the item.
If the Creator is still unresponsive you can report a problem with the purchase using PayPal's Problems with a Purchase steps. PayPal will contact the seller on your behalf and hopefully resolve any communication problems or have the money returned to you. Be sure to supply PayPal with the receipt you received from Ko-fi when you placed the order with the creator.
Someone Used My Card or PayPal Account Without My Permission. How Do I Report it?
You can dispute payments directly with PayPal either from the email you received from PayPal or directly from your PayPal account. If the payment was made directly from your bank (not via PayPal) Most banks also offer you the feature to dispute a specific transaction.
Ko-fi is not part of the transactions between creators and supporters so we cannot offer refunds or manage disputes.
Having another problem? No worries, just get in touch, we will help as much as we can.
Where can I find out more about Ko-fi terms?
Read our full terms and conditions