Lets tackle some common questions about payments, from fees to refunds.
Ko-fi fees
Creators can choose from three options:
Set up a basic, free page and only offer donations. There are no fees from us at all.
Pay a small 5% fee for each payment they receive, and in return get cool extra features.
Sign up for Ko-fi Gold. This service costs $6-8 per month, but they get mostly the same extra features without any platform fees.
PayPal and Stripe take their normal card processing fees. (You can learn more about fees here).
When will the creator receive my payment?
Usually straight away. When you pay a creator on Ko-fi, it goes straight to the creator's PayPal or Stripe account. We don't hold the money for any period and the creator doesn't have to wait for a 'payout'.
What information about me is shared when I pay a Creator?
When you support a creator, Ko-fi only shares your chosen display name and email address.
You will only be asked for a physical address if you purchase a physical item or subscribe to a membership tier that includes physical items. Your phone number may also be requested (if required for shipping).
On Ko-fi you are paying the creator directly through their payment method, you're not paying Ko-fi itself. Please be mindful of the information shared by payment providers, as we've summarized below.
If you pay with PayPal
When you pay with PayPal, they will share your legal name and email with the Creator inside the PayPal dashboard. If you use a business account, you can choose what name and email are displayed. Find out more from PayPal here.
If you pay with Stripe (Card)
Creators can also choose to connect their Stripe account to receive card payments. Stripe proivde creators with your name, email and part of your address in addition to other normal information merchants are able to view. Find out more from Stripe here.
For more information on what information is shared when you support a Creator on Ko-fi, have a read here.
Can I make my donation message private?
To send a private message with your donation, simply select 'Make message private'. Only the creator will see the message you write.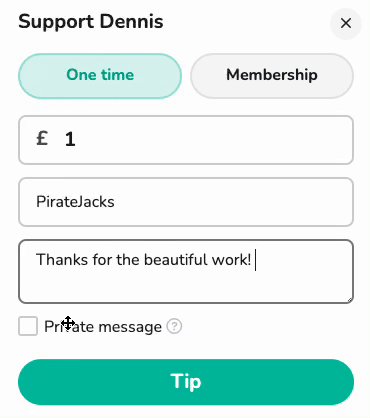 Want to know what info is shared with the creator when you donate? Read more here.
Can I make my public message private?
Yes, head to your 'About' tab on your homepage.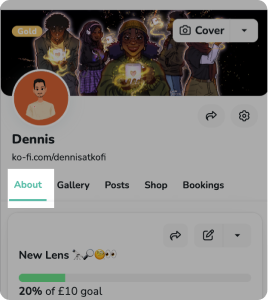 Then scroll down to find your message. Click on the "three dots" and choose "Make Message Private".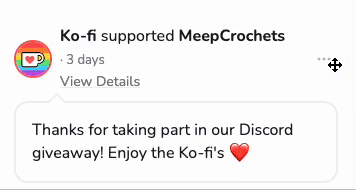 Don't worry, the creator will still see your message, it just won't show up for everyone else.
Can I pay in any currency?
Creators pick their preferred currency for payments. When you pay, it auto-converts to the chosen currency. Be aware of possible exchange rates and charges - verify these with PayPal.
If you pay using PayPal, you can choose the conversion rate offered by PayPal or the one from your card issuer (the card registered with PayPal).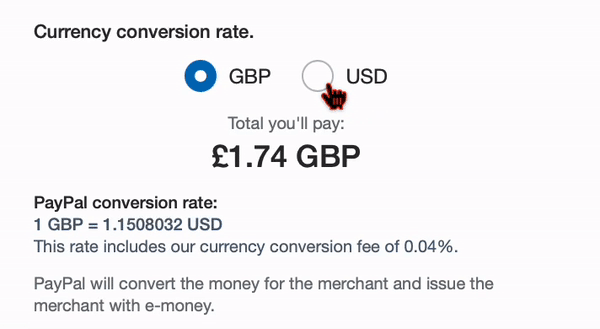 I can't see Paypal or pay via card as an option
Each creator chooses which payment methods they offer. They can choose to offer PayPal, direct card payments or both. When the payment method you want isn't available, this is because the creator has chosen not to offer that payment method or cannot offer that payment method for some reason.
My membership payment is overdue

If you have supported a creator monthly or joined a creator's membership tier, your recurring payments might fail and get tagged as 'overdue'. You can see the status of your subscriptions through your Accounts settings tab.
Ko-fi will retry overdue payments within 3 working days. Don't worry, you can still enjoy the creator's content until your paid subscription ends. However, you can rejoin the Creator's membership to regain immediate access.
If payment retries fail a number of times, your subscription may be automatically cancelled. But you can join the Creator's membership again to get immediate access.
An overdue payment could happen because your card has expired, there's not enough money in your account, or your bank has stopped your payment. Check if there's enough money in your account and deal with any warnings from your bank that might be preventing the payment from succeeding.
If your card has expired, updating it is simple. Head to Account Settings > Subscriptions and click on the three dots and then "Update Card".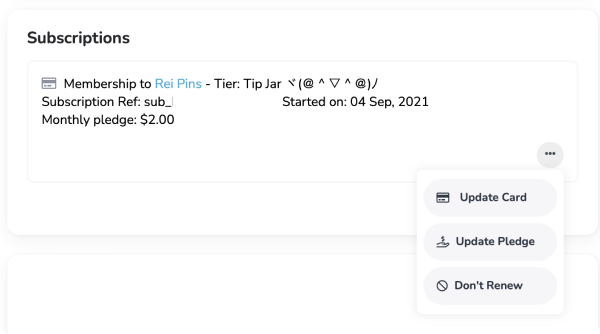 Still having problems? Get in touch with us. We're always ready to help out.
My payment won't go through
Try switching your payment method or device. Check if your payment provider is blocking the payment. You may need to contact them to verify the transaction is genuine.
Note
On Ko-fi, you are paying the Creator directly, and payment issues may be related to the Creator's payment method rather than your own. So after trying different ways to pay, reach out to us and we can check for you.
I have been charged twice for a payment
This might be a pending payment, which typically disappears within 5 days. If it doesn't, get in touch with us.
Can I get a refund for my payment?
Payments go straight to creators. If you need a refund, contact the creator directly from their profile page:
Head to the creator's page (under their profile pic) > "Send a Message".


Give the creator a reasonable amount of time to respond after contacting them on Ko-fi and other platforms (as they may not have seen their Ko-fi direct messages).

After a reasonable time, you may be able to dispute the payment directly w

ith

PayPal

or your bank if you paid by card.
I have an unexpected charge on my card or PayPal account
Ko-fi transactions are between creators and supporters, only a creator or a payment provider can provide you a refund but we are happy to provide you some guidance if you need some help.
But you can still take action. Depending upon the transaction type, you might be able to dispute through your PayPal account (learn more here.) If you paid straight from your bank, your bank can usually help you dispute the transaction.


We're here if you need us. Feel free to send any questions our way. 💌