You can accept one-off donations completely free on Ko-fi. If you decide to use premium features there's a creator-friendly 5% platform fee. You can also choose to subscribe to Ko-fi Gold if you want to remove platform fees entirely.
What fees does Ko-fi charge?
You can choose between three simple options to suit you.
Free - Accept one-off donations completely free, no platform fees and no subscription to pay! If you decide to use special features like Ko-fi Shop, Commissions, or Memberships, there's a small 5% fee just for those payments.
Contributor - Unlock all the extra features to attract more supporters and customize your page for a creator-friendly 5% platform fee with no monthly subscription to pay.
Ko-fi Gold - Just like being a contributor you unlock all of Ko-fi but with no platform fees on any payments you receive. Instead there's a fixed monthly or annual subscription. Learn more about Ko-fi Gold.
Here's the full rundown:
Free
Contributor
Gold

Subscription to Ko-fi

$0
monthly

$0
monthly

$6-8
monthly

Platform Fees
One-off Donations
0%
5%
0%
Crowdfunding (Goals)
0%
5%
0%
Monthly Donations
5%
5%
0%
Membership Tiers
5%
5%
0%
Ko-fi Commission Sales
5%
5%
0%
Ko-fi Shop Sales
5%
5%
0%
Extra Perks
Supporter-Only Content
❌
✅
✅
Schedule Posts
❌
✅
✅
Change "Coffee" Metaphor
❌
✅
✅
Exclusive Page Color
❌
✅
✅
Contributor Badge
❌
✅

*Optional
*Ko-fi Gold creators can also become contributors to help us improve Ko-fi. If you're already a Contributor when you subscribe to Gold, you'll need to also opt-out of being a Contributor to remove the platform fee.
Do payment processors take a fee?
On Ko-fi you get paid directly into your own payment account. PayPal and Stripe take their normal transaction fees which will vary based on the type of account, location and currencies used but it's usually around 3% + $0.30.
Tip
Pick the best currency for you. Minimise any currency conversion fees by making your currency on Ko-fi the same as the currency you receive most payments. Only payments received in a different currency will be converted (PayPal and Stripe usually add a small % for converting).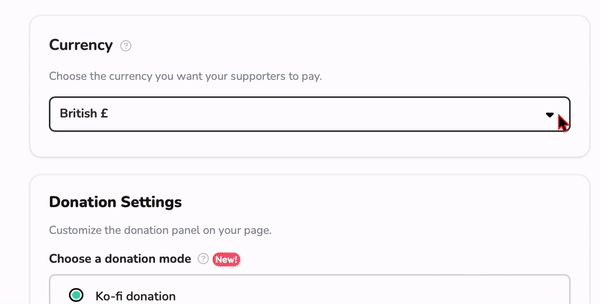 Currencies available are:
United States Dollar USD $
Euro EUR €
British Pound GBP £
Australian Dollar AUD A$
Brazilian Real BRL R$
Canadian Dollar CAN C$
Japanese Yen JPY ¥
Singaporean Dollar SGD S$
Thai Baht THB ฿
New Zealand Dollar NZD $
Becoming a Contributor
It's really easy to become a Contributor, unlock cool perks and support Ko-fi with 5% of your earnings. Turn Contributor status on/off whenever you like from Settings > Payment.

Notes about contributor fees and recurring payments
When you start or stop being a Contributor we aren't able to update existing recurring payments taken using the Stripe payment method. This means:
If you become a Contributor with existing members, those existing memberships (or recurring donations) paid via Stripe will not incur the 5% contribution.
If you turn off being a Contributor then any memberships or recurring donations that commenced while you were a contributor will continue to incur the 5% contribution even after you switch off being a Contributor.
Note
When you switch on/off contributor or Gold status, we aren't able to update the fees we charge on memberships taken using the Stripe payment method.
You'll keep paying the 5% platform fee on all memberships taken prior to switching to Gold and turning off contributor status.
That also means if you cancel your Ko-fi Gold subscription we won't start charging you the 5% platform fee on any memberships taken on Stripe while you were subscribed to Ko-fi Gold.
What are application fees or partner fees?
Ko-fi takes a platform fee of 5% on some payments (see table above). On Stripe this platform fee is called the "Application Fee" and PayPal show it as a "Partner Fee".
If you have any more questions, please do not hesitate to reach out.