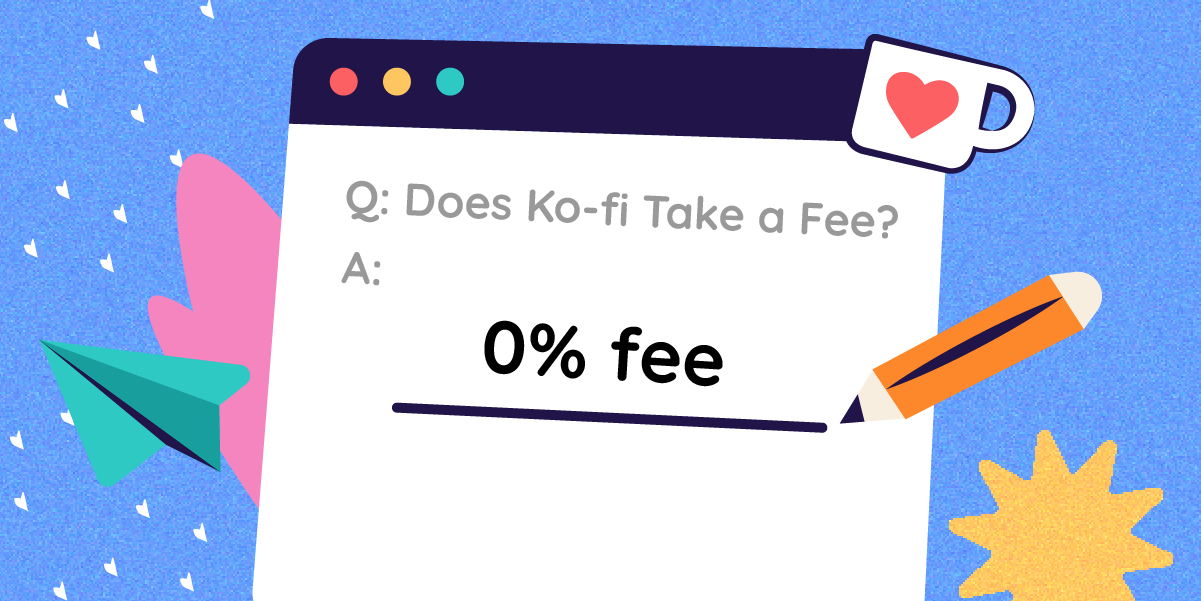 Ko-fi Takes 0% Of Your Donations
Over $100m has been earned on Ko-fi and unlike almost every other service we take 0% platform fees on one-off donations.
Donations go directly to your PayPal or Stripe account. We just get a notification that the transaction was successful so we can update the creator's page, but we do not take a fee from donations (unless you choose to opt-in to become a Contributor).
Do Payment Processors Take a Fee?
PayPal and Stripe do take their normal transaction fees which will vary based on the type of account, location and currencies used but it's usually 2-3.4% + $0.30.
Minimise fees taken by payment processors by making your currency on Ko-fi the same as the currency you receive most donations and increasing the unit price if it's very low in Settings > Payment.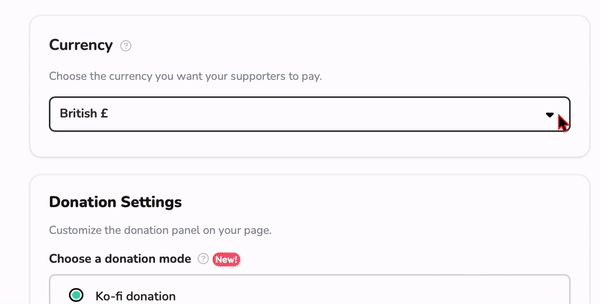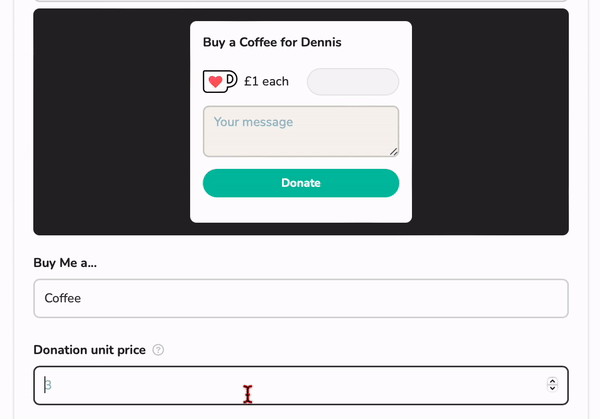 Currencies you can currently offer on Ko-fi:
United States Dollar USD $
Euro EUR €
British Pound GBP £
Australian Dollar AUD A$
Brazilian Real BRL R$
Canadian Dollar CAN C$
Japanese Yen JPY

¥

Singaporean Dollar SGD S$


Thai Baht THB ฿

New Zealand Dollar NZD $
What Fees Does Ko-fi Charge?
We don't show adverts or sell your data and there will always be an option to take Ko-fi donations without paying a platform fee.
Ko-fi makes money in three ways:
Premium features used on Free accounts. If you use Memberships, Commissions or Ko-fi Shop and don't have a Ko-fi Gold subscription, you will pay a 5% platform fee for those payments, but you still pay 0% platform fee on one-off donations.
Contributors. Unlock extra features without paying for a subscription, but pay a low 5% platform fee on your earnings. Become a contributor from Settings > Payment.
Ko-fi Gold Subscriptions. Unlock all features by paying for a monthly or annual subscription but pay 0% platform fees on everything. Learn more about Ko-fi Gold.
Here's a full overview of subscription and platform fees with the features each type of account unlocks.
Free
Contributor
Gold

Subscription to Ko-fi

$0
monthly

$0
monthly

$6-8
monthly

Platform Fees
One-off Donations
0%
5%
0%
Crowdfunding (Goals)
0%
5%
0%
Monthly Donations
5%
5%
0%
Membership Tiers
5%
5%
0%
Ko-fi Commission Sales
5%
5%
0%
Ko-fi Shop Sales
5%
5%
0%
Extra Perks
Supporter-Only Content
❌
✅
✅
Schedule Posts
❌
✅
✅
Change "Coffee" Metaphor
❌
✅
✅
Exclusive Page Color
❌
✅
✅
Contributor Badge
❌
✅
*Optional
*Ko-fi Gold creators can also become contributors to help us make Ko-fi better, faster.
Becoming a Contributor
It's really easy to become a Contributor, unlock those cool perks and support Ko-fi with 5% of your earnings. Turn contributor status on/off whenever you like from Settings > Payment.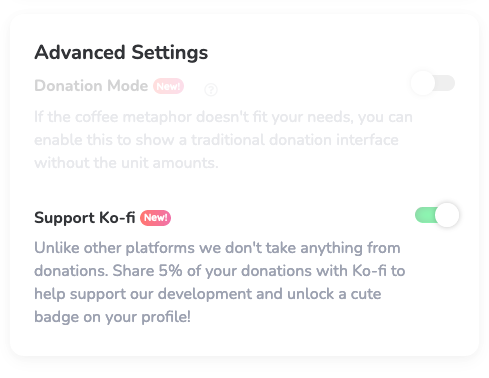 If you do opt-in you'll get a special badge on your profile and a great feeling that you are making a real difference to the future of Ko-fi.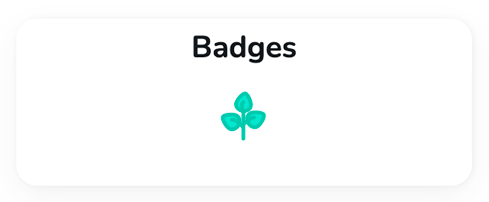 Notes About Contributor Fees and Recurring Payments
When you start or stop being a Contributor we don't update existing recurring payments taken using the Stripe payment method. This means:
If you become a Contributor with existing members then those existing memberships or recurring donations that you receive via the Stripe payment method will not incur the 5% contribution.
If you turn off being a Contributor then any memberships or recurring donations that commenced while you were a contributor will continue to incur the 5% contribution even after you switch off being a Contributor.