Ko-fi does offer the ability to tag your page as Not Safe For Work (NSFW). NSFW can be interpreted in many ways, so please take a moment to familiarise yourself with Ko-fi's guidelines and examples for when to use the NSFW tag.
After feedback from the community we have added more examples to help creators decide if they need to mark their page as NSFW or not (examples at the end of this article).
The Basics
Your page must be compliant with Ko-fi's content guidelines regardless of using the NSFW tag.
Please tag your page as NSFW if your page contains any content which could be deemed by some audiences as offensive or of a mature nature (examples below). This must be applied even where the content is locked (i.e. membership tiers and supporters-only content).

While your page contents can be NSFW, your profile picture and cover banner image should always be SFW (Safe For Work).

Please apply the NSFW tag if your Ko-fi page links to an individual profile/web page containing NSFW content elsewhere.

We recommend a conservative approach to using this tag, as pages which are found to be NSFW but do not display the tag may be restricted or unpublished.
How To Tag Your Page as NSFW
Login to your Ko-fi account and click Settings, then add "NSFW" as one of your 3 available tags.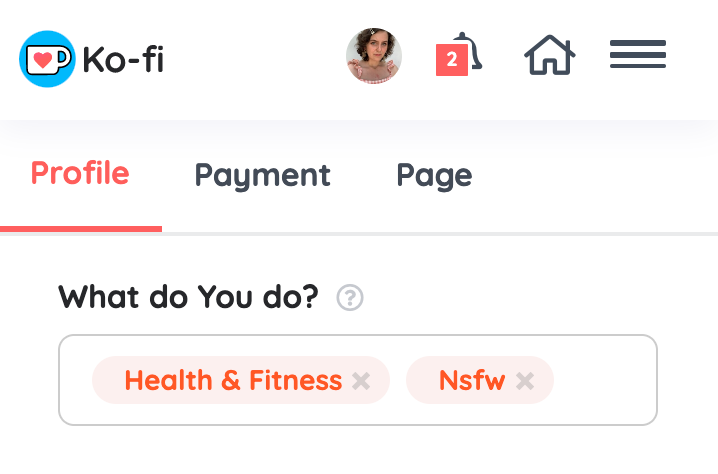 What Happens When I Apply The NSFW Tag?
When you tag your page as NSFW, visitors to the page will be warned before the page loads that the content on that page may not be safe for work and reminds them they must be over the age of 18 to visit the page.

Examples of When To Use The NSFW Tag
This non-exhaustive list of examples aims to help creators understand how Ko-fi defines NSFW and the appropriate use of the NSFW tag.
Please tag your page as NSFW if your page bio, intro, gallery images, posts, embedded media, shop products, commissions, links (to and from Ko-fi) or any other part of your page contains content described with a ✅ .
Do not use Ko-fi in relation to anything marked ❌.
Key
✅ = OK with NSFW tag
❌ = Not allowed on Ko-fi (regardless of tag)

Adult Content:
✅ Revealing clothing around the buttocks, crotch or cleavage, and/or clothing that accentuates these areas of the body (e.g. nipple imprints as a result of tight clothing)

✅ Suggestive poses (clothed) e.g. emphasis on buttocks and/or crotch or emphasis on cleavage.
✅ Adult-themed fiction containing conventional sexual content.

✅ Illustrations or comics with suggestive themes.

✅ Discussion pieces, analyses, reviews of other media (e.g. films, TV series, books, etc.) that reference violent, sexual and/or explicit themes.
✅ Content discussing sexual health/advice/lifestyles.
❌ Children in suggestive clothing and/or poses.
❌ Clothing through which the full or partial outline of genitalia is exposed or clearly visible.
❌ Implication or emulation of any sexual activity (e.g. hands or fingers in underwear).

❌ Nudity, including censored, covered or partial.

❌ Content catering to fetishes, kinks or paraphilias.

❌ Illustrations containing prohibited adult content
❌ Adult-themed fiction containing taboo sexual content (e.g. underage, consensual non-consent, bestiality, etc.)

❌ Posts focused primarily on explicit sexual activities.
❌ Streaming pornographic/explicit erotic/sex simulator games.
❌ ASMR and voice acting relating to pornographic and/or fetishistic scenarios.

Violence, Wounds and Injuries:
✅ Wounds or results of violence or injury.
✅ Fictional violence.
✅ Graphic personal stories of abuse, mistreatment or neglect.
✅ Streaming or clips of gameplay containing 18+ age-rated mainstream games.

✅ Videos depicting sensitive subjects such as animal cruelty (for the purposes of awareness).
❌ Violence linked to hate-related content.
❌ Glorification of violence or abuse and/or discrimination.
❌ Detailed accounts of self-harming methods.
❌ Excessive or extreme scenes of gore.
❌ Content related to streaming all games prohibited by major streaming platforms (e.g. Twitch).
Profanity and Language:
✅ Use of profanity in profile, posts, videos etc.

❌ Hate speech or discrimination of any kind.

❌ Harmful misinformation (e.g. Holocaust denial, political conspiracies, pandemic-related conspiracies and medical falsehoods, etc).

For more guidance please refer to the Content Guidelines and terms of use.