New! Discount Codes let you offer a percentage discount on your entire Ko-fi Shop, specific Shop categories or Commissions.
Share your discount link with fans to encourage sales or share them with your Members (in a DM or post) as an easy perk for supporting you monthly.
Anyone who clicks this link will have the discount applied automatically to the relevant shop items or your entire commissions menu.
Example Discount Link Shared on Social
How to Create a Discount Code
Navigate from the Menu to More > Discount Codes and click Add Discount Code.
Choose if your discount code should apply to Shop Items or Commissions. If you have added categories in your shop you can select that individual category.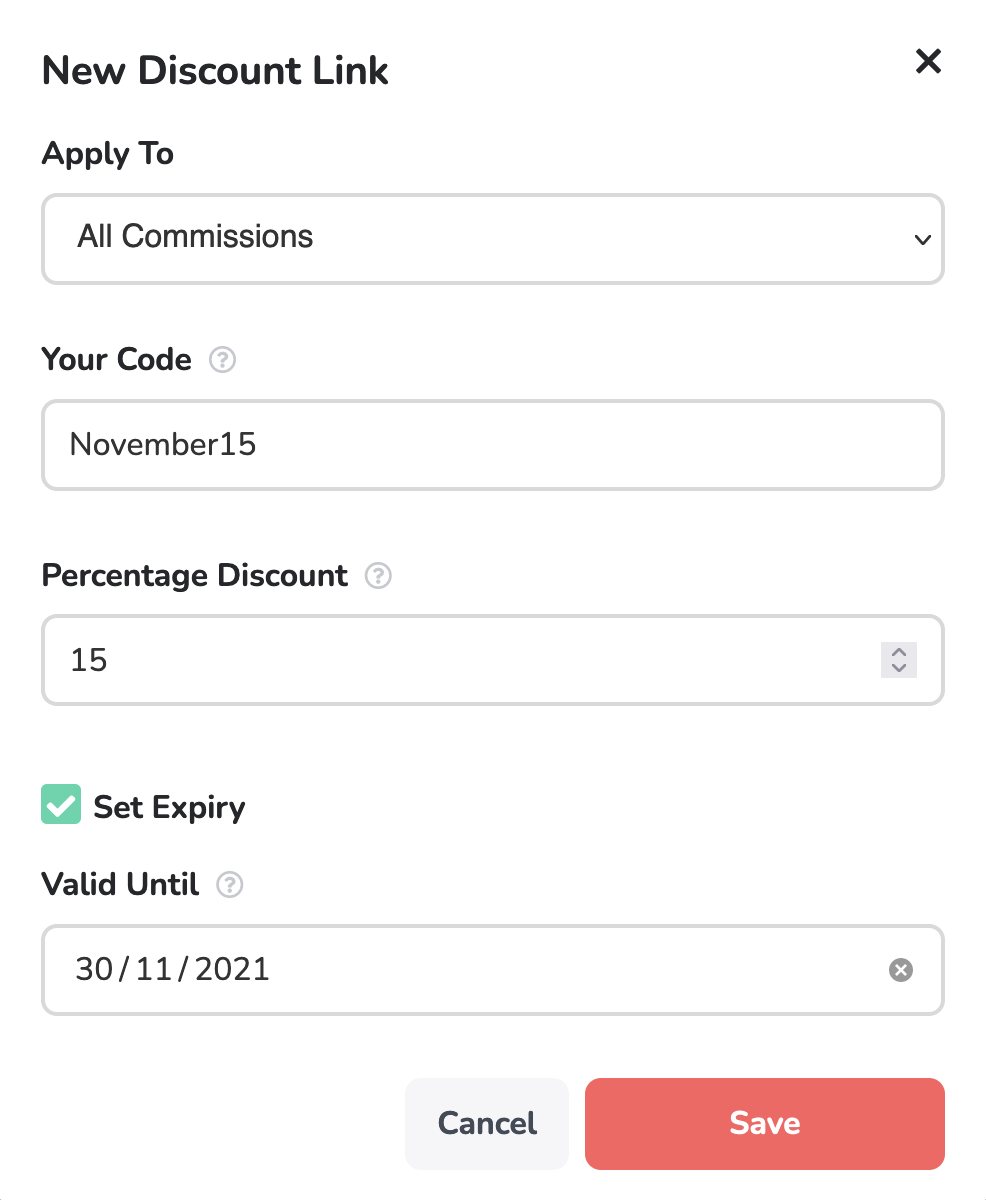 Note: If you only want to offer a discount on an individual shop item, first create a category and add that single item to the category.
For more information about categories have a look at our Shop Guide.
Your Code can include numbers, letters, a period or a hyphen and is automatically converted into uppercase.
Percentage Discount must be set as a whole number between 1 to 99 (don't include the % symbol)
Percentages are rounded to the nearest unit of currency, but will not allow for an item to become totally free. For example, if you have a 99% discount for an item that costs $0.02, the discount of 99% would be $0.01 with the buyer paying the other $0.01.
Expiry Date is determined by your time zone. If you set up your discount in the UK to expire on October 31st 2021, it will be live until 23:59 GMT of that day, for US Supporters, the equal time would be October 31st 2021 at 19:59 CST.
Note: Discount codes are multiple use, anyone who has access to your discount codes can use them as many times as they want, but only one discount code can be used per checkout. Your discount code will only stop working if you set an expiry date or delete it.
Once you are happy with the details of your discount, you can press "Save" to activate it.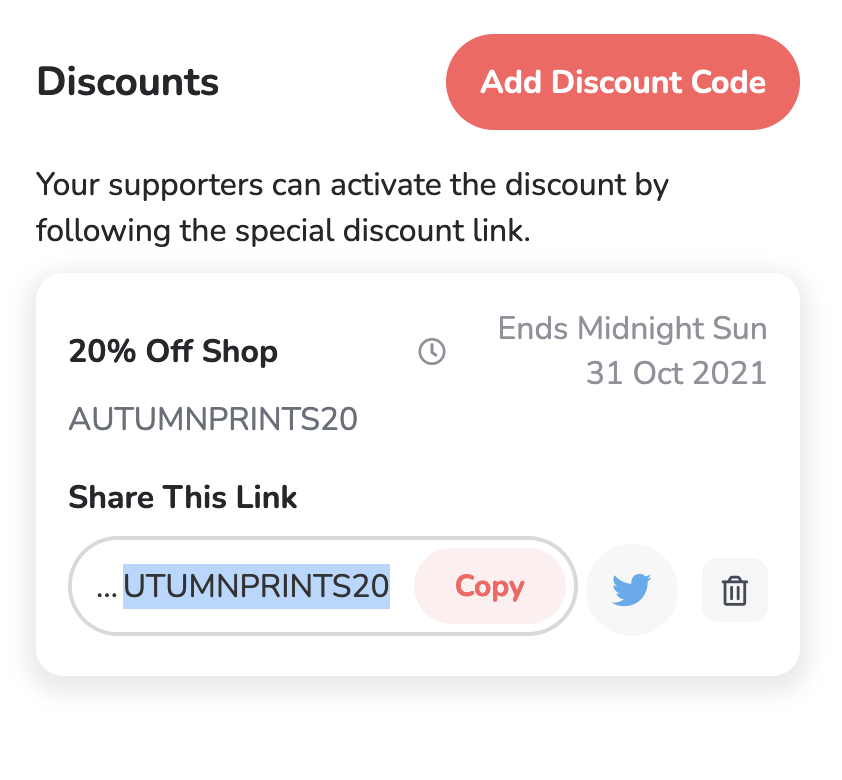 You can offer your Discount Codes via a shareable link or share a code that can be used in your Commissions or Shop checkout.
Discount Codes Via a Shareable Link
Anyone who clicks this link will have the discount applied automatically to the relevant shop items or your entire commissions menu.
Note: If the supporter logs out or closes the browser, they may have to click the discount link again apply the discount. If a supporter adds an item to the basket, the item will remain discounted in the basket even if they log out or close their browser.
Ways to share your link:
Copy your discount link and then why not try sharing your discount code via:
📢 A social post
📧 An announcement in your newsletter
🔒 Adding a post with the code - e.g. just for members
You can also share your link directly to Twitter by clicking the Twitter icon.
Letting Buyers Input the Code
By choosing to "Let supporters type in a code at checkout" an additional option "Apply Discount Code" will appear in the checkout step.
The "Apply Discount Code" text link will then always be visible in your checkout. Selecting that link will open a text box where buyers can enter the discount code manually.
Can I Offer Multiple Discounts?
Yes, you can set up multiple discounts for your page. Even if you have multiple discount codes active, only one will apply to a Supporter's basket.
How Can I End a Discount Code?
If you want to end a discount early or stop a discount, use the Trash-bin icon to delete it. When you confirm, the discount will be deleted.

Can I Offer a Discount For a Single Item?
Yes, when listing your item in Ko-fi Shop, create a category for the product you wish to discount.
Then simply choose that Shop Category when creating your Discount Code.
When that link or code is used, it will only apply to that item.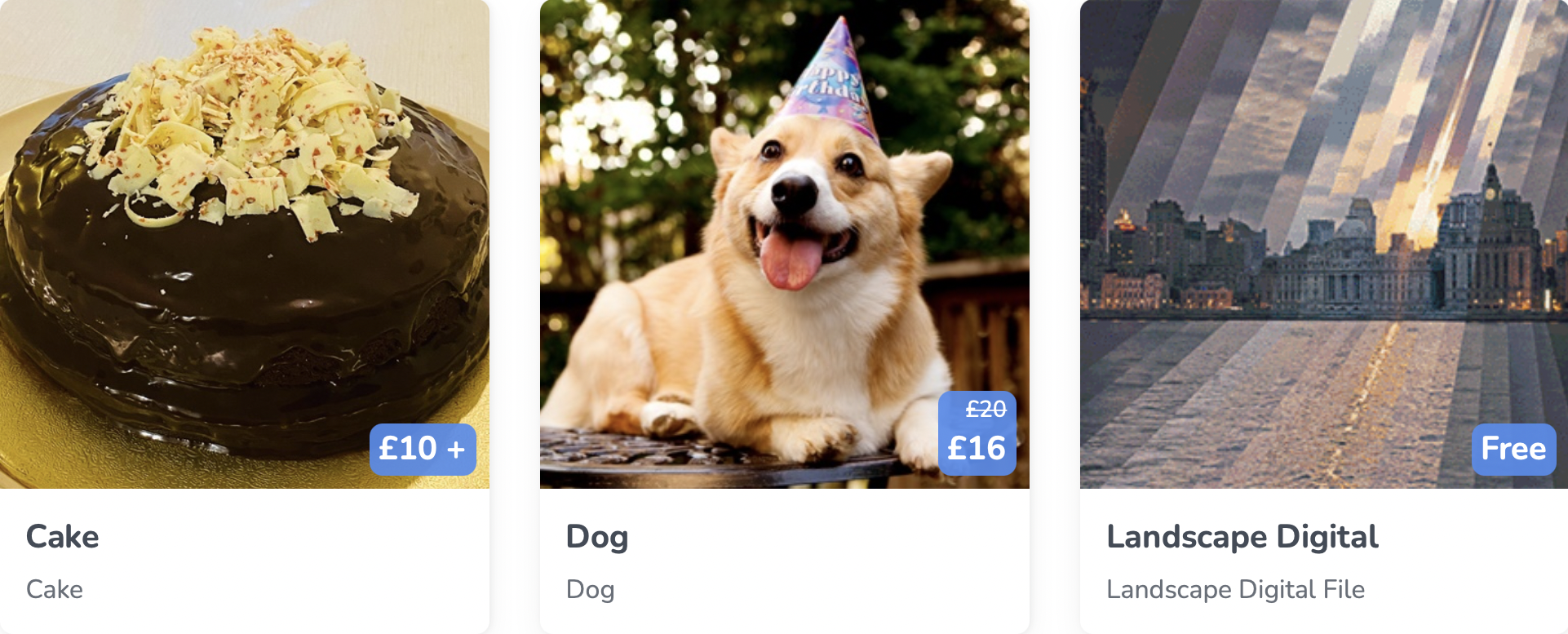 How Discounts Work With Pay What You Want Items
You can let a supporter choose what price they would like to pay for when listing an item in your Shop. If the price the supporter chooses to pay is more than the minimum price the discount code will not apply. The discount will only apply if the supporter chooses to pay the minimum price.
Paying more than the minimum will not discount the item
Paying the minimum will discount the item.
We hope you like using Discount Codes in your Ko-fi Shop and Commissions. Please send us your feedback and requests so we can keep improving Discount Codes.