👋 Welcome to Ko-fi, the free and friendly way to fund your passions! Follow these 10 steps to make the most of Ko-fi.
1.  Complete your profile
Make sure you introduce yourself in your bio - who are you? what do you create? why should people support you? What will you do with the money?
Upload some images to your gallery and make sure you have a cover photo (profiles look much better with a cover photo).
Here are some examples of great profiles
2.  Add a relevant goal at more than 0% funded
Make your goal relevant to what you create. If you are a photographer your goal might be a camera lens, if you are a cosplayer maybe it's the next costume… you get it 😊
0 is a scary number to get behind, start your goal beyond 0 to show fans you have some money towards your goal.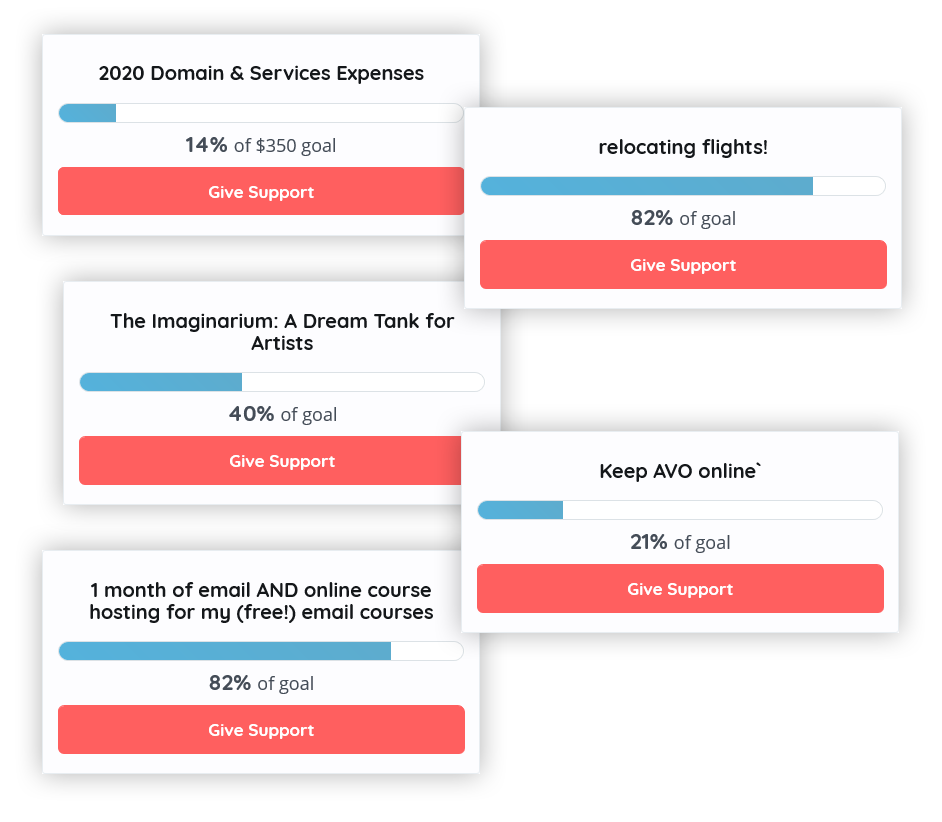 3.  Ask friends, family and superfans to be the first to support
DM your biggest fans and message your friends to tell them about your page and what you want to do with it. Ask them to be one of your first supporters and offer some VIP input into your creations. Make sure you personally thank each supporter on Ko-fi and share the thank you with the rest of your fans.
4.  Offer small rewards for supporters
Write a genuine, heartfelt message for supporters in payment settings. Supporters will get this message in an email when they donate to your page. You can even offer a small reward like a download link of a wallpaper or access details to your discord.
Make sure you tell your fans what they get if they support your page!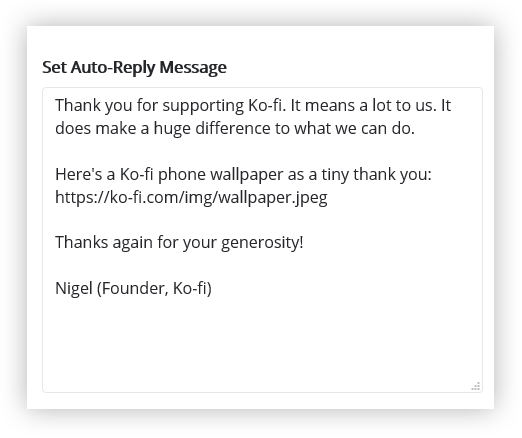 💛 With Ko-fi Gold you can reward supporters or monthly subscribers with exclusive gallery images, posts, links to files and embedded media (YouTube, Vimeo, SoundCloud, Mixcloud)
5.  Add Ko-fi to your bio's and pin a tweet
Fans need to know where to support you so make your Ko-fi page easy to find. Link to your Ko-fi page in all of your other social bios. You can always use a service like linktree if you need to link to lots of places from a single bio link.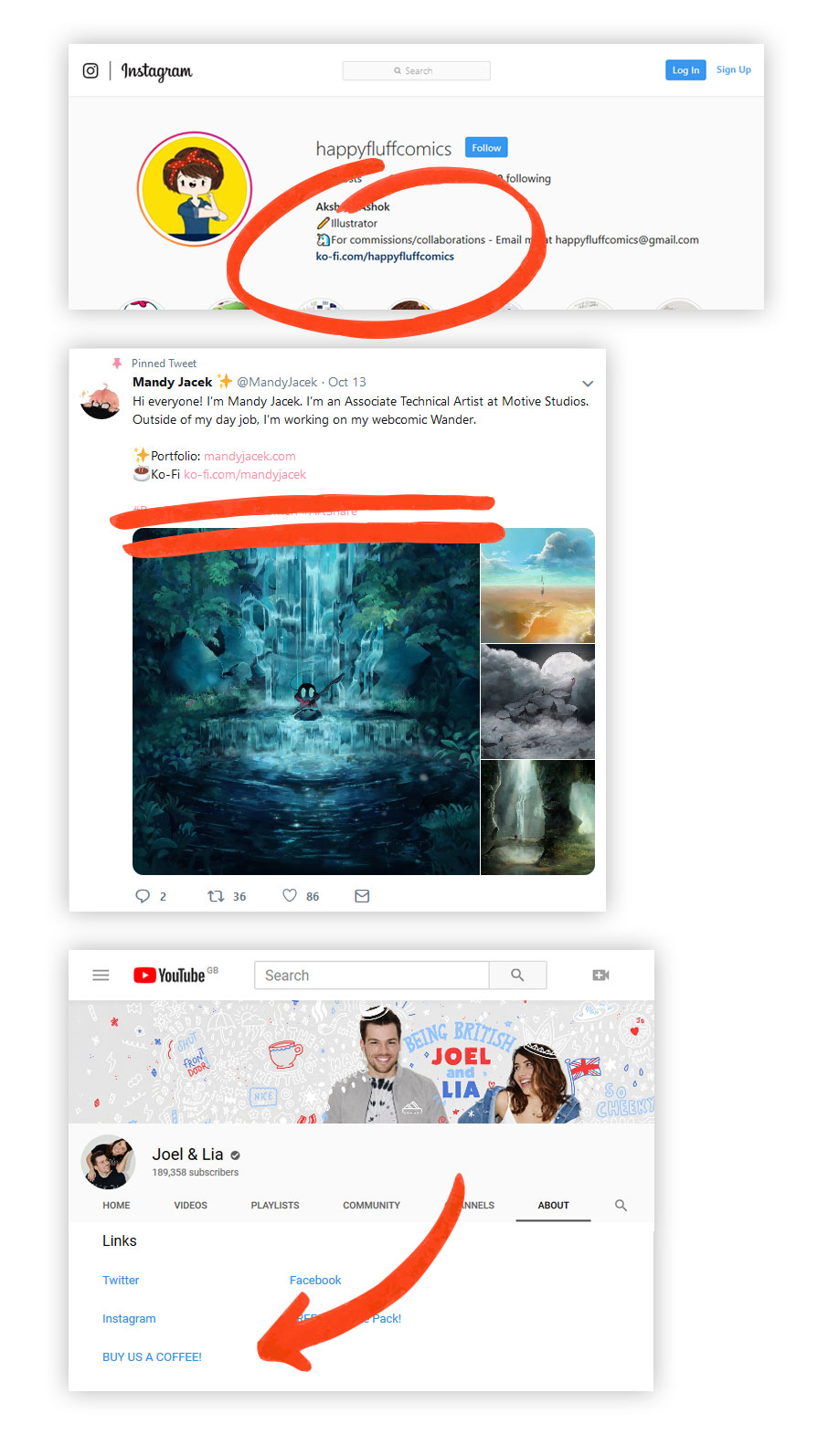 Make sure you pin a tweet, post or comment to your profile with a short intro about what you are creating.

6.  Introduce your page with a post or video 
Posts are your chance to tell your fans more about what you do and why you are asking for support. This is where the passion part of "fund your passions" needs to come out. Talk about your mission, progress to date and where to find more of your work. Posts are a great way to share your commitments to your fans and inspire support.
🔗 Journo Resources - read the intro post
🔗 James Patrick - watch the intro video
🔗 Tim Clare - read the intro post
7.  Regularly update and share, share, share
Ko-fi's most successful members update their page regularly and share those updates. Wherever you see these buttons consider sharing something with your fans!

🔗 Share your Page
Add the full page url so that you get a clickable image that goes directly to your page.
📝 Share Posts
Write update posts about WIP or thank supporters like this Tidal Cycles Update
🖼️ Share your Gallery, Album or individual images
Each gallery image can be shared individually or you can share the gallery page.
🙏 Share Thank You messages
When someone supports your page, thank them with a personal message and share it.
🏆 Share Goals set, progress milestones and Goal achieved
New goal? New chance to share what you are working towards with your fans.
🎁 Share reward reminders
Regularly remind fans what they will get if they support you.
☕ Share the number of Ko-fi's received or even page views!
When you receive your 1st, 10th... 100th! coffee make sure you share and thank your fans.
 Here are 30+ Examples of how to share your page and reward supporters!
💡 Remember only a tiny percentage of your fans will see your updates so it doesn't matter if you use the same content more than once if you change up the wording a bit.
8.  Request support at the end of each piece of content you create
Make sure you direct your fans to your Ko-fi page as a call to action at the end of each piece of content you publish.

YouTube - ask fans to support your content at the end of each video.
Instagram - add a story or comment requesting viewers to 'support me on Ko-fi'
Wordpress - Install the plugin and use shortcode [kofi] at the end of each post.
DeviantArt - add your Ko-fi page to your descriptions
Unsplash - link to your Ko-fi in your image description and bio

9.  Personally thank each supporter
Receiving a personal thank you message from a creator you love is an amazing feeling. Use the View and Thank option within your Support Received section to send a quick message back to your supporters. Creators who thank supporters receive more donations than those that don't.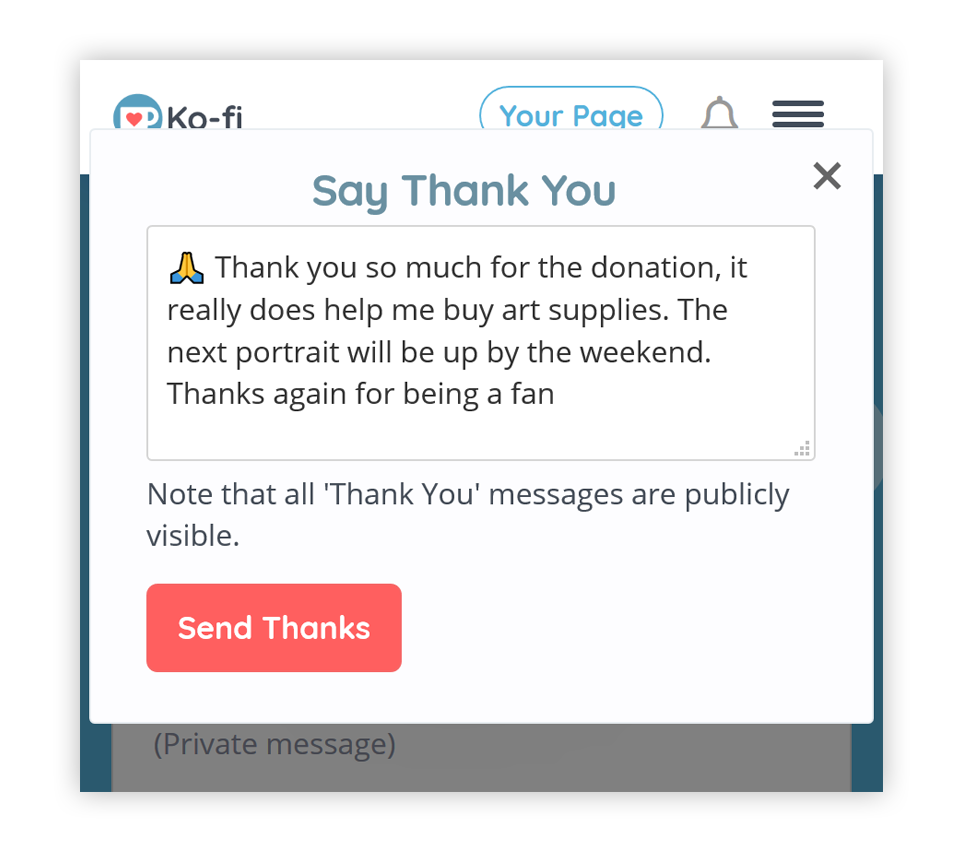 10.  Earn more and personalize your page with Ko-fi Gold
Ko-fi Gold members earn on average 336% more than free pages. Ko-fi doesn't take a cut of your donations and we don't show ads. By upgrading to Gold you're helping us improve the platform and you unlock loads of ways to earn more and customize your page
Earn 3x More with Ko-fi Gold
Ko-fi Gold unlocks loads of ways to increase your income;
Customize your page with Ko-fi Gold
Change coffee to something else, claim your exclusive 5 letter username and choose a color for your page!
🙏 Thank you so much for joining the Ko-fi community. Good luck!