Ko-fi: A Guide for Creators
Getting Started
👋 Welcome to Ko-fi, follow these steps to make the most of your page.
The most important thing you can do to get started on Ko-fi is to share your page with your fans and followers. The most successful creators share their page within 1 hour of joining. You can always add additional content and refine things over time.
1. Complete Your Basic Profile
Introduce yourself in your bio and page intro (above your feed) and add a cover photo. Here's some great Ko-fi pages for inspiration!

🎨 Artists: Mochi Buddies, Monarobot, Chris Sale
🦸‍♀️ Cosplayers: Steff Von Schweetz, Babs Butcher, Black Bettie

✍️ Writers: Ellie M Roberts, Latoya Shauntay Snell, Shannon Ashley
🎙️ Podcasters: Long Cat Media, Squawking Dead, On Second Watch
💻 Developers: Cyber Barbie, Jenny, Justinpinkney
📺 Streamers: Eric Campbell, Aaron Kane, The One True Nobody
▶️ Video Creators: The Girl With The Pilates Mat, Tara, Frank James
🎵 Musicians: Victoria Banks, Kutski, Open Collab
2. Add a Relevant Goal and Share It
Make sure your goal is relevant to what you create. If you are a photographer your goal might be a camera lens, if you are a cosplayer maybe it's the next costume… you get it 😊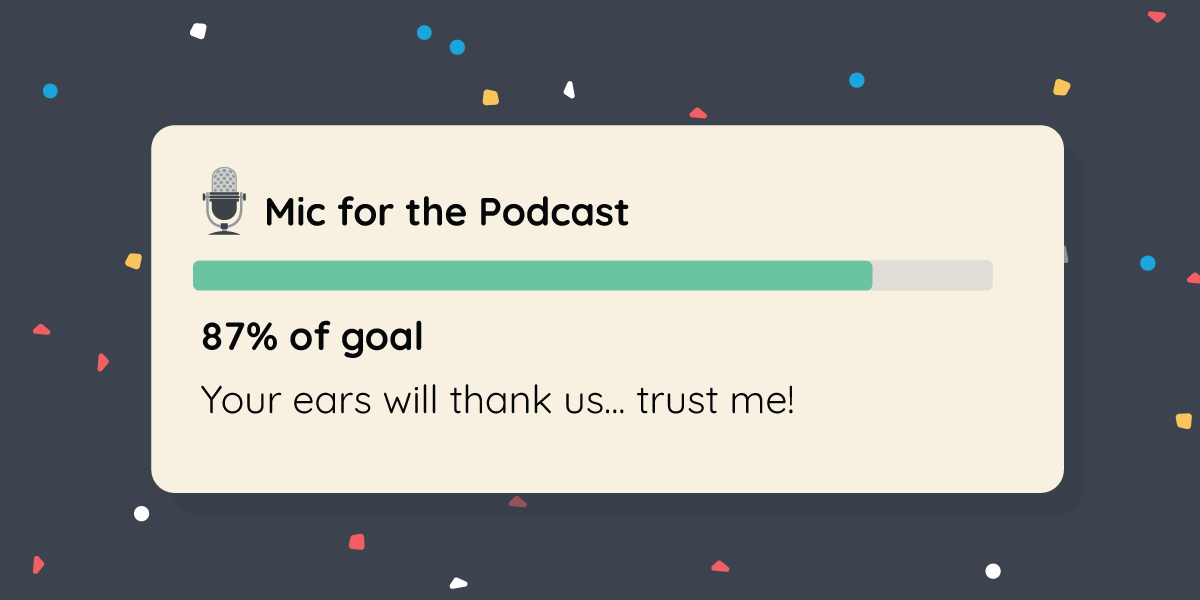 💡 Tip: Write a post to explain your goal and celebrate with fans when you achieve milestones like 10%, 25%, 100% 🎉
Share your goal progress and encourage more fans to support you. Tap the share icon next to your goal to update your fans and thank your supporters on social! 📣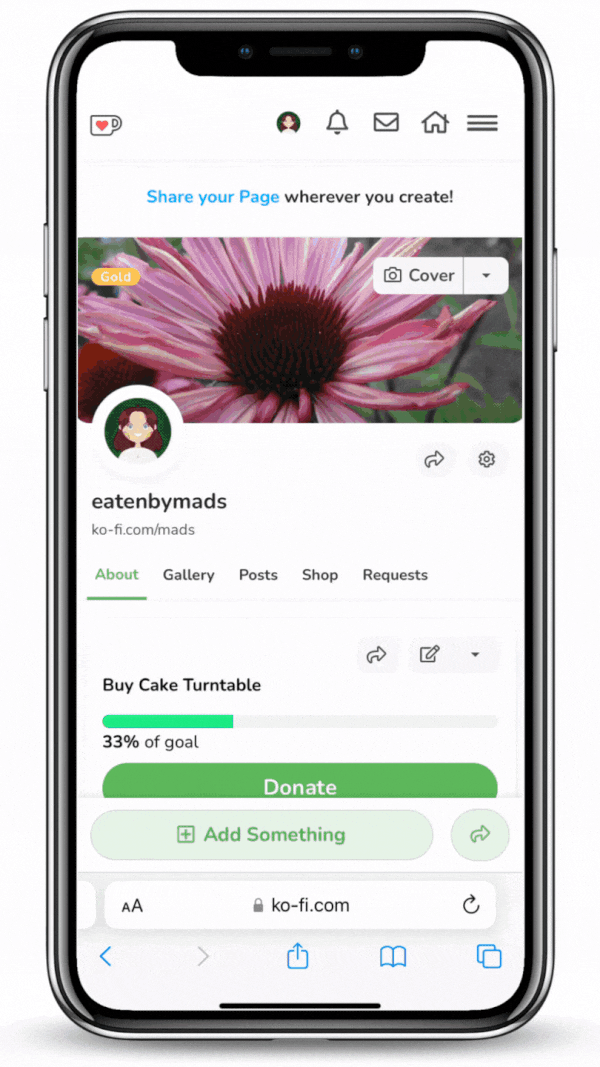 3. Add Ko-fi to Your Socials, Pin It and Share It
Fans need to know where to support you so make your Ko-fi page easy to find. Add your Ko-fi link to all of your social bios. You can always use a service like Linktree if you need to link to lots of places from a single bio link.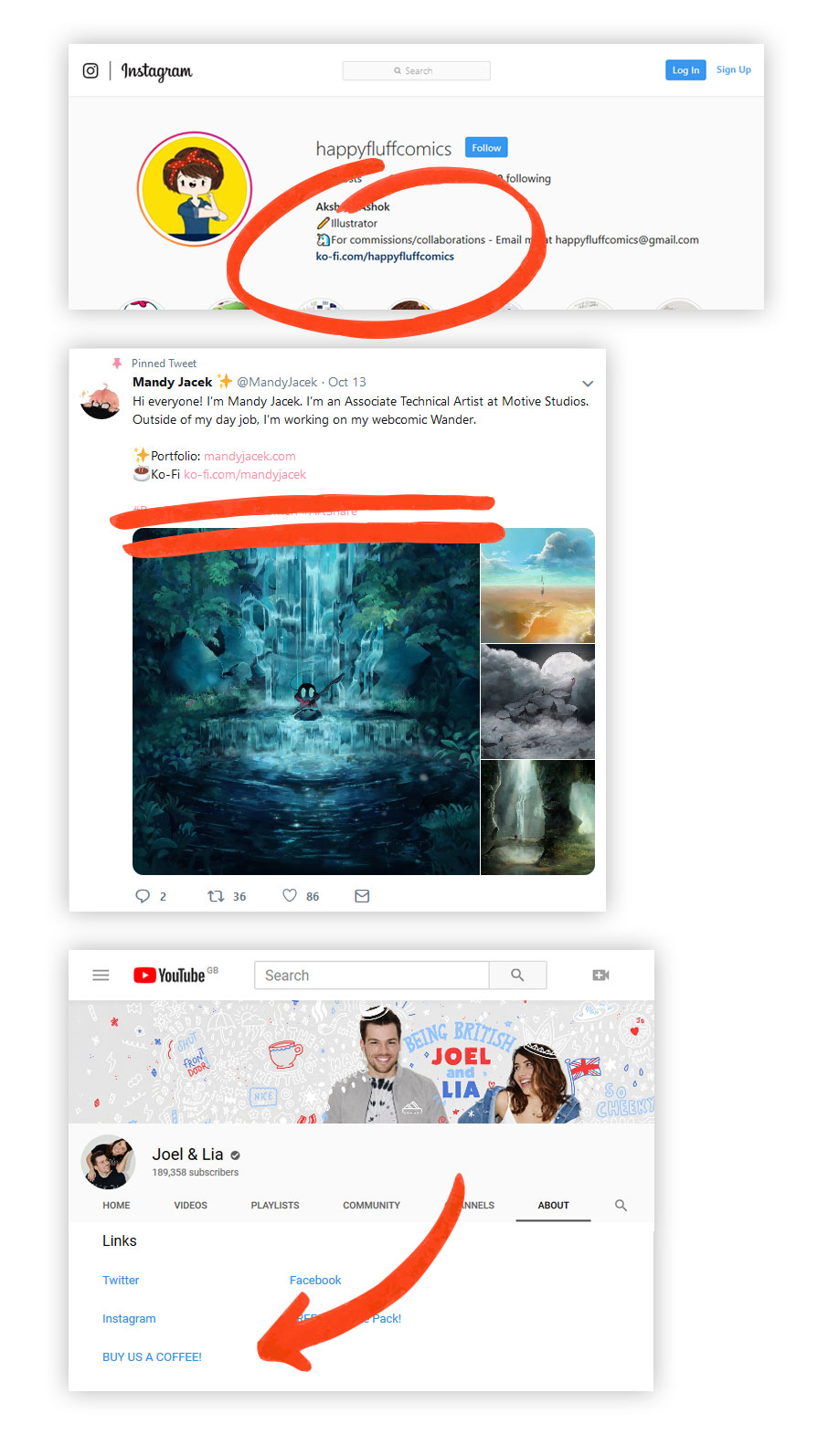 💡 Download Ko-fi brand assets to use in your promos, add giphy stickers to your Instagram Stories and regularly update your social preview.

4. Make Ko-fi Your Call to Action!
Make sure you direct your fans to your Ko-fi page as a call to action at the end of each piece of content you publish.
Instagram - put your page in your bio and talk about Ko-fi in your stories and posts. More ideas for Instagram.

Twitter - add Ko-fi to your bio, pin a tweet and share image and post links from Ko-fi. More Twitter ideas.

YouTube - ask viewers to support your channel at the end of each video and add your Ko-fi to your video descriptions and about section. More YouTube examples.

WordPress - Install the plugin and use shortcode [kofi] at the end of each post.
Medium - add a Ko-fi button image to your article, highlight the image, then click "ctrl + k" to link the image to your page.
5. Write a Personal Thank You Message
Update the default thank you message for all supporters and consider adding a link to a small reward!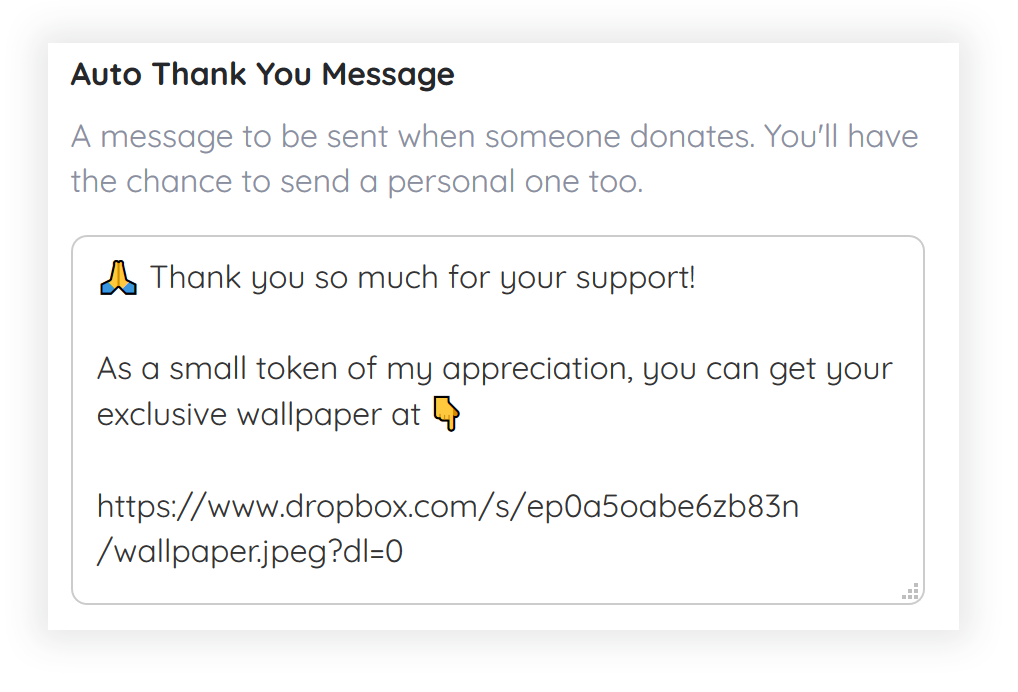 💡 Tip: Use Dropbox or Google Drive links to give exclusive rewards to supporters
Earning More
If you want to earn a more meaningful income, try adding more ways for fans to support what you do.
6. Let Fans Join Your Membership Tiers
Build a reliable monthly income with Ko‑fi Memberships! Let your most important fans support you at different tiers and unlock unique benefits like Discord roles, exclusive content or physical rewards!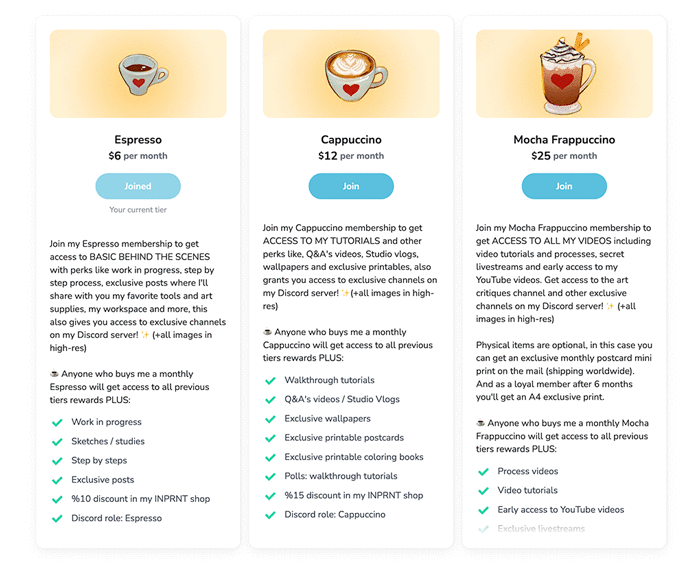 7. Open Your Ko-fi Shop
Ko-fi Shop is the easiest way to sell digital or physical items with just a link. There are no listing fees and it takes just a minute to add a product to your shop, share the link and start making sales.
8. Offer Commissions
Ko-fi Commissions are a super simple way to let fans request something unique from you. It could be an hour of your time on Zoom to give advice, a custom piece of art, or a personalized video message.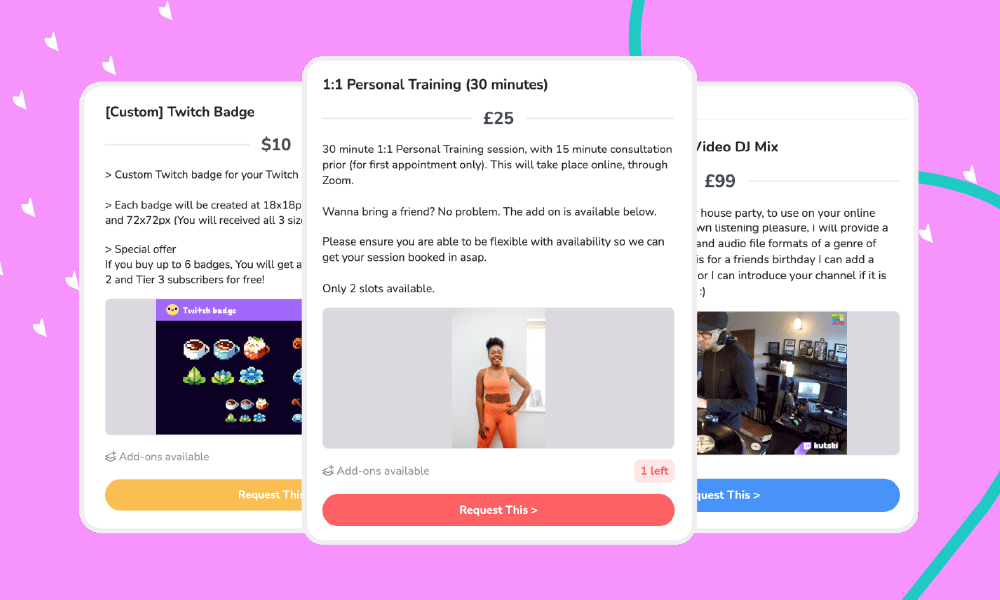 We've found the average selling price of a commission is 3x higher than a shop item and you only do the work once you've been paid!
Learn more about Ko-fi Commissions.
9. Connect to Discord
Discord is one of the most popular community apps. Offering special Discord roles to supporters and members is a great way to encourage your community to become supporters.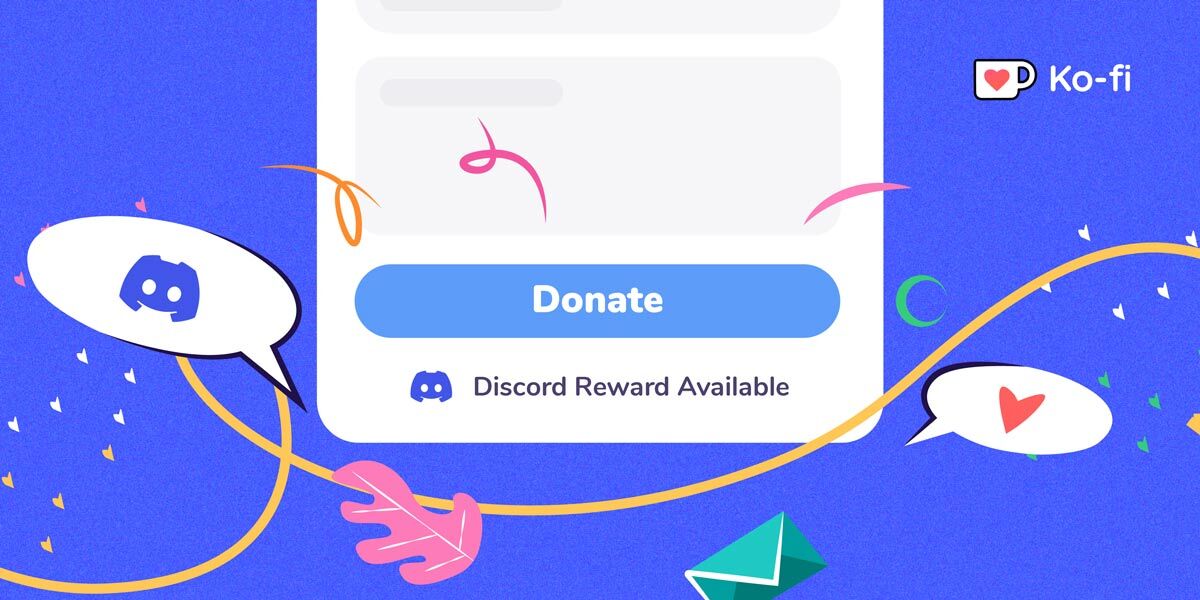 Learn more about the Ko-fi Discord integration.
10. Earn While You Stream
Unlike other services, Ko-fi lets you receive donations directly from your viewers with 0% platform fees. With Ko-fi Stream Alerts you can display your Ko-fi link on your overlay and create custom alerts when you receive a donation.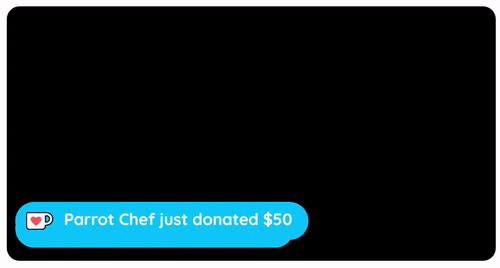 Learn more about Ko-fi Stream Alerts
11. Celebrate Your Top Supporters
Celebrate your top supporters with the Ko‑fi Leaderboard! Go to the 'See Leaderboard' link in the 'Top Supporters' section on your Ko‑fi page to view your public Leaderboard. You can then share on social to recognize and thank the people who supported your work the most! 🏆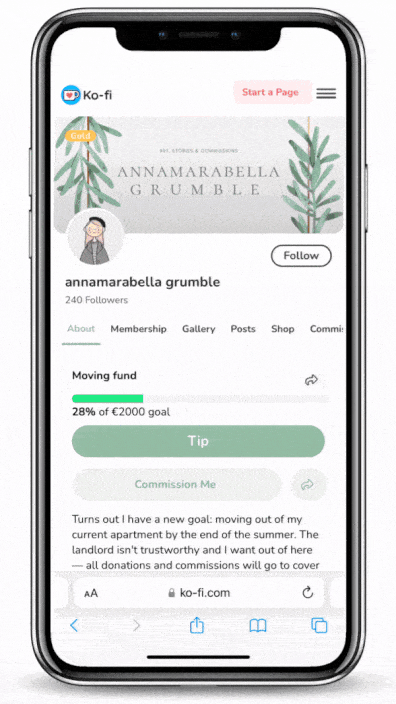 Try Ko-fi Gold - Creators with Gold Earn 7.2x More (on average)
Ko-fi Gold members earn on average 7.2x more than free pages. We don't take a cut of your donation, by upgrading to Gold you're helping us improve the platform and you unlock loads of ways to earn more and customize your page. Find out more about our fees and how you can support Ko-fi's development.

Download the Creator Success Guide
Want to learn even more about how to be successful on Ko-fi? Download the Creator Success Guide. It's packed full of examples, stats and tips directly from creators.

🙏 Thank you so much for joining the Ko-fi community. Good luck!