How Do I Calculate Shipping?
If you offer physical shop or commissions items, you might need to add a shipping charge to your listings. You can set the shipping price if only 1 item is purchased, but also add a different price (usually lower) if there is more than 1 item in the order.
Note: Read more about setting up shop items and simple shipping options for Ko-fi Shop or Ko-fi Commissions.
How Much Should I Charge for Shipping?
You'll need to decide, where you are sending your item, measure its dimensions and find a service that suits your needs.
1. Where you are shipping? Decide whether it is just locally, specific countries & continents or worldwide.
2. Measure your items for their height, weight and width.
3. Choose a service to use.
For example, in the United States, there is the United States Postal Service.
Like USPS, most shipping providers will help you figure out the costs using your shipping location and item dimensions.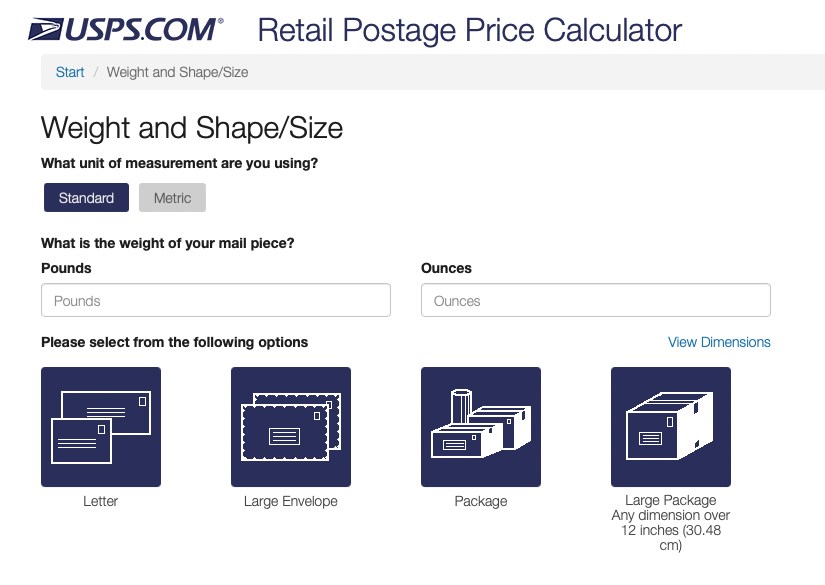 If you are sending to multiple specific destinations, you'll need to set a different shipping price for each country or continent.
Europe: DHL, Correos, Royal Mail
Americas: UPS
Australia: Fastway
All over the Word: FedEx
Do check for any restrictive requirements for your service such as customs declarations when sending overseas or a list of any prohibited and restricted items.
From this, you'll have the price of your shipping for your item.
How Does Shipping Multiple Items Work?
When the buyer gets to the cart, Ko-fi will take the item with the highest Shipping Price and will add the Price with others rate for all other items in the order to calculate a total shipping price.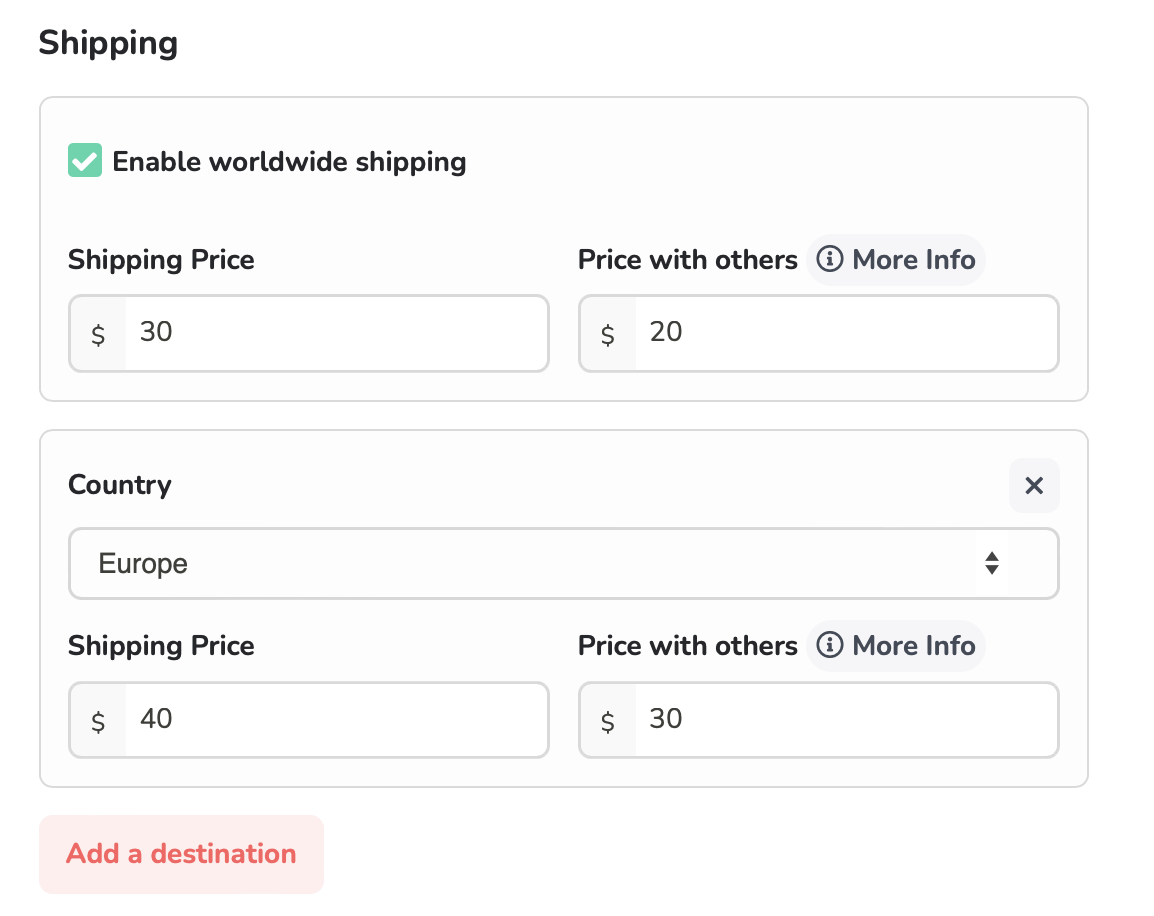 How Do I Calculate Shipping For Multiple Items?
To figure out what you should charge if you have multiple items, you should follow the same steps, check where you are sending the items, measure the items together and see which services you can use.
Measure a couple of your items that are most likely to be purchased together and you will get a range of total costs.
Here is a sample of items in a shop and different combinations in a cart with their shipping totals.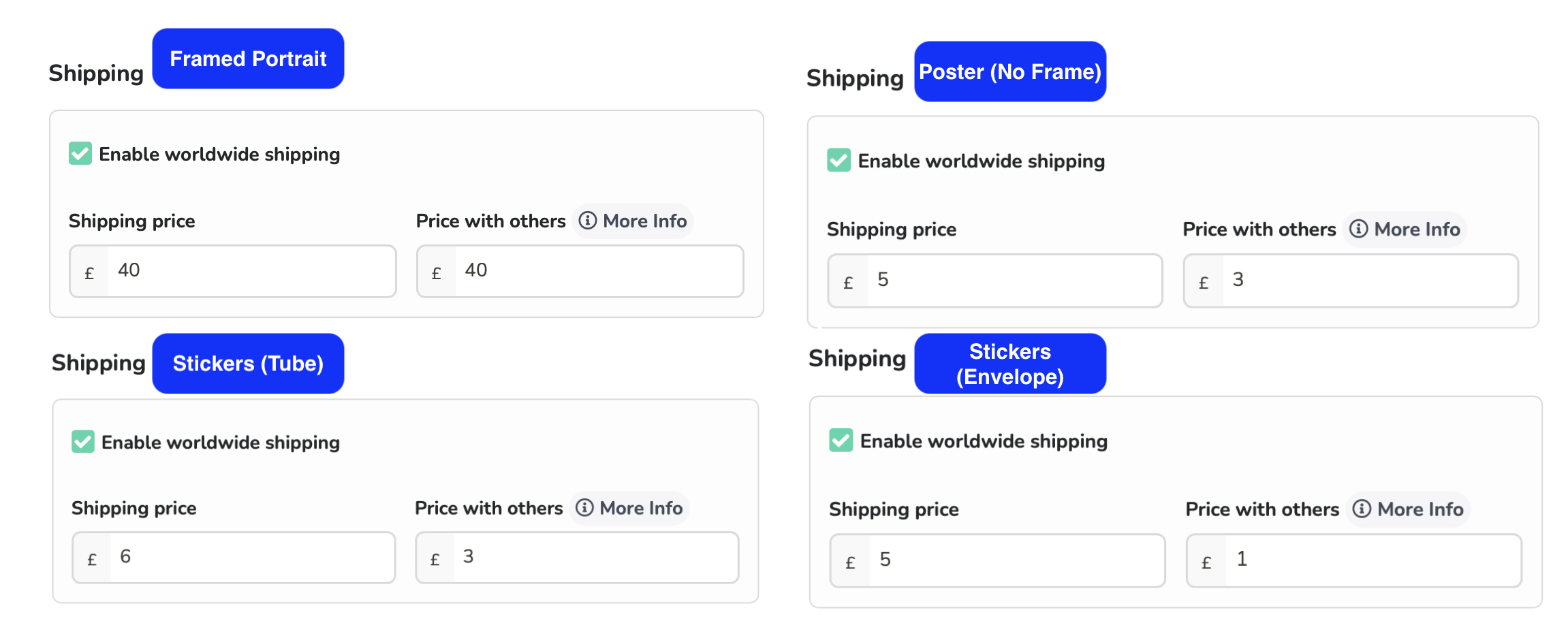 Cart A
Framed Portrait (£40) + Poster (£3)
= Total Shipping will be £43
Note: Ko-fi will take the item with the highest shipping price and add the price with others amount for any additional items added to the cart.
Cart B
Framed Portrait (£40) + Stickers Tube (£3) + Stickers Envelope (£1)
= Total Shipping will be £44
Cart C
Stickers Envelope(£5) + Stickers Envelope (£1)+ Stickers Envelope (£1)
= Total Shipping will be £7
Note: Carts with multiple similar items will have the price with others amount added for each additional item.
Cart D
Poster (£5) + Stickers Envelope (£1)
= Total Shipping will be £6
Note: If the highest shipping amount is the same for all your items, the lower price with other amount will be added to the shipping total.
Cart F
Framed Portrait (£40) + Poster (£3)+ Stickers Tube (£3) + Stickers Envelope (£1)
= Total Shipping will be £47
If you have any questions, please do get in touch.
Frequently Asked Questions
Does Ko-fi take a fee on shipping?
Ko-fi does not take a fee on shipping. PayPal and Stripe might vary. We have seen payment processors do not take a fee from shipping normally.
Can I combine shipping with other items?
Yes, you can, use the "Price with Others" option. This would only apply to one transaction when the Buyer adds items in the same cart from the same Creator. Currently, you will be unable to combine shipping items that have been bought on separate occasions.
Do discounts apply to shipping?
Discounts do not apply to shipping. The discount is applied to the purchase price of the item or commission only.
Does Ko-fi print my shipping labels for me?
Ko-fi doesn't have a shipping label printing option, however you can use your CSV located in your
Payment History
to make the process of collating your shipping addresses easier.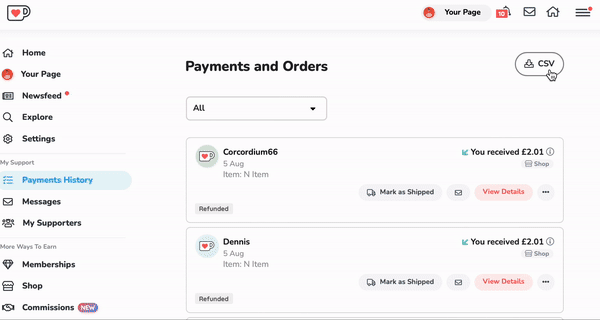 Does Ko-fi plan to integrate shipping partners?
We have received a lot of feedback on this and hopefully, we can provide this in the future.
Can I offer a pick-up option?
Currently, we do not have a feature that offers a pickup option.
Can I offer express shipping?
You are able to offer express shipping but currently you are limited to only offering 1 shipping price.
Can I refund shipping costs only?
Currently, you cannot refund shipping costs on Ko-fi without refunding the whole transaction. You would be able to offer partial refunds through your chosen payment method in Stripe or PayPal.