Using Ko-fi for Commissions and Services
Jump to our new feature "Commissions Messaging".
Ko-fi Commissions is a super simple way to turn your skills into money. Let fans buy unique, original work created just for them or offer your skills as a service, people can buy from you.
With Ko-fi Commissions you can manage commission types, available slots, set your terms and get paid in advance all with 0-5% platform fees (0% for Ko-fi Gold subscribers).
⚡ Creators offering commissions earn over 3x more on average than creators with just donations.
Setting up Commissions
Head over to the Commissions Menu to get started.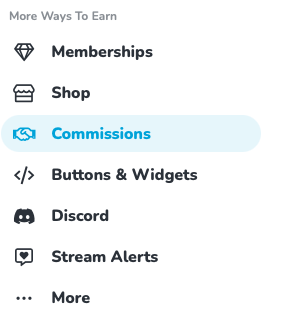 Connect A Payment Method
The first time you set up commissions, you'll be asked to connect a payment provider; either PayPal or Stripe (unless you already have one set up).

From the Commissions Menu You Can:
Open or Close commissions
Add, Remove and Edit commission listings
Set your standard commission terms
Tailor your settings to enable chats before accepting a commission, limit the number of all commission slots, and choose custom names for commissions.
Get a link to share on social
1. Status
Open or Close your commissions whenever you like. If you set your Commissions to "Closed" or if all your slots are taken, your commission tab will disappear from your page.

2. List a Commission
You need to add at least one listing before Commissions will appear on your page.
Click 'Add Listing' and choose a name and decide whether the commission will be digitally delivered or require shipping. If you check requires shipping, buyers will be asked for a postal address during checkout.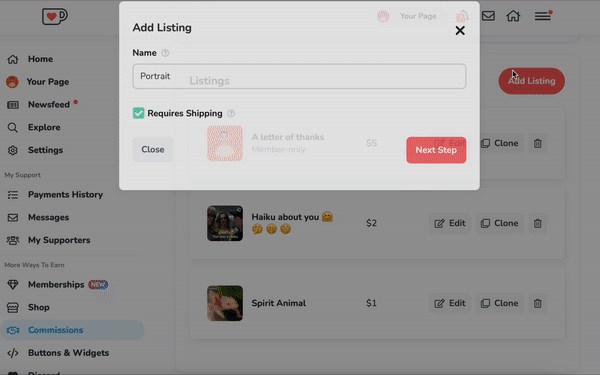 Instructions to Buyers
Request information you need from buyers to complete their commission. The buyer will also be able to optionally upload reference files when requesting a commission. Make sure you ask for everything you need to get started e.g:
Character images (for art)
Plot point requests (for writing)
Setup details (for technical 'how-to' commissions)

Preview Images
Add up to 10 preview images to display examples of your work related to that commission listing. Drag and drop to reorder the sequence in which they will appear.

Pay What You Want
You can optionally let buyers 'pay what they want' over a minimum price you set (minimum must be over $1).

Add-ons
Offer up to 12 additional 'add-on' options buyers can choose when commissioning you.
Perhaps you want to offer buyers the option to purchase an extra character in an illustration, an additional 500 words in an article or even faster delivery of the commission.
Add-ons are cumulative so buyers can choose more than 1 for the same commission.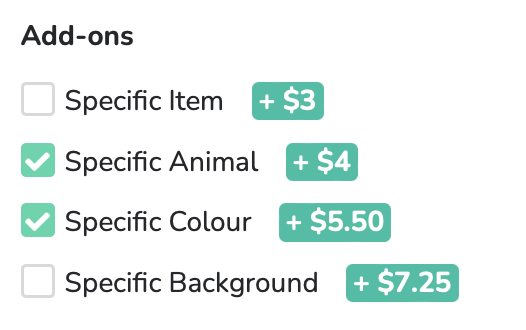 Shipping (Only Relevant for Physical Items)

Control where your commissions can be shipped and how shipping is calculated in checkout. Shipping locations and prices are displayed in your listing.
Set Shipping Destinations - Sell Worldwide
Choose a single worldwide shipping fee by ticking the "Enable worldwide shipping". Only enabling worldwide shipping (without adding any additional destinations) will allow anyone to purchase your listing and the same shipping fee will be added regardless of where the customer is located.
Add specific countries or regions as additional destinations to override the worldwide price with a more specific shipping fee. Any destination that isn't covered by a specific country or region you have added will default to the worldwide shipping price.
Set Shipping Destinations - Sell to Specific Locations Only
If you only want to ship to specific destinations then only add those destinations and make sure you've unchecked "Enable worldwide shipping". If someone tries to purchase from a location not covered by your specified destinations they won't be able to checkout.
Shipping Prices
When adding physical commissions you can set the shipping cost.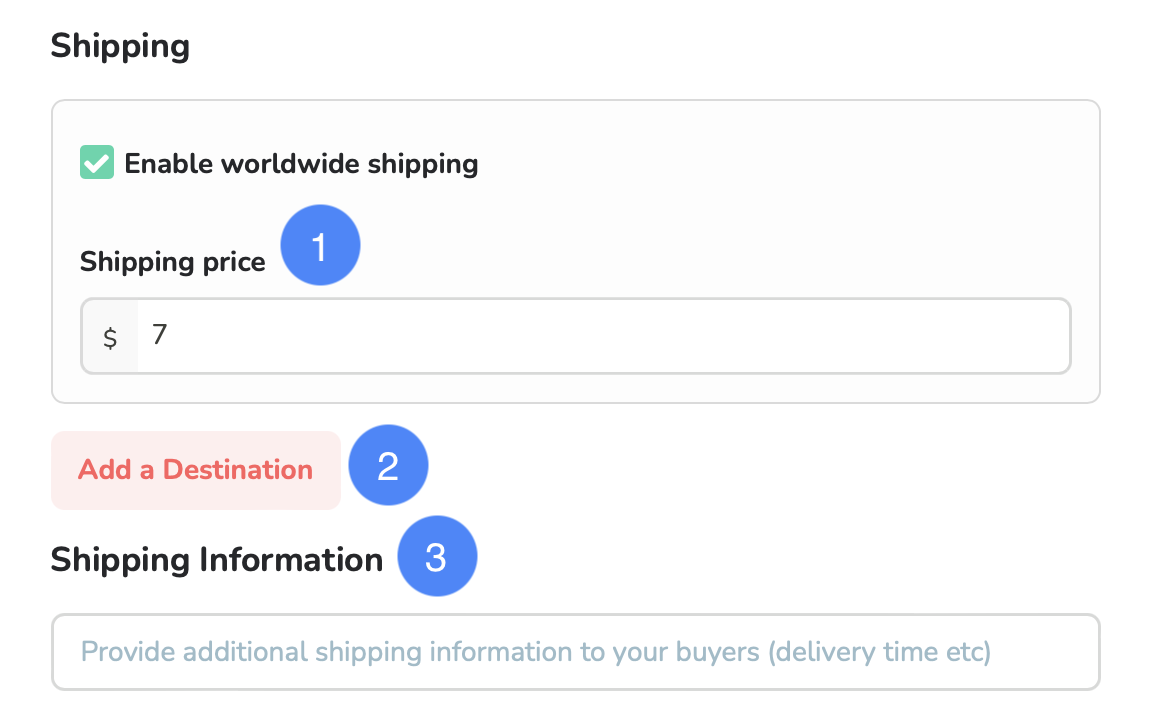 Set a base shipping price, if only this listing is purchased this will be the shipping cost.

Add a country or region to set shipping prices to a specific location.

Include shipping information for your buyers such as estimated shipping time, processing time, type of shipping and courier you will be using etc.
Additional Options
Leave a message or instructions for buyers
Buyers will see this message after payment. Use this to thank them, give instructions or give rewards.
Limit the quantity available
Limit the number of slots that can be sold. Setting this number to 0 will mark the listing as "sold out".
Once all commissions are sold, your Commissions tab will not be viewable publicly.
Note: If you choose to apply a slot limit across all listings, this option will not be available.
Exempt from Sales Tax
Ticking this option will not collect sales tax when this listing is bought. You can manage your sales tax rates from the settings link.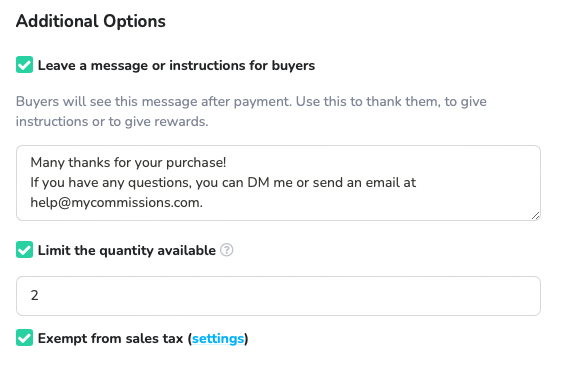 Who Can Request This Item
Make any listing available to everyone or exclusive to monthly supporters or members.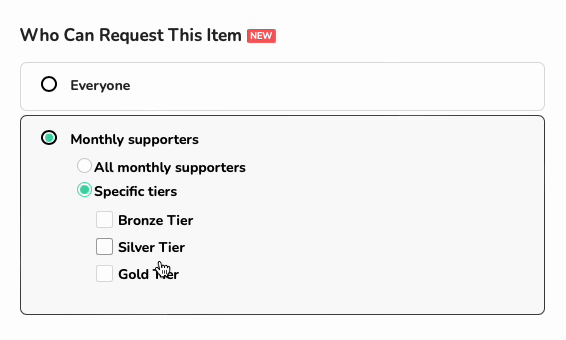 Member-only listings are visible to everyone but are tagged with a new "Member-only" badge. Regular visitors are asked to join your membership to unlock the listing.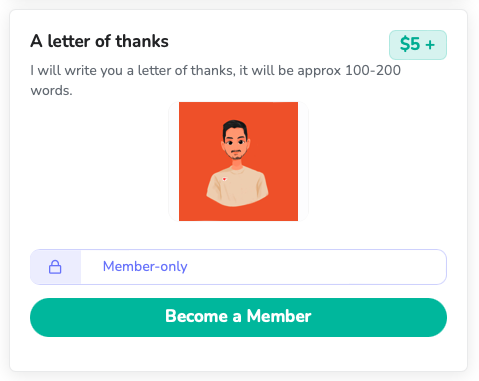 Publish Your Listing
Make your listing live by accepting the terms and conditions and clicking "Save & Publish".

Clone, Delete or Unpublish Your Listing

Create similar listings quickly using the clone button. Your listing details will be copied over in a draft listing. Edit your listing, add your images and you're ready to publish.
Delete a listing permanently by clicking the Trash icon next to the Clone button.
Hide a listing from being publicly viewed by pressing Edit > Scroll down to the bottom of your listing> Select Unpublish.

3. Standard Terms

Buyers are required to accept your terms before they can complete the request and make payment.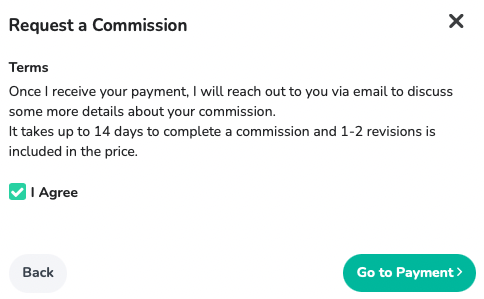 Make sure you are very clear about the terms you are offering. Remember that they must not be misleading or unfair. You should at least cover the following topics:
When and how will you make contact with them when they commission you?
How long they can expect to wait for you to complete the work?
Are any revisions included and if so is there an extra fee?
How are they permitted to use the commission e.g. commercial/personal?
What is your cancellation/refund policy?
What are acceptable/unacceptable themes? (Commissions must comply with Ko-fi's content guidelines)
4. Additional settings
Further customize your commission listings by:
Enabling chats before accepting a commission
Set limits on the number available for all your commission listings
Replace the wording for "commissions" with alternatives like Requests, Services, Bookings, or Readings.
To amend these settings, head to your "Commissions Setup" page.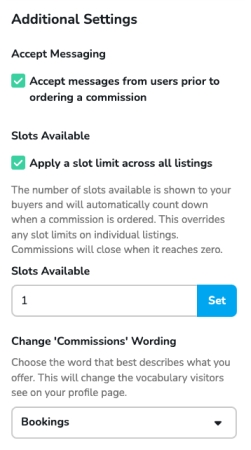 Accept Messaging
Supporters can chat with you about their commission before ordering. It allows you to discuss the project, share reference materials, or clarify terms.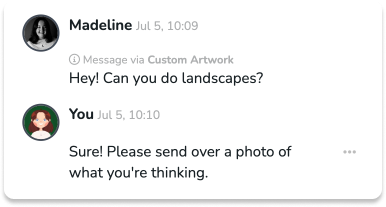 To enable Commissions Messaging, head to your Commissions Setup > Additional Settings and toggle on "Accept Messaging".
This will add your commission listings with an envelope icon, giving potential buyers a way to ask questions before placing an order.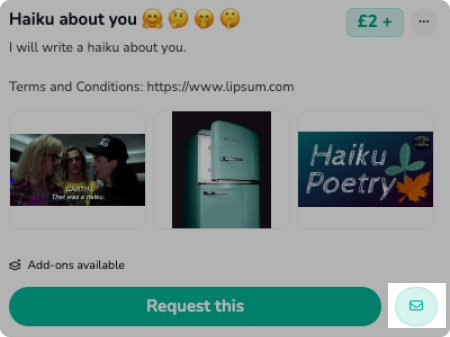 How do I accept a conversation?
When a potential buyer new starts a conversation, you will receive a message in your direct messages.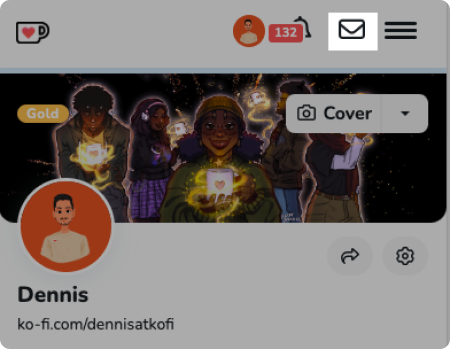 Simply reply to their message to accept. You also have the option to 'Delete' or 'Block'.
Block a request and you will no longer receive any messages from this requester. The requester will not know you have blocked them.
Delete a request and this will remove this conversation from your messages history but the user will retain it until they choose to delete it.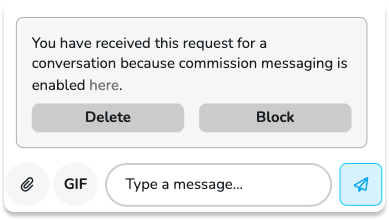 After discussing their commission, they can choose to complete the order in your commissions page.
How do I turn Commissions messaging on/off?
If you don't want to receive messages about Commissions, you can turn them off in Commissions Setup > Additional Settings > Accept Messaging > Untick 'Accept messages from users prior to ordering a commission'.
Slots Available
Toggle on "Slots Available" to set a limited number of slots for all your commissions. This will override any slot limits on individual listings.
The number of slots available is displayed to your buyers and will automatically decrease when a commission is ordered. When all slots have been purchased, the listing will close. However, your listing will still be visible on your commission page, and potential buyers can still contact you regarding that listing.
To set a limit on the number for all your listings, head to your Commissions Setup > Additional Settings and toggle on "Slots Available". Then, set the number you want to be available for all your commissions.
Change 'Commissions' Wording
You can change the word 'Commissions' on your page to Commissions, Requests, Services, Bookings or Readings.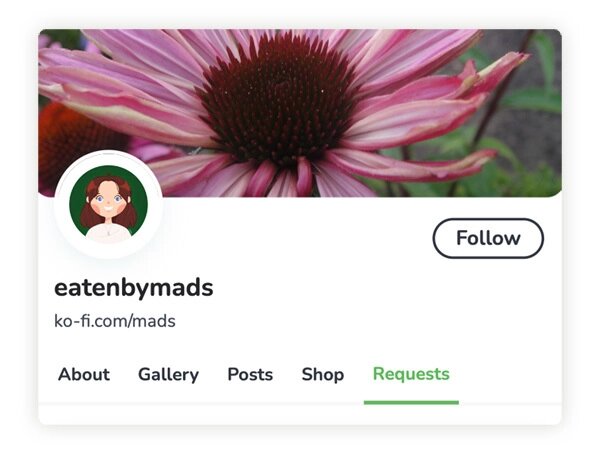 Change your wording by going to Commissions > Additional Settings and under "Change 'Commissions' Wording", select one of the options from the dropdown.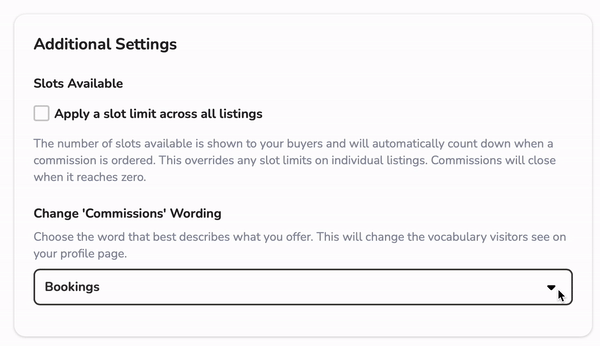 New wording will appear on your profile page, when you share your page on social, and in your emails to buyers.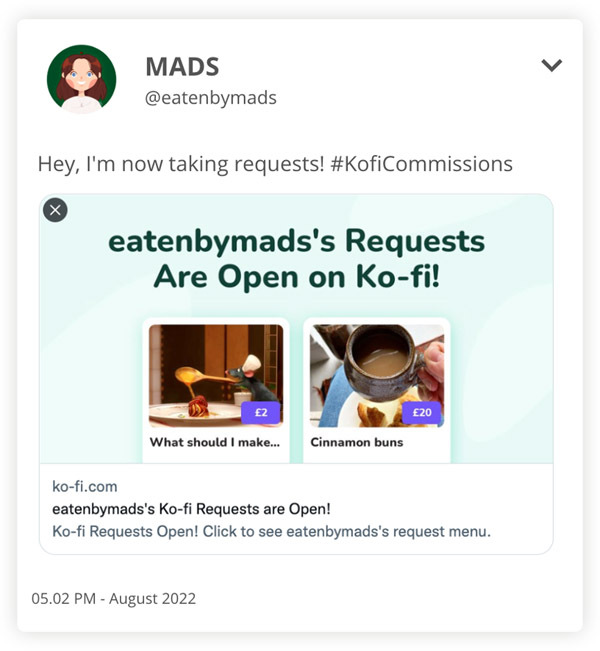 5.Sharing Your Commissions Link
Once you've published your listings, it's simple to share with your fans. Click "Copy" to share your direct link and post it on social to send fans directly to your Commissions.
Ko-fi automatically produces an image showcasing your Commissions options, but you can upload your own custom preview image if you prefer.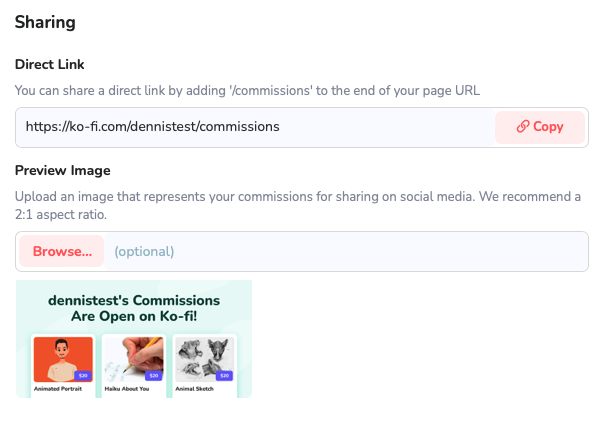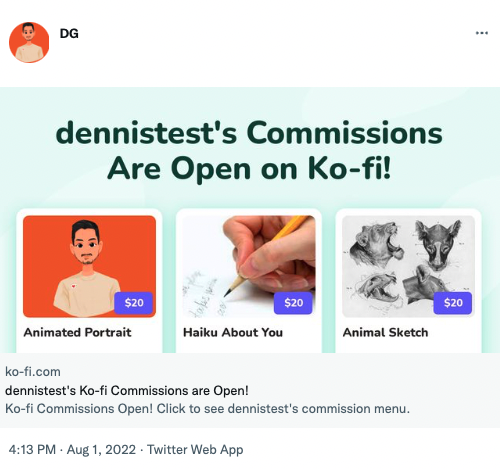 We're always looking for great Ko-fi Commissions and pages to promote on social so use #KofiCommissions when you share and we'll boost as many as we can!
How to Fulfil a Commission
Acknowledge the buyer
Once you receive a commission, you will get an email from Ko-fi and so will the buyer. The emails will have all the details of the commission.
This is an example of an email a creator has received: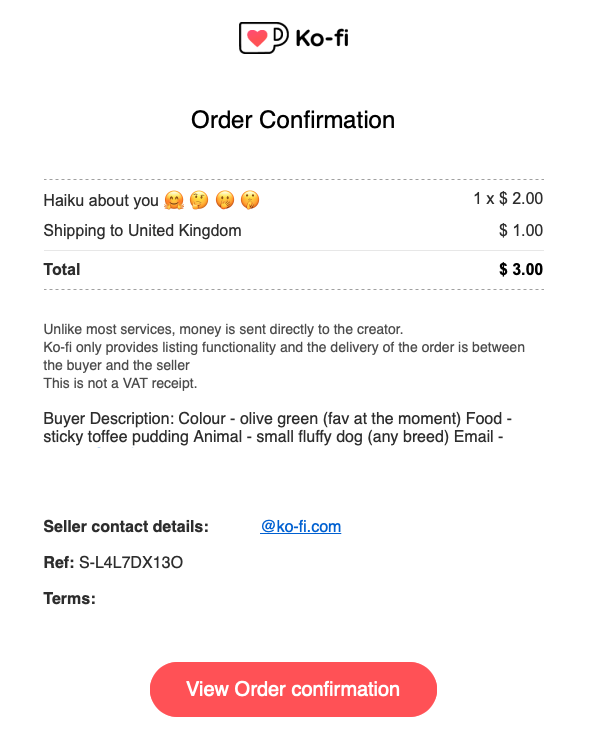 If you chose to Leave a Message or instructions for your buyers, this will be shown to your buyer immediately after they purchase.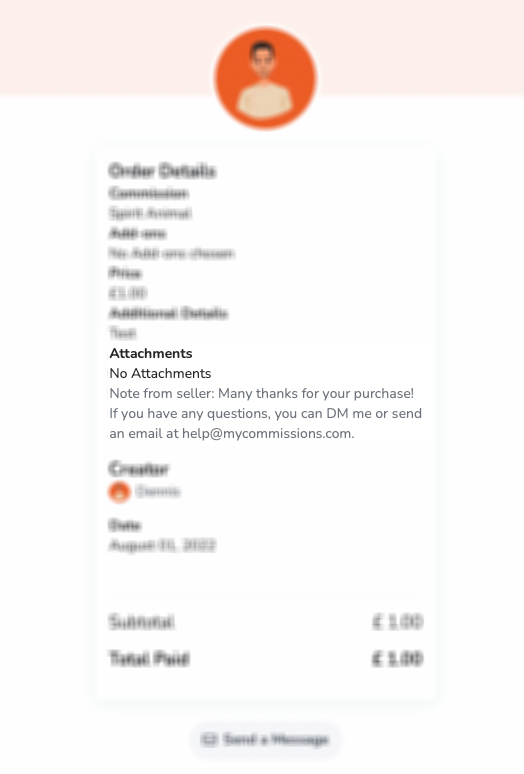 It's also worth contacting the buyer via Direct Message to thank them for the Commission and acknowledge that you've received it, ask any follow-up questions about the work or its delivery and provide a more accurate estimate of when you think you can get it to them.
View all your commission orders in your Payment History.
Note: Update the Shipping Address from any commission order here.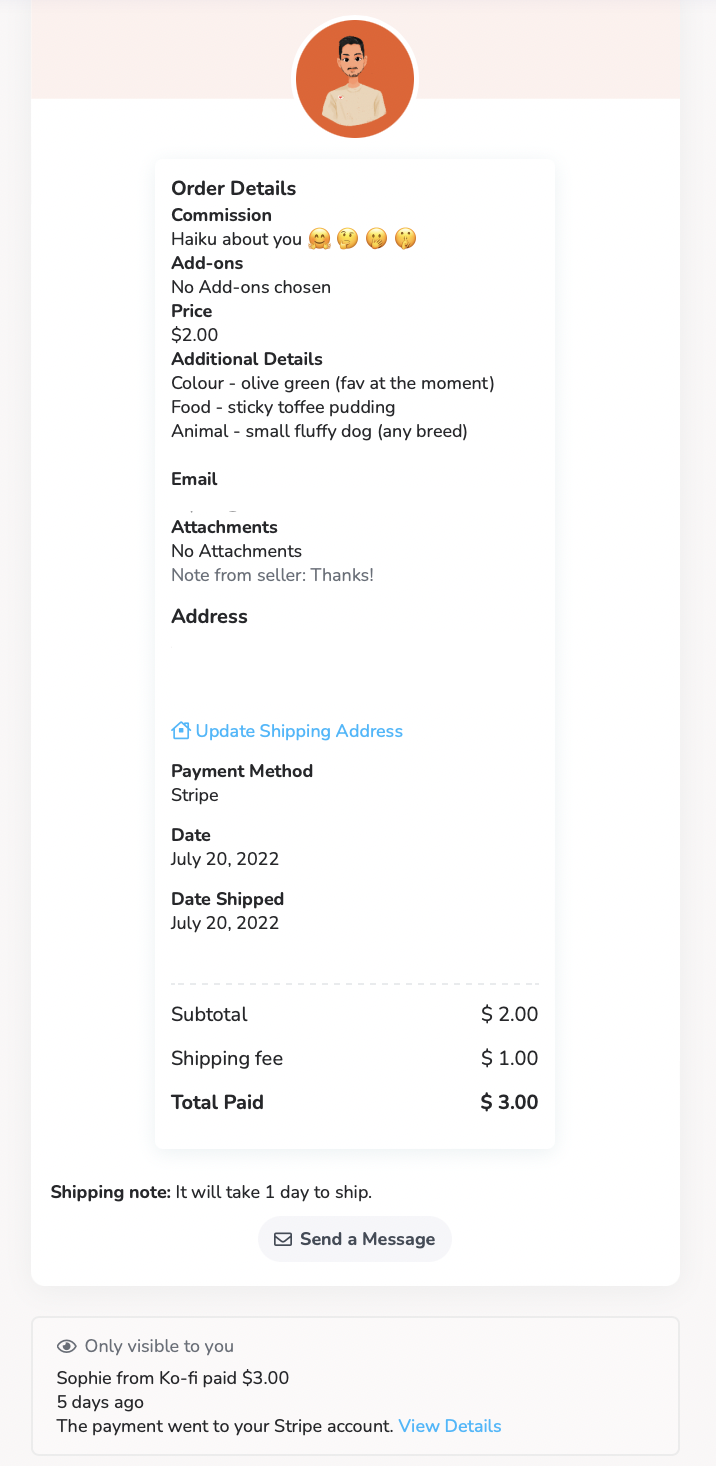 Send Your Finished Commission
Send your finished digital commission to your buyer via Direct Message or post if it requires shipping. Don't forget to mention how long it will take and pass along any tracking numbers.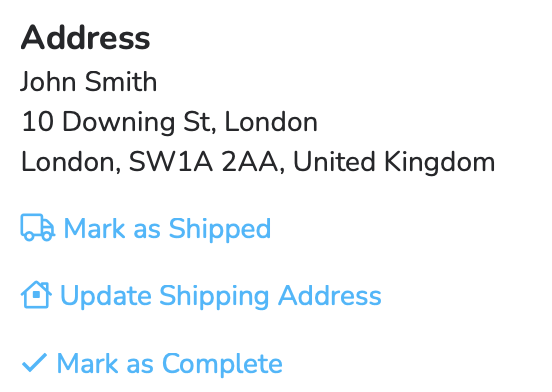 When Shipped or completed mark it as complete in your Payment History. The commission order will also be removed from your Commissions (not completed) list.
NOTE: These actions are for your reference only and doesn't notify your buyer.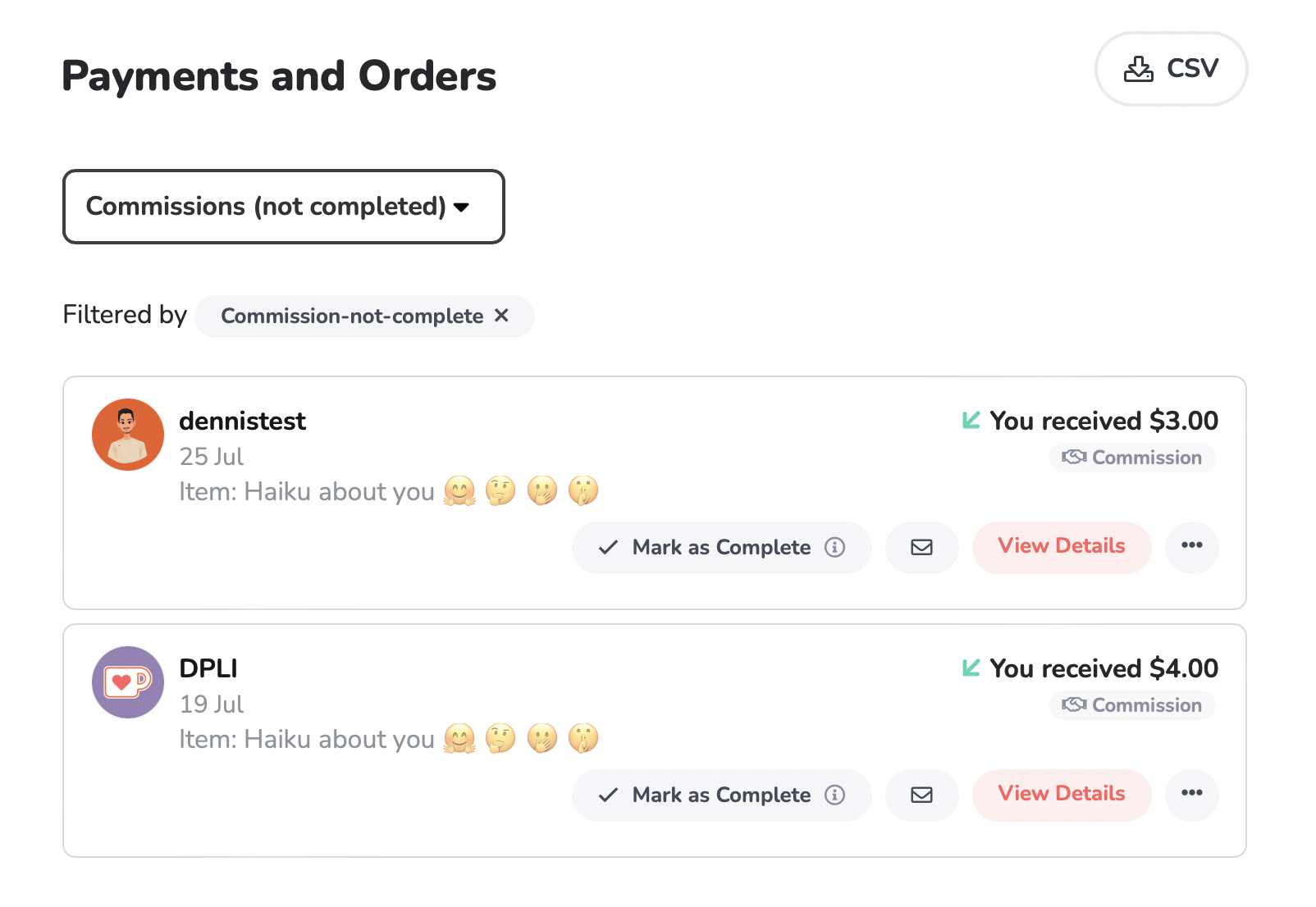 Sort Your Commissions Listings
Arrange your commission listings to make your highest value listing display first, prioritize new listings, or sort your listings based on the most frequently bought.
Set a custom order, from your Ko‑fi Commissions tab on your page, choose Sort > Custom Ordering to drag and drop your listings into the sequence that suits you.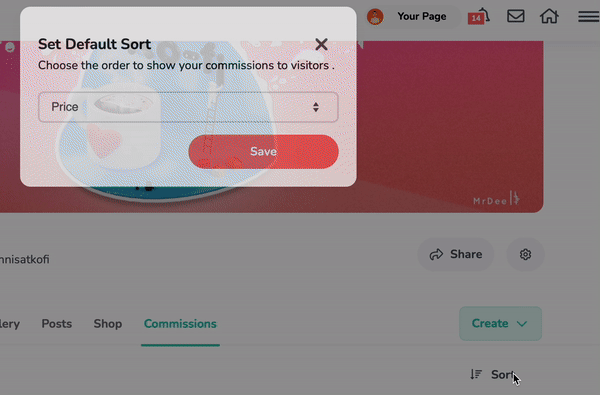 Are Commissions Just for Artists?
Commissions are for everyone! From podcasters to writers to cosplayers, use commissions for literally anything you're good at.
Think of any skills you have or services you could offer to others and they are probably things you can list as commissions!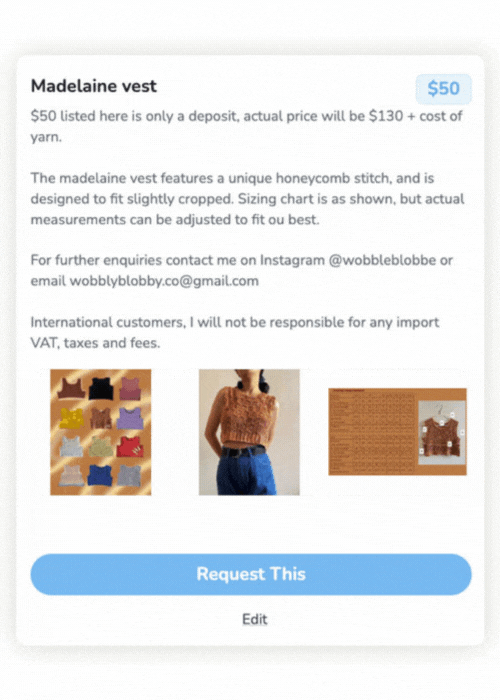 Why not offer:
🗣️ Podcast topic requests like On Second Watch
👘 Cosplay costume patterns like Alex Cerva
🧶 Crochet clothing like WobbleBobble
🎵 Bespoke songs/jingles like Promozo
📽️ Streaming support like MezameTV
🐱 Portraits of pets like Dawg Art
🔮 Tarot readings like Alicia Ying
🇮🇪 Travel itineraries like Clisare
✍🏽 Poetry like Megan Beech
Frequently Asked Questions
What does Ko-fi Commissions Cost?
Commissions are available for everyone and is free to get started. There's a low 5% fee of your commission payments. For
Ko-fi Gold
creators there are no platform fees at all.
Note: Normal payment processor fees also apply.
How long will I have to wait to get paid?
Connect your own PayPal or Stripe account. When you get a new commission, you get the payment instantly and directly into your Stripe/ PayPal account.

With Ko-fi, you're getting paid, not the platform. This means you get your money sooner and there are lower fees for both the creator and your buyers. You can even opt out of fees altogether by subscribing to Ko-fi Gold.
Can I use a different word for "Commissions"?
Change the word 'Commissions' on your profile so it sounds more like what you offer. Pick from
Commissions
,
Requests
,
Services
,
Bookings
or
Readings
.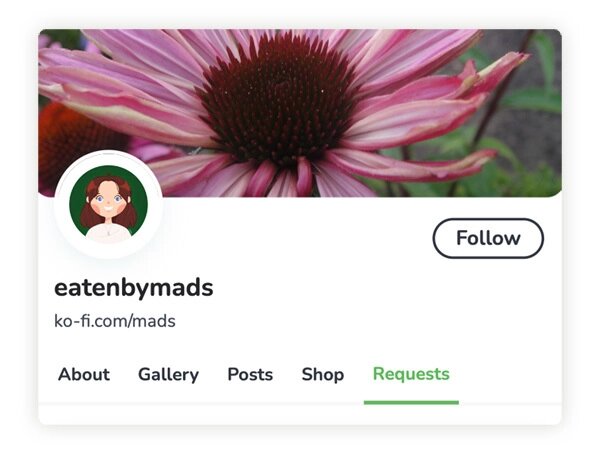 Change your wording by going to Commissions > Additional Settings and under "Change 'Commissions' Wording", select one of the options from the dropdown.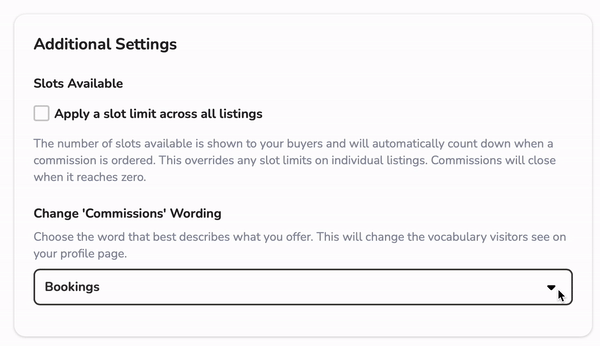 New wording will appear on your profile page, when you share your page on social, and in your emails to buyers.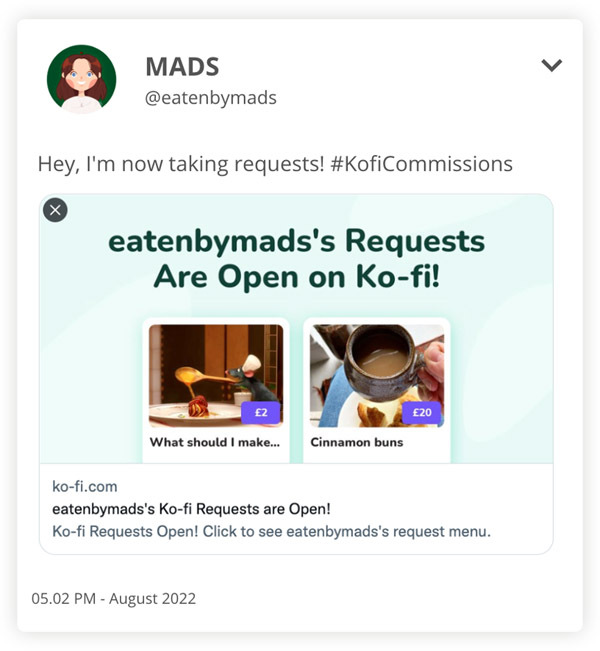 What happens to sold-out slots?
Listings that have sold-out slots are automatically added to the end of your commissions' list.

If you have opted for custom ordering, sold-out slots will remain in the order you chose.
How can I offer a discount on my commissions?
Discount all your commissions for everyone or members through the
Discounts Tab
.
Currently, you are unable to discount a specific commission listing.
What about taxes?
It is your responsibility to determine if and where you are due to register, charge and pay sales tax or VAT. You can add
sales tax or VAT
to the purchase price of commission listings.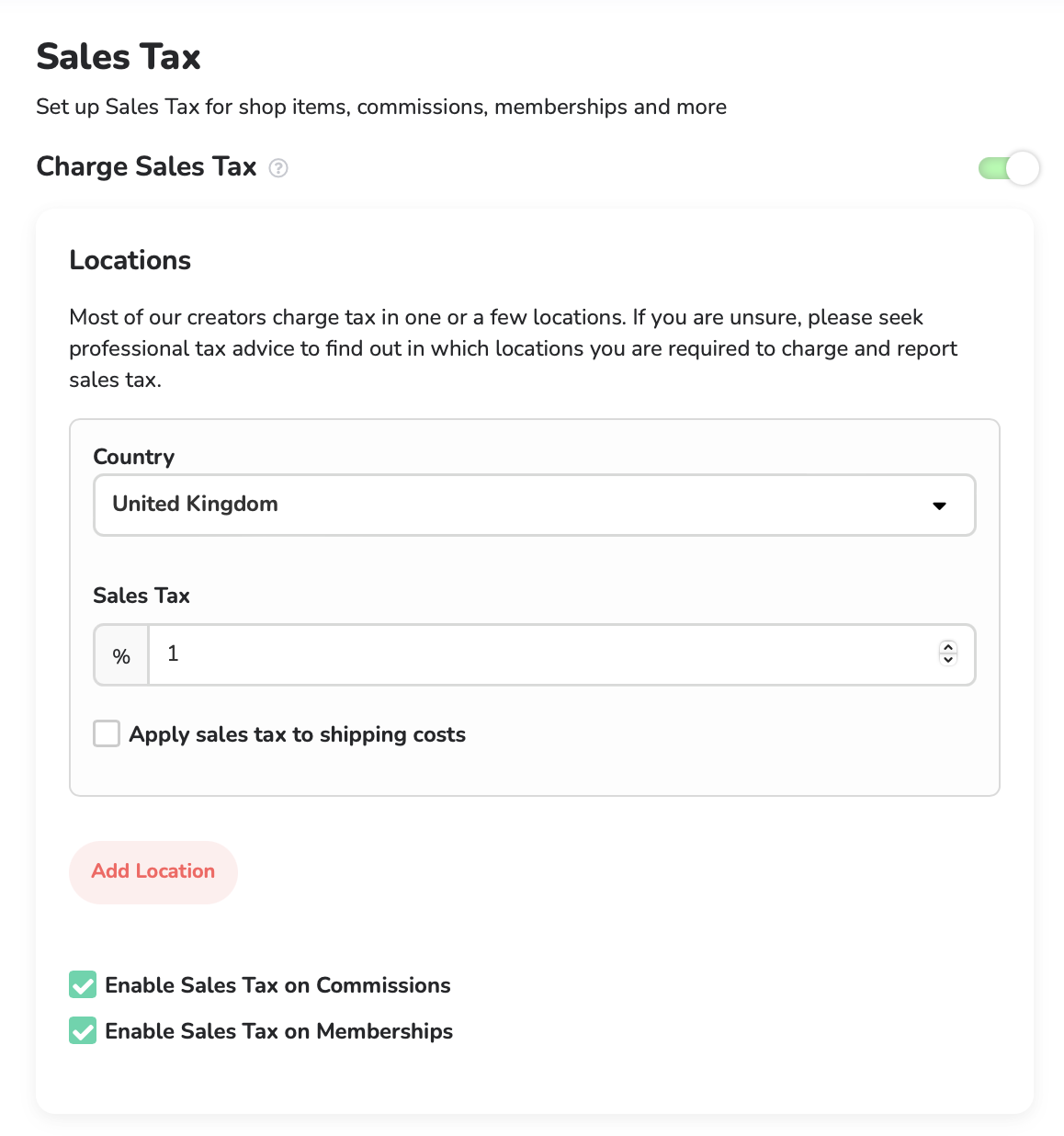 Visit ko-fi.com/manage/salestax to add the location where sales tax or vat is due and enter the % of the tax that should be added to the purchase price at the payment summary screen.

You will receive this money into your PayPal or Stripe account and it is your responsibility to seek the appropriate advice and report any sales tax due to the relevant authorities.
How do I reject a commission?
Maybe you don't want to take on a commission or perhaps you're too busy.

To reject a commission you must refund the buyer using your connected payment method e.g. PayPal.

You must also notify the buyer that you will not be fulfilling their commission request.

Please try to do this as soon as is practically possible and as soon as you know you are not going to be able to fulfill the request.
I am not sure if my work is suitable for commissions?
Our intention is for commissions to be used for any content which can be digitally delivered, is original work and complies with Ko-fi's
content policy
.
This could be all types of art, written content, video or music, personal messages or advice.
What if a buyer disputes the payment or the work?
Ko-fi Commissions enable buyers to pay creators upfront and directly.

Because of this there is a very small chance that a buyer could open a dispute with their payment provider relating to a commission they purchased from you.

The best way to reduce the risk of this happening is to set very clear terms, communicate regularly with buyers and keep records of all communications between you and the buyer.
💡 I have an idea for Ko-fi Commissions
Great! We have a really quick
survey
for you to share your thoughts.