How to cancel a membership to a creator?
When you join a membership tier, you'll keep paying until you choose to cancel. Stopping your membership will end any further charges. 🛑
How to stop your membership:
You can cancel your membership in just a few steps:
Visit your Account Settings
Scroll to "Subscriptions"
Click the "three dots" next to the membership you want to stop
Choose "Do Not Renew"
Your membership status will change to "cancelled." 👍 You can still enjoy access to content and benefits until your membership period ends. No more future payments.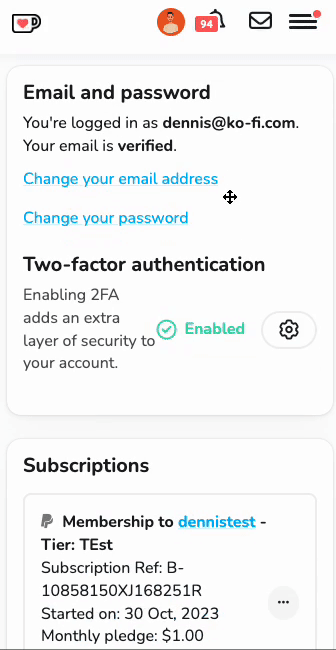 Can't find your

membership

?
Having trouble spotting your membership on Ko-fi? Here's a quick guide to help:
Log in first: Make sure you're logged in to the correct account.
Check your email: You might have used a different email to sign up. Quickly search your email inboxes for "Ko-fi" to find the welcome email that says, "You joined [the tier name]."

Failed Payment

: If you've looked through your account and emails but still can't find your confirmation email, your payment might have failed. It's best to double-check with our support team.
You can reach out to the Support team here. If you are reaching out about a membership you cannot see, please include the Ko-fi page (ko-fi.com/handle), the membership tier you joined, when you paid, and the amount paid.
Don't have a Ko-fi account?
You'll need an account to manage your memberships. Just follow the "manage subscription" link in the email you received, and you'll be guided through the sign-up process.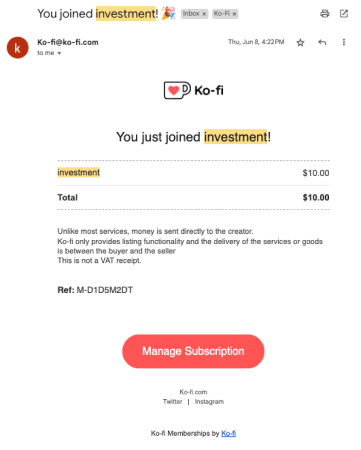 If your email link isn't working anymore, reset your password for the email account you want to access, this will create your account. Follow our help article to get it sorted.
We're here if you need us. Feel free to submit a request our way. 💌
Frequently Asked Questions