When a payment is made only the minimal information between the supporter and the creator is shared on Ko-fi. For transactions such as donations that usually means just the display name or name you entered at the time of the donation and the email address you entered. We also mark all transactions (other than some Ko-fi Shop or Commission items) as digital items not requiring postage/physical addresses.
All payments are fulfilled directly between the supporter and creator using PayPal or Stripe. These payment providers will share personal information in their normal way when processing a transaction. If you're using a PayPal personal account that will likely mean your legal name or if you are using a business account it will mean your business name is shown inside PayPal or Stripe.
Is Ko-fi Anonymous? What Information is Shared?
On Ko-fi we pass the creator the display name and the email address entered by the supporter when they made the donation or subscription. For physical Ko-fi Shop or Commissions orders we pass the address and contact information so the creator can fulfill the order. This information is available in the Payments & Orders section.
Marking a Message As Private
Ticking Private message will mean only the creator will see the message of support you leave for them. The message won't show on the page feed of the creator.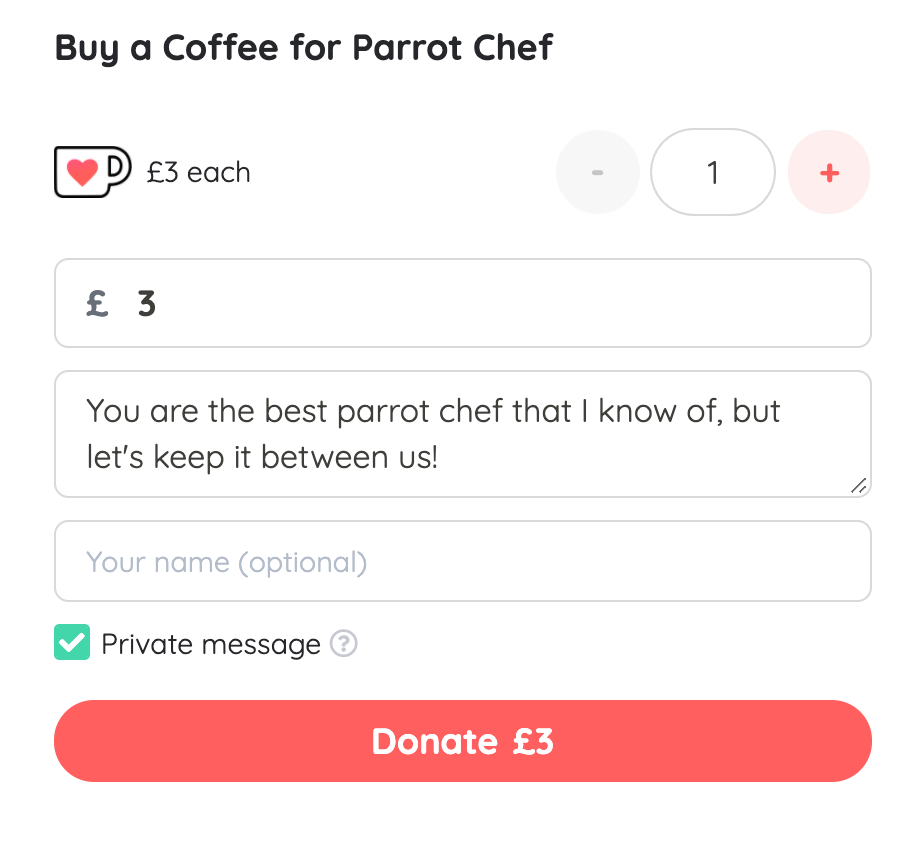 If you are logged into your Ko-fi account when you donate, your username will be displayed in the Creator's feed. If you don't want your Ko-fi username to appear on the feed then be sure to donate as a guest by logging out of your account before donating.
If you'd like to know more about Donation messages, make sure to read our article Supporting a Creator: Private & Public Options.
PayPal Business Accounts
We recommend using a free PayPal Business account on Ko-fi. With a business account, you can choose your "business name" and email address which will be shown in transactions instead of any personal information. It's easy and free to upgrade a personal account to a business account, just log in to PayPal and go to
Settings
> "Upgrade to Business Account" and follow the instructions.
PayPal Personal Accounts
If you are using a personal account, PayPal will display the legal name you registered with and the email address you use to log into PayPal with on transactions between creator and supporter. If you don't want this to be shared we suggest upgrading to a business account.
Stripe Transactions
When a Supporter makes a donation using Stripe, they will see your chosen statement descriptor on their bank statement (not your personal details). Depending on your Stripe account settings they might also see the shortened descriptor that you get to set in Stripe.

Both your statement descriptor and shortened descriptor can be updated in your Stripe account settings.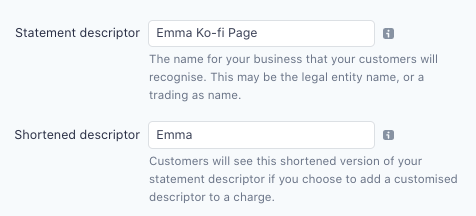 The transaction will show up on the Supporter's bank statement with the statement descriptor listed as the vendor. The exact information and presentation of the transaction will vary depending upon your bank, but here's an example.



For more information feel free to get in touch with us directly.