Pages with a goal earn on average over 2x more!
Your goal shows your audience what you're raising money for and tracks your progress as you receive support. You can share your goal progress on social and thank your fans when you reach it.
💡 Tip: Make Your Goal Relevant
Try and make your goal relevant to your creative work e.g. "New iPad" rather than something generic like "September Expenses".
How Do I Add & Share a Goal?
1. Find the Set Goal section on your Ko-fi page and choose Add.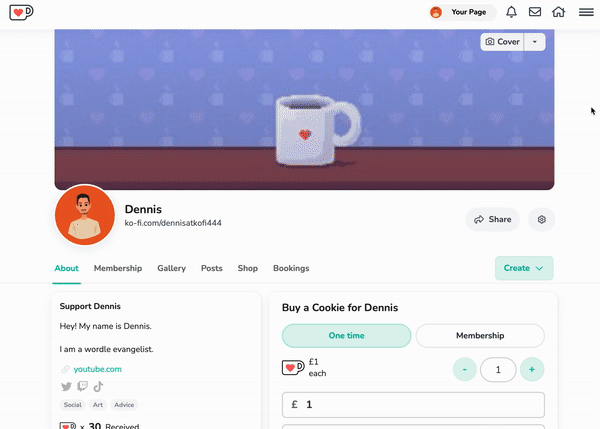 2. Set up your goal details.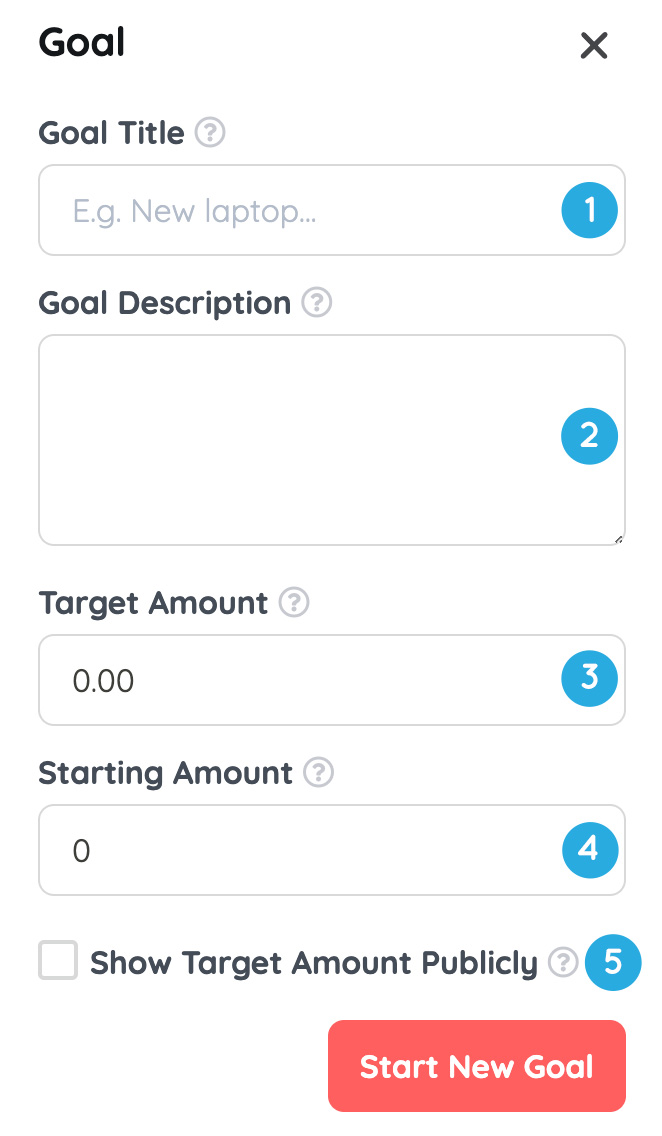 Goal Title:

Give your goal a title e.g "New Camera".

Goal Description:

Explain your goal within 500 characters.

Target Amount: The target amount is the monetary amount to complete the goal in your chosen currency (not the number of Ko-fis). Make sure it's a whole number e.g. $200, not $200.05.

Starting Amount:

If you've already raised some money towards your goal you can set a starting amount. This is shown as a % to supporters.

Show Target Amount Publicly: Ticking this box shows the total target amount of support.
4. Click "Start New Goal" to make your goal live.
Note: All payments (one-time donations, commission sales and recurring payments) will contribute to your goal apart from shop sales do not contribute to your goal.
3. Once your goal is set up, tap the

share icon next to your goal to update your fans and thank your supporters on social.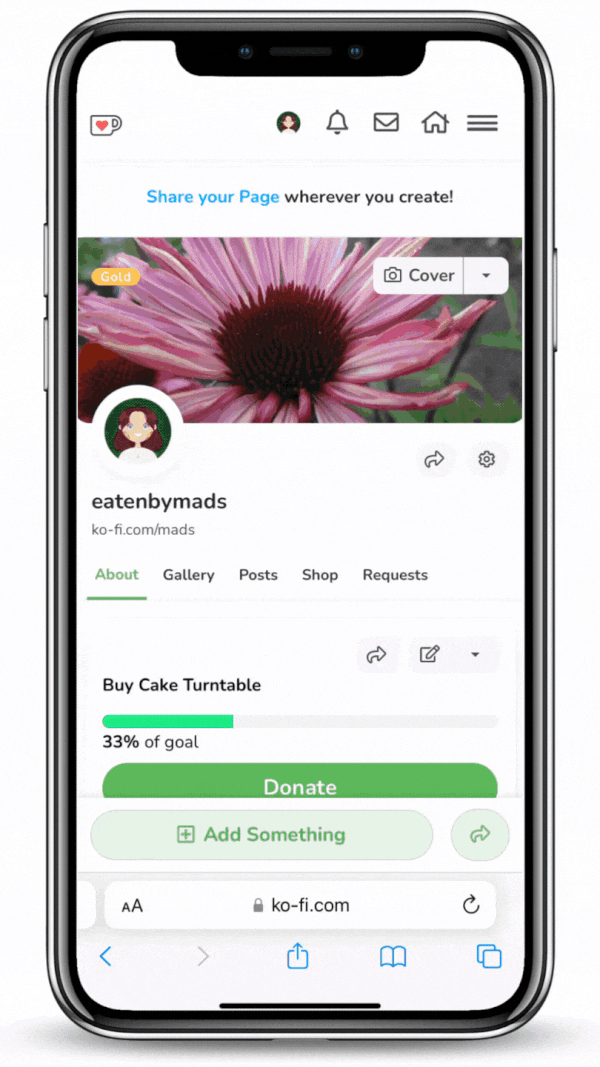 How Do I Edit or Remove a Goal?
Click the

down arrow symbol to amend your goal details.
Edit Goal to change your present running total eg. if you get any outside donations, change the amount of your goal or decide to change any of your goal details.
Set New Goal entirely if you've reached your goal or Remove Goal if you want to delete it entirely.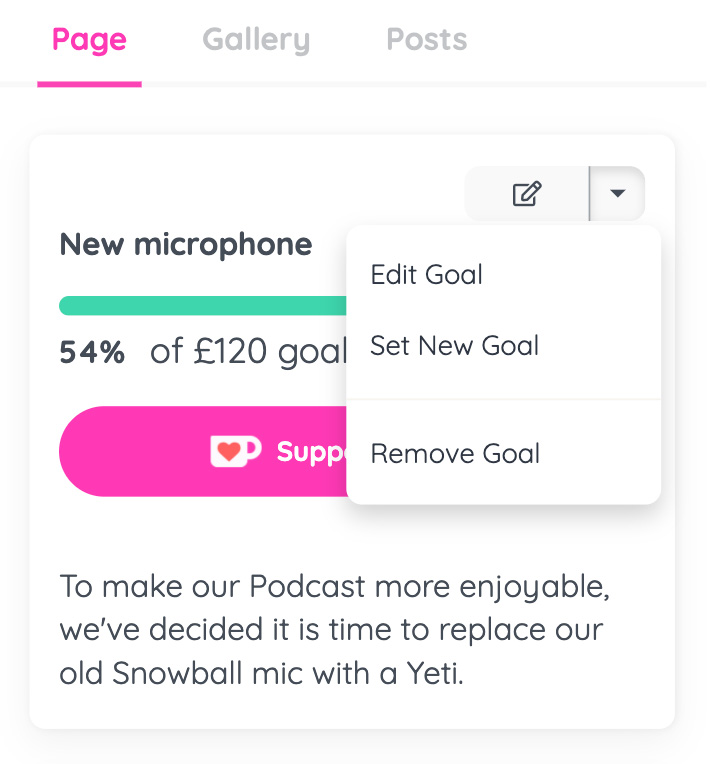 What Happens When I Reach My Goal?
A notification should appear congratulating you on your reaching your goal.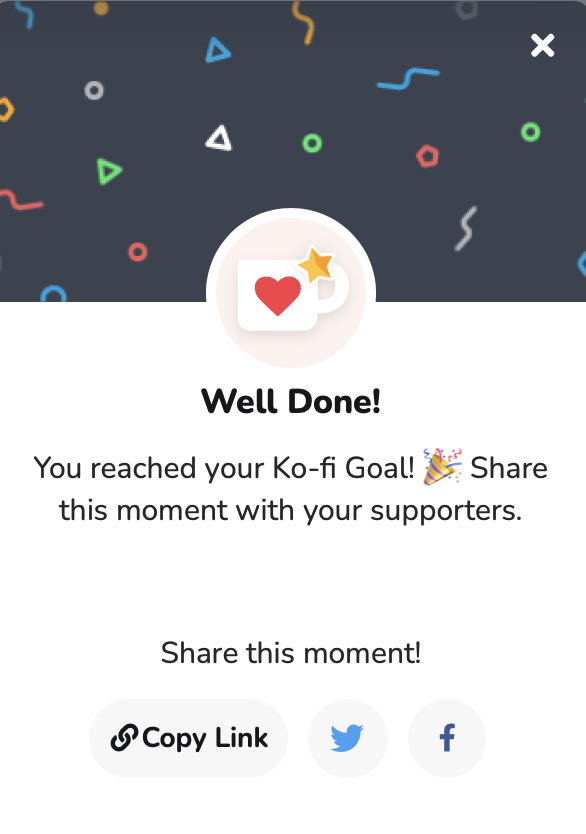 Share you've reached your goal on social and thank all your supporters.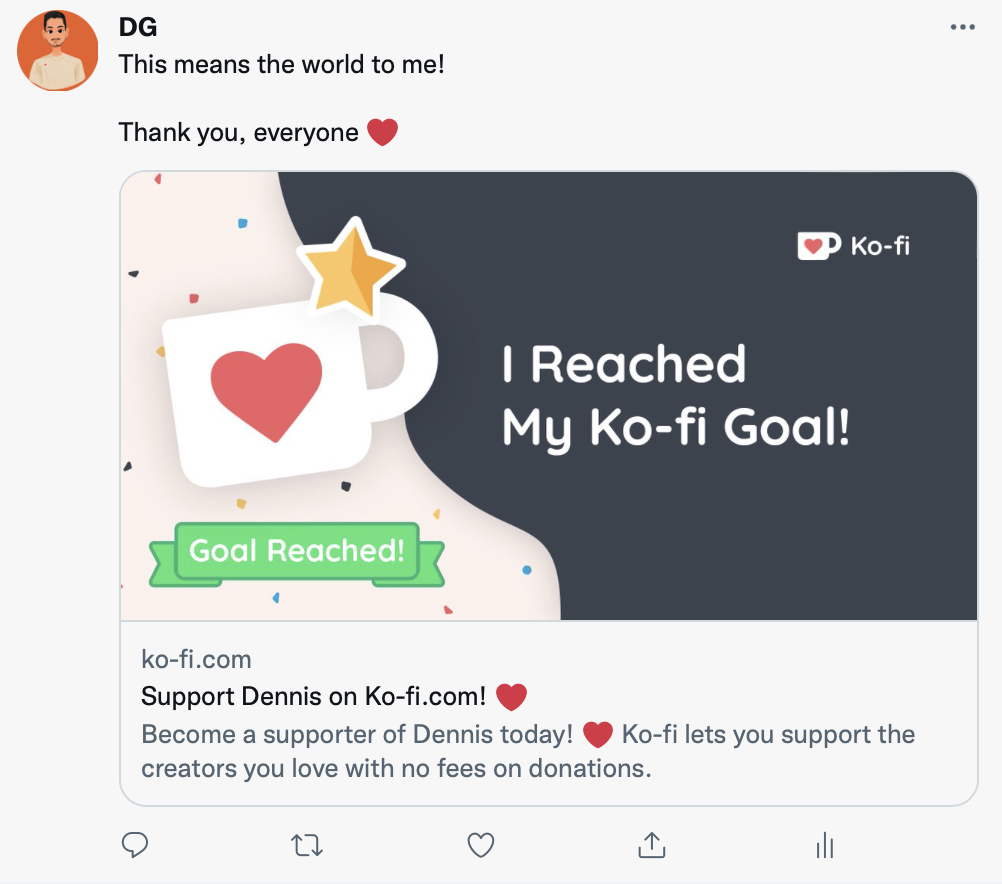 Have questions? Feel free to get in touch.
Frequently Asked Questions

Will Commission or Ko-fi Shop sales count towards my goal?
Shop sales do not contribute towards reaching your goal, however, Commission sales do.
Can I set multiple goals?
It's not currently possible to have multiple goals running on a single page. You can edit your goal as many times as you like and lots of creators share posts to celebrate achieving goals.
What happens if I don't reach a goal?
Don't worry if you don't reach your goal, or want to update it before you complete it. Goals are just a friendly way to show your supporters what your aims are.
Why is my goal not showing up on my profile after setting it?
Double-check you're using a whole number for your goal amount e.g. $100, not $100.05 and that your goal description is less than 500 characters long. Feel free to
get in touch
if you're still having problems after checking.