How to Connect a Stripe Account to Ko-fi
What is Stripe?
Stripe offers a fast and direct way for supporters to pay via their bank card directly to you, without leaving your page.
Adding Stripe as a payment option may make it possible for some supporters to donate who are unable to donate using PayPal.
Stripe also allows you to offer additional payment methods like Apple Pay.
To find out more about Stripe at Stripe.com and see if Stripe is available in your country at Stripe.com/global.
The Supporter Experience Using Stripe
By adding Stripe as a payment option to your page, supporters will see the option 'Pay with Card' when they choose to donate or subscribe. With Stripe it's simple and quick for supporters to donate directly on your page with just their card.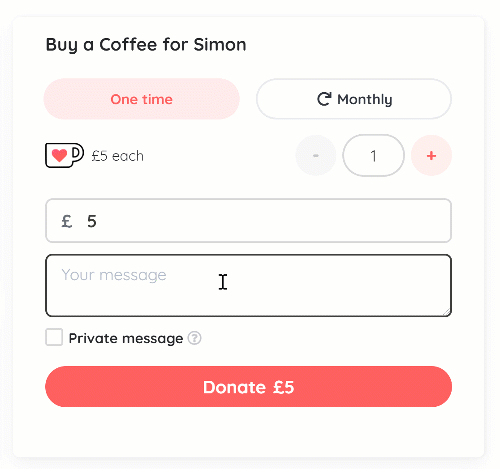 How to Connect Your Stripe Account to Ko-fi
Once signed in to your Ko-fi account head to Settings > Payment.
Make sure Accept Payments and Stripe are both toggled to the Green (on) position.
Click Connect to begin connecting your Ko-fi page to your Stripe account.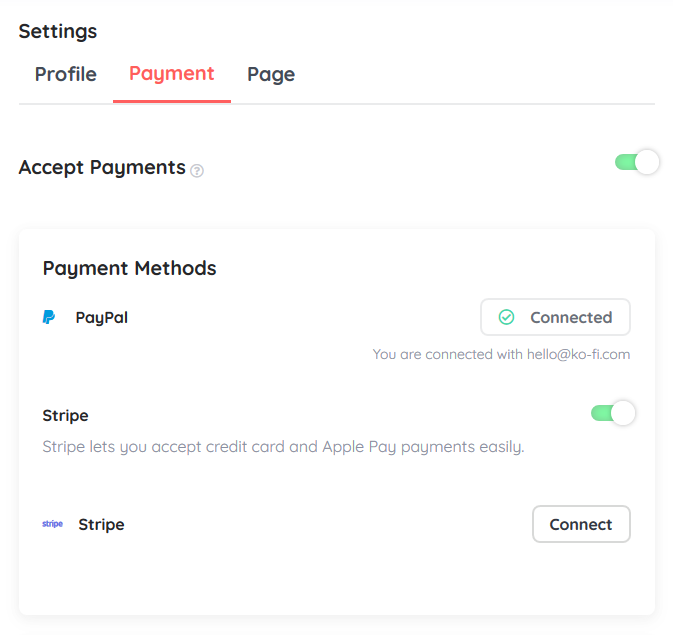 A new page will open allowing you to Sign in to an existing account if you have one. If you do then once you sign in you will just need to confirm the connection to Ko-fi and you're done! If you require a new account, you can complete the application form to create one.
Creating a Stripe Account

If you are creating a new Stripe account you will be asked to complete a registration form. We auto-fill some of this information on the sign-up form including "Business website" as your Ko-fi page URL. We do this for convenience only and please refer to Stripe directly for any issues you may have while creating an account.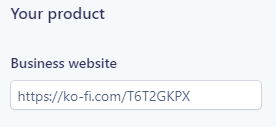 One final field to consider is the "Business Name" field. The details entered in this field will be shown on your donator's bank statement. This can be changed at any time once the account has been created.

Once you have filled in the form scroll to the bottom of the page and click the "Authorise access to this account".

This should now re-direct you back to your Ko-fi page and your account will now be successfully connected to Stripe!
If you ever wish to disconnect from Stripe just go back to your Ko-fi Settings > Payment options and click the button that says Connected to disconnect.
If you have any issues creating your Stripe account, please follow the link below for further assistance: support.stripe.com/contact/
FAQ
Do I have to be a business to use Stripe?
Stripe is aimed for businesses of every size, it provides the option for Individual/Sole proprietors which may be appropriate to some creators.
Will I be able to see payments made to me using Stripe?
Yes, once you have a Stripe account you will have complete access to your own Stripe Dashboard. You can see payments, control payouts, make refunds and manage subscriptions created on Ko-fi.
How to payouts work on Stripe?
Payout schedules depend on the country you're based in and your business type. Your first payout on Stripe will post to your bank account within 7 days. After that, payouts will be made on a rolling basis on a 2, 4, or 7 day schedule. Visit your
Payout Settings
in your Stripe Dashboard for more info.
Can I hide my contact number from any receipts, invoices or bank statement line items?
Yes, you can control if you show/hide your phone number.
Ko-fi will never show your phone number to supporters, but we aren't in control of what information is displayed by third party payment services like Stripe or how different banks display transaction information.
You can choose if your telephone number is displayed on Stripe receipts and invoices by logging into your Stripe account, clicking on the

Icon for Settings > Public Data > to toggle your Support Phone Number on or off.