How to change your membership to a creator?
If you're already supporting a creator with a monthly donation or as a member of a tier, here's how you can switch tiers, update your donation, or change your payment card.
Note:
If you are looking to cancel your membership, follow our article here.
Switch Tiers
If you're part of a tier and want to change to a different tier, head to the creator's page and click Join on the new tier you want.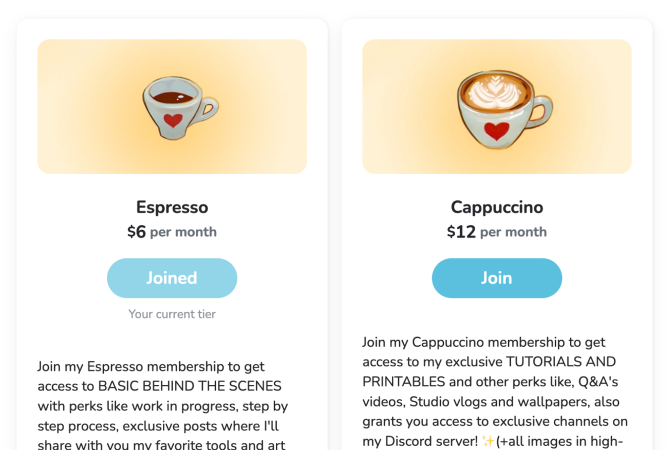 Once you join:
You'll pay for the new tier upfront.
Your current tier will stop charging at the end of this billing cycle.
Your new tier will start around the same renewal date.
What happens next?
Upgraded? Enjoy immediate access to extra perks.
Downgraded? Keep your current perks until the end of your billing date.
You won't receive money back from your previous membership, but it's up to the creator if they want to give you a refund.
Contact the creator directly from their profile page:
Head to the creator's page (under their profile pic) > "Send a Message".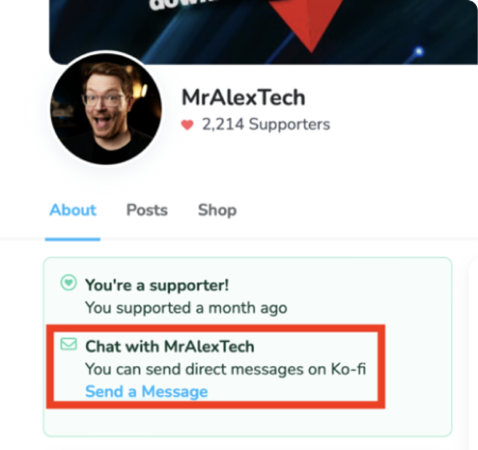 Manage your membership
Here's how you can tweak your membership settings, from updating your payment card to changing your pledge.
Log into the Ko-fi account you used to become a member.
Go to More > Account & Billing.
Find the Subscriptions section, find the relevant subscription and click the three dots for more options.

Update your card
You'll be prompted to add your new payment card.
Your next payment will come from this card.
Switching cards takes a few days, so if your renewal is soon, the old card might still get charged.
Note
No Update Card option? Your payment might be going through PayPal.
To change how your payment is made through PayPal (balance/bank/card):
Log into your PayPal.
Click Profile at the top of the page.
Select My money.
Click Update in the My preapproved payments section.
Choose the Ko-fi membership you want to update.
Click Change under Payment Method.
Pick your new payment method.
After this, your next payment will be taken from your new chosen payment method.
Note
Right now, you can't switch between PayPal and direct card payments.
Update your pledge amount
Choose an amount higher than the minimum. Your new pledge will change when your next subscription payment is due.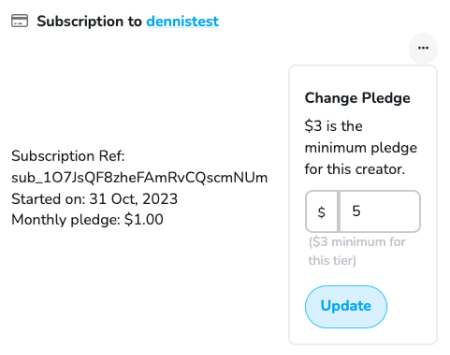 We're here if you need us. Feel free to submit a request our way. 💌