Why are my PayPal funds on hold?
Sometimes, creators mention that PayPal has placed their funds "on hold." This means a portion of your funds is temporarily locked by PayPal. This can happen with new accounts or if there's unexpected activity, such as receiving an unusually large payment or many payments in a short time. PayPal usually sends an email about these holds. In most cases, PayPal releases the funds within 21 days.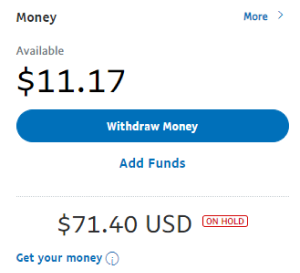 For reasons why your PayPal funds might be on hold, learn more from PayPal's Help Article here. Some common reasons include:
Your PayPal account is new.
You've received a new payment after not receiving payments for some time.
You've received payments that are different from your usual transactions.
Even if your PayPal funds are on hold, you can still receive payments on Ko-fi. Most creators can expect to wait up to 21 days to have their funds released from PayPal, assuming there are no issues with the order.
How can I get my funds released sooner?
How can I get my funds released sooner? It's common for PayPal to keep funds on hold for the full 21 days. Here are some things you can do to try and get your funds released earlier:
Note
For a complete view of your PayPal account, it's recommended to use the full PayPal Dashboard on a desktop, rather than the App or Mobile version.
Offer Stripe as a payment option
To gain access to future payments faster (while PayPal funds are "on hold"), you might want to consider adding Stripe as a payment option. With Stripe, supporters pay you directly with their card. Learn more about connecting to Stripe.
Once you have successfully linked your Stripe account to Ko-fi, you can decide to offer PayPal and Stripe or just Stripe as a payment option. When a supporter pays via Stripe, you'll see the money in your Stripe dashboard and be able to schedule Payouts directly to your bank at any time.
Note
You should receive an automatic Payout every 7 days.

Will my supporter get access to my content whilst my funds are on hold?

Usually, when your funds are "on hold", Supporters can access locked content, membership tier benefits, or digital shop items.
But, "on hold" is different from "pending". "Pending" means PayPal is verifying the supporter's payment. During this time, supporters usually will not have access to your content and benefits.
If a pending payment is made via an eCheck, which is a type of bank transfer, it could take around 5 business days to clear. Supporters only gain access to content once their payment has cleared. Further details here.

To learn more access PayPal Help Centre here.
We're here if you need us. Feel free to send any questions our way. 💌