My PayPal Funds Are on Hold
Occasionally, we have heard from Creators that PayPal have placed their account "On hold".
Funds may be put "On hold" because your PayPal account is new or you've suddenly received an increased number of payments (find out more from this PayPal Help Article).
You may receive an email from PayPal and notice a portion of your funds labelled as "On hold".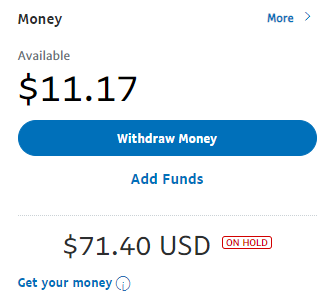 You should still be able to take payments on Ko-fi successfully but you won't be able to access the funds on hold in PayPal usually for 21 days.
Learn more about PayPal holds and what you can do to release your funds from this PayPal Help Article.
*Note: It's always best to log in to the full PayPal Dashboard on a Desktop device (not on the App or Mobile version of the PayPal site) to check for other warnings or notifications about your account.
Can I Get My Money Released Sooner?
Money can be held for up to 21 days but some Creators have reported their funds released earlier.
If the money on hold was through the sale of physical items from your Ko-fi Shop, consider submitting shipping/ tracking information to PayPal which should help speed up the releasing of funds.
If the money received was through Donations, Membership payments or Commissions etc, it is common for PayPal to keep those funds on hold for 21 days.
You can reach out to PayPal's Helpdesk for more information.
Offer Stripe as a Payment Option
To gain access to future payments faster (while PayPal funds are "On Hold"), you might want to consider adding Stripe as a payment option. With Stripe, supporters pay you directly with their card. Learn more about connecting to Stripe.
Once you have successfully onboarded to Stripe, you can decide to offer PayPal and Stripe or just Stripe as a payment option. When a supporter pays via Stripe, you'll see the money in your Stripe dashboard and be able to schedule Payouts directly to your bank at any time.
Note: You should receive an automatic Payout every 7 days.
If you have any questions, do reach out to us.