I Think My Account Has Been Compromised
If you suspect someone has gained access to your account or your login details have been compromised the first thing you should do is log in to your account and change your password.
By doing this, Ko-fi automatically terminates all other logged-in sessions, so you can safely continue to use Ko-fi.
It's also good practice to change your account's password often, especially if you believe somebody is accessing your online accounts.
Signs That Your Account May Be Compromised
Changes have been made to your account that you didn't make, for example, login email has been changed.
Your profile has content published to it that you didn't post.
You are unable to log in using your credentials.
If you are experiencing these signs on your account, please make sure to follow the steps described below.
Disconnect Your Payment Methods
If you have noticed donations that have been made using your account on your Received & Given page that you do not recognise, we highly recommend disconnecting your payment methods.

To disconnect your payment methods, navigate to your Settings Page and go into the Payment tab, you will be presented with the following screen: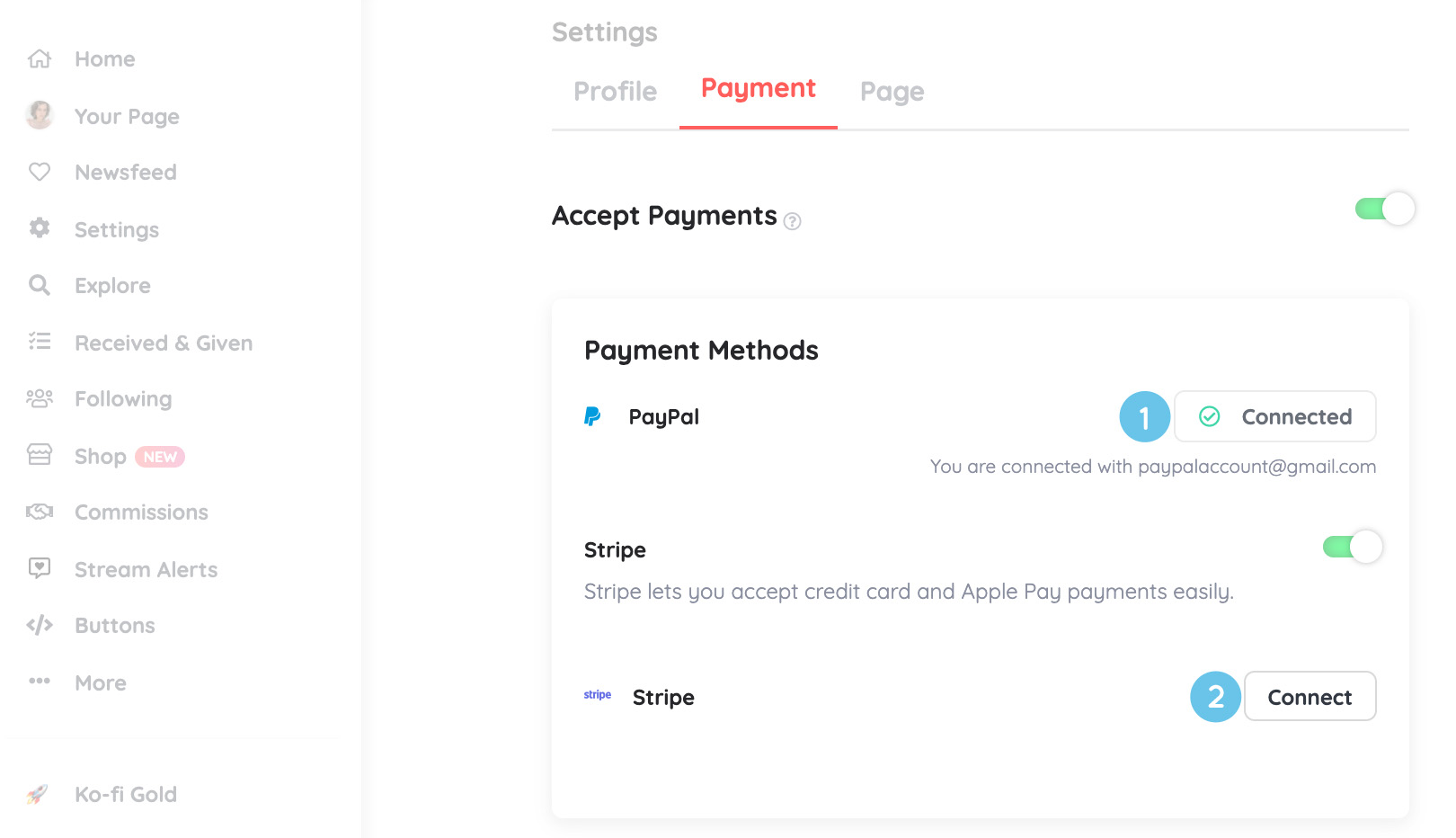 Click the Connected button of the payment method you would like to disconnect.
If your payment method has successfully been disconnected, the Connect button will look as shown here.
Change Your Password
Log in to your account and go to your account settings, select the Choose Password option on this page.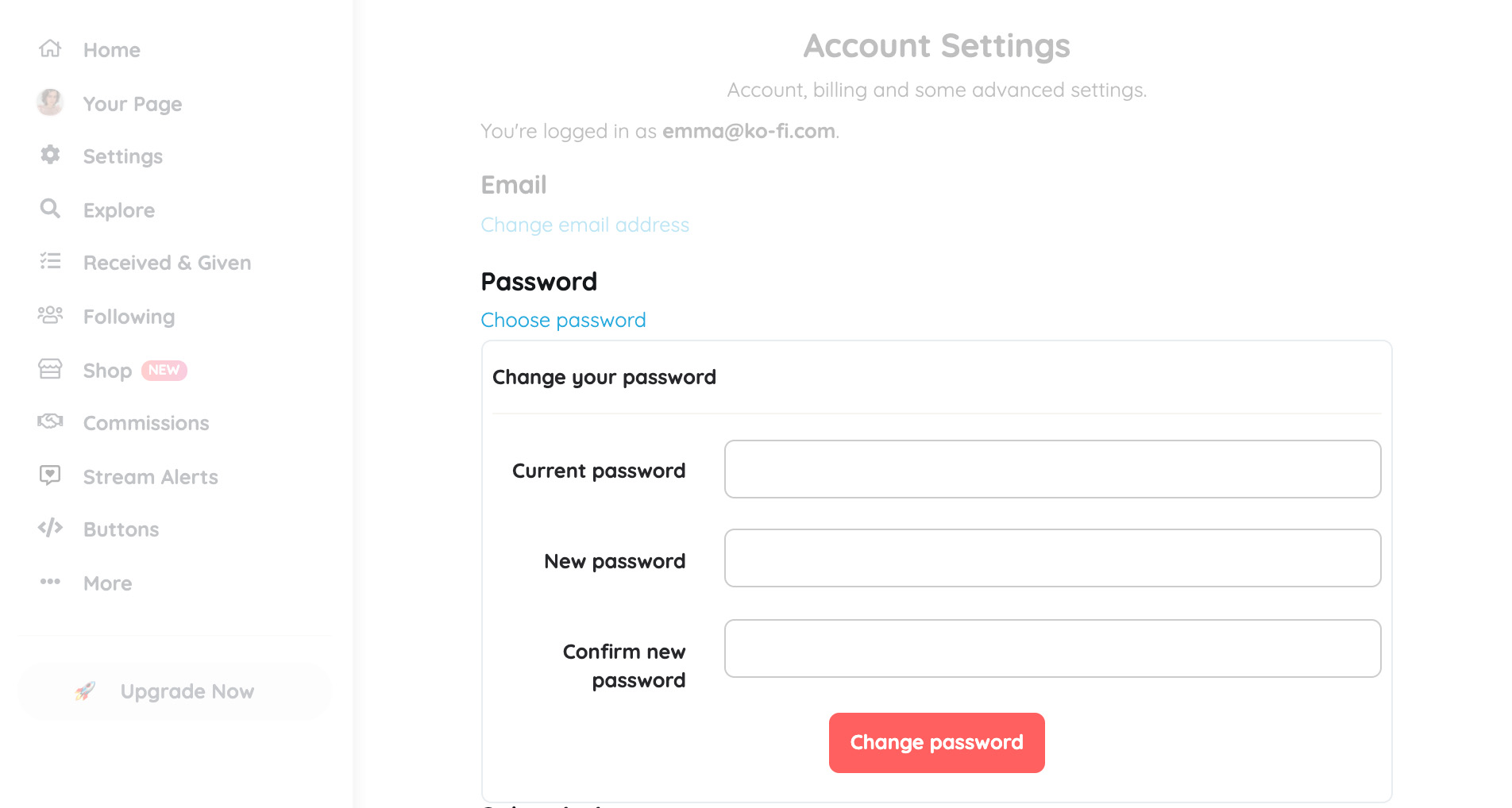 Make sure to choose a strong new password that you haven't used on any other accounts.
When choosing a strong password, make sure to use letters, numbers and symbols, and keep in mind that a longer password is significantly stronger than a short one.
Check Your Account Email
While you are on your Account Settings page, make sure to check that your account email has not been changed.
You can see your login email at the top of your Account Settings page.

If the email address does not match the one you signed up with, you can change it by clicking the Change Email Address option.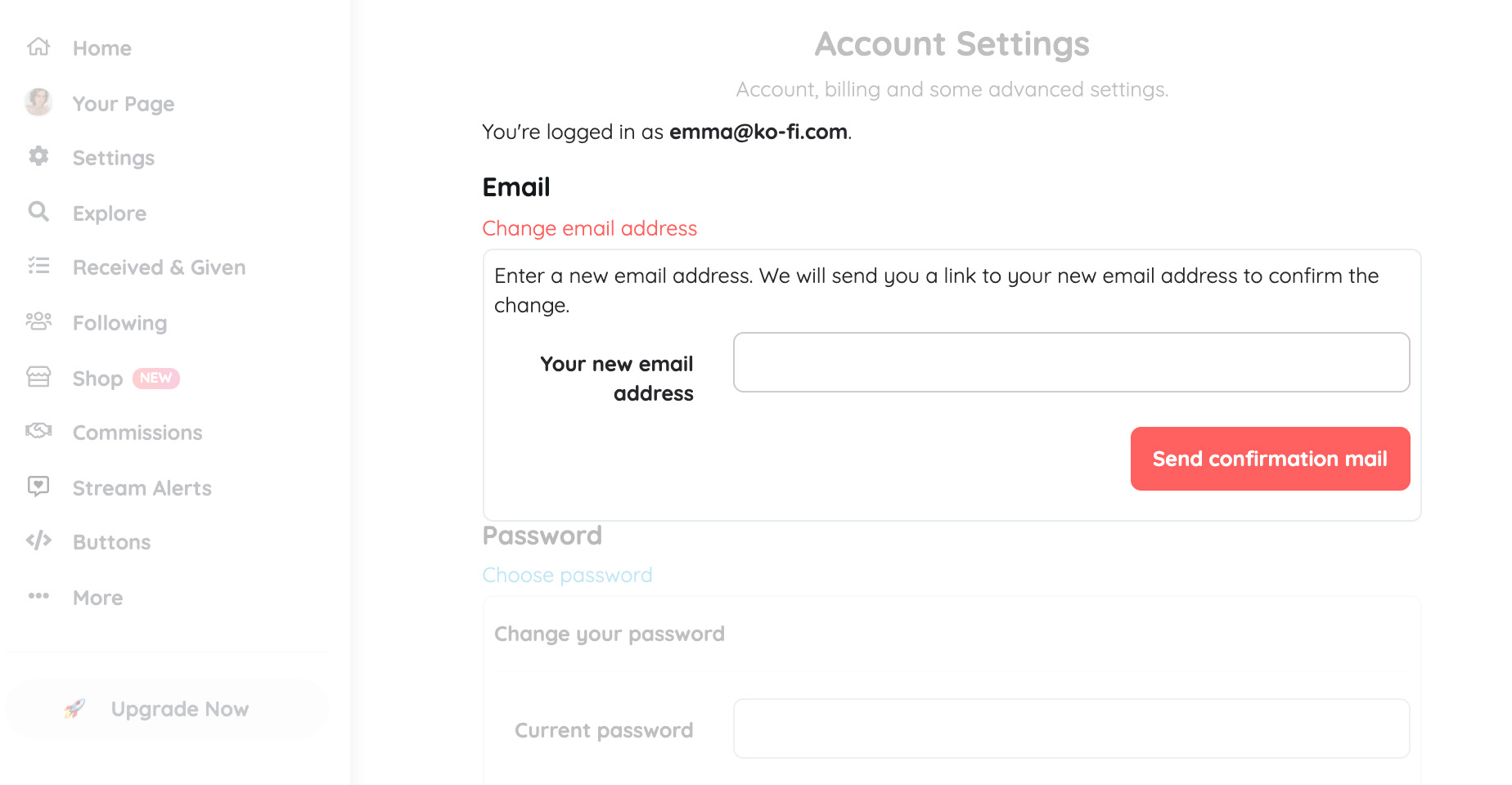 Contact Us
If you suspect your account has been compromised but can't log in to your account or are unable to complete the steps above for other reasons, reach out to us and we'll get back to you as soon as possible.
FAQ
I don't see the option to change my email address in Account Settings, help!
If the option to change your email address isn't shown it usually means you signed up with Facebook or Google. Please
reach out to us
to request a change.
Someone used my payment info without my permission. Where can I report a fraud?
Ko-fi is not the merchant for transactions made between creators and supporters. Because we are not part of the transaction we are not able to offer refunds or investigate fraudulent payments. You can dispute payments directly with PayPal either from the email you received from PayPal or directly from your PayPal account.