Offering Supporter-Only Content

Creators who offer supporter-only content earn more than 10x the average Ko-fi page.
Supporter-only content is available to all creators who activate Memberships (5% platform fee) or who join Ko-fi Gold (0% platform fee).
How to Add Supporter-Only Content
When you add Posts or Images you can use the Audience selection to choose who can see that content.
On your page, choose a type of post to create.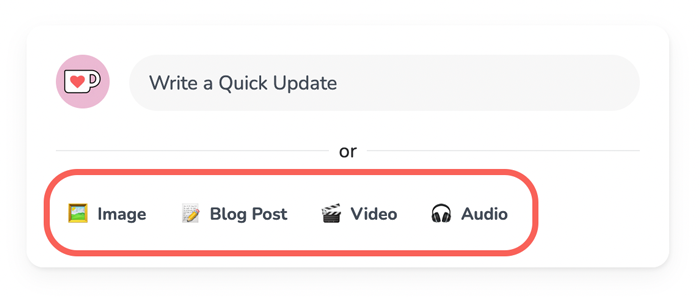 Note: if you want to share a link to a file or folder you can use a service like Dropbox or Google Drive, create a sharable link and paste it in your Ko-fi Post.
Add your content to the post then use the Audience drop-down to select who should be able to see the content.
Hint: the audience choices are based on a hierarchy from most public at the top, to most restricted at the bottom.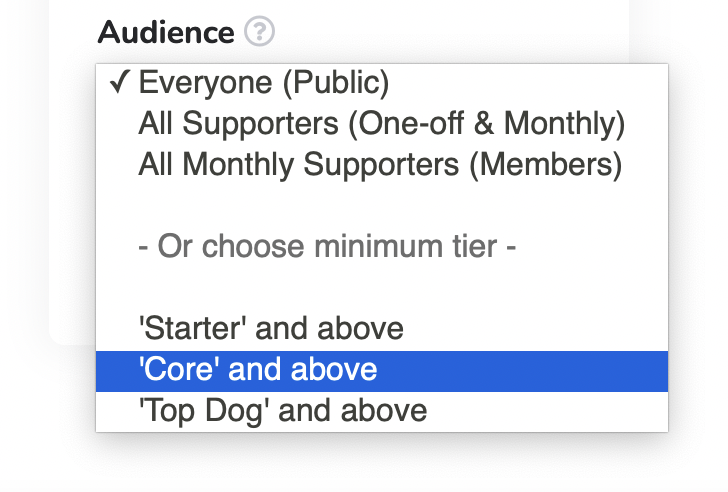 Everyone (Public): All visitors to your Ko-fi page will be able to see this content.
All Supporters (One-off & Monthly): Anyone who has donated anything one-off within the last 30 days or supports you monthly. Note: This content will be available to members of all tiers regardless of the tier price.
All Monthly Supporters (Members): Monthly Supporters and Members of all tiers will see this content. One-off donators will not see this.
If you have activated Memberships and set up tiers, you will also see your tiers options. For this example the creator has added 3 Membership Tiers.
'Starter' and above: Members of Starter, Core and Top Dog tiers will see this content. Content will

not

be available to One-off or Monthly Supporters.

'Core' and above: Members of Core and Top Dog tiers will see this content. Content will

not

be available to One-off or Monthly Supporters or Starter Tier members.

'Top Dog' and above: Only Members of the Top Dog tier will see this content. Content will

not

be available for One-off or Monthly Supporters or Starter and Core Tier members.
Exclusive Images
Add some of your best work to your gallery as a super quick way to start offering rewards.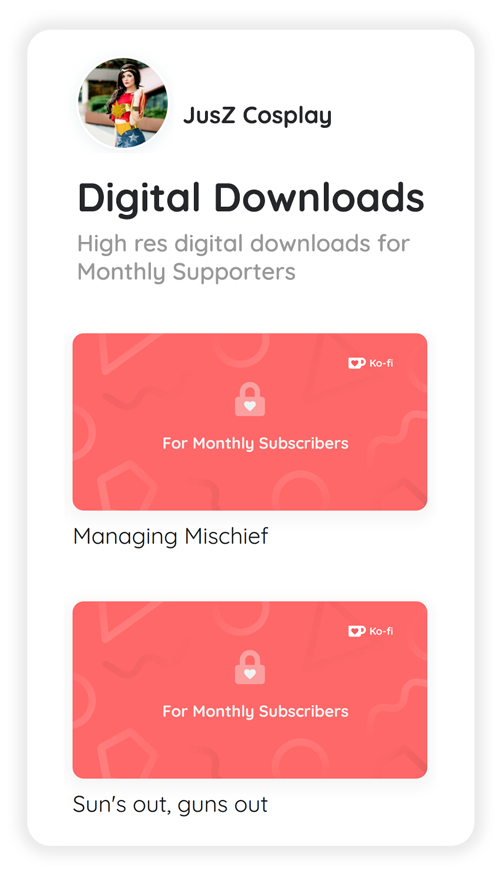 JusZ Shares hi-res downloads with All Monthly Supporters
💡 Tip: Let subscribers download hi-res versions of some of your work
Ideas for image rewards you could offer Supporters or Monthly Subscribers:
Sketchbook or WIP images
Phone wallpapers or hi-res downloads
Unreleased or alternative versions of your work
Your back-catalogue
Behind the scenes or set photos
Blog Posts for Subscribers or Recent Supporters
Use blog posts to reward supporters and members with written content or links to external files, events or communities.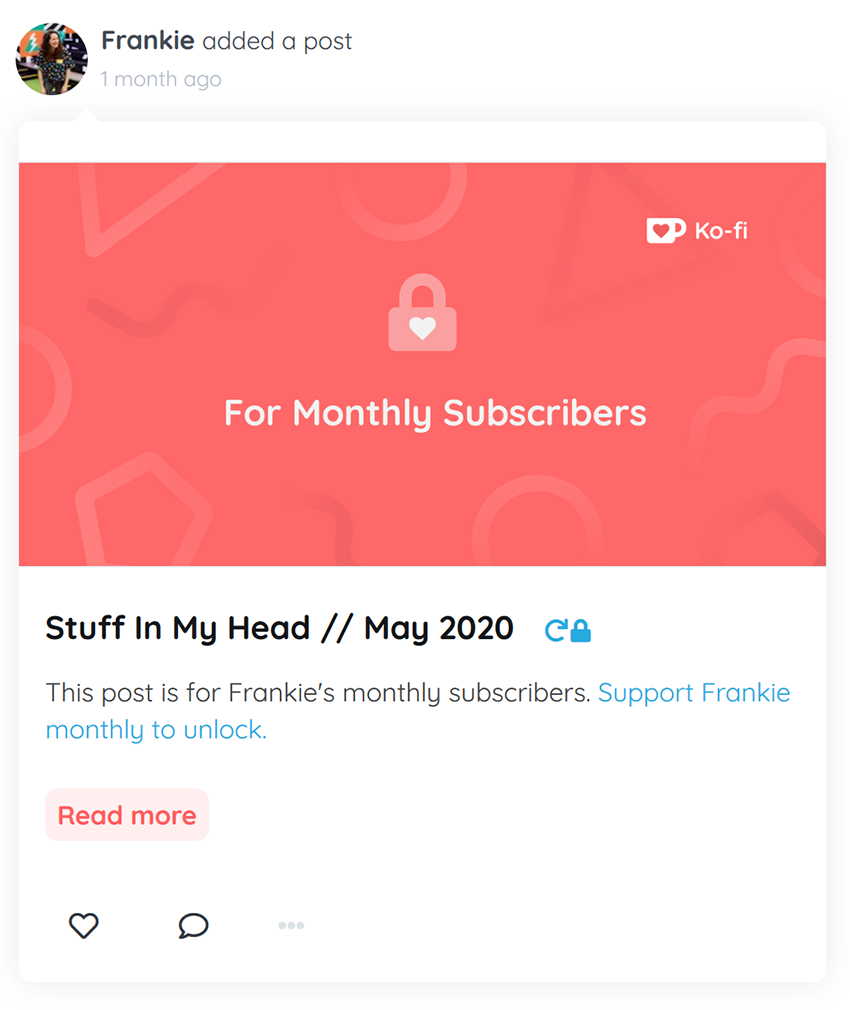 Frankie lets monthly supporters read "Stuff in my head" posts!
💡 Tip: Share private Dropbox or Google Drive links in blog posts to give exclusive access to files or folders of work
Ideas for blog post rewards for Subscribers or recent Supporters:
Your personal blog or creative diary
Tutorials and how-to guides
Polls or voting on your next project
Access to a Discord server
Zoom event invites
Add Video and Audio Posts for Subscribers or Recent Supporters
Embed your unlisted video and audio content to make supporters and members feel like VIP's! Link to YouTube, Vimeo or IGTV videos and Spotify, Soundcloud or Mixcloud audio clips.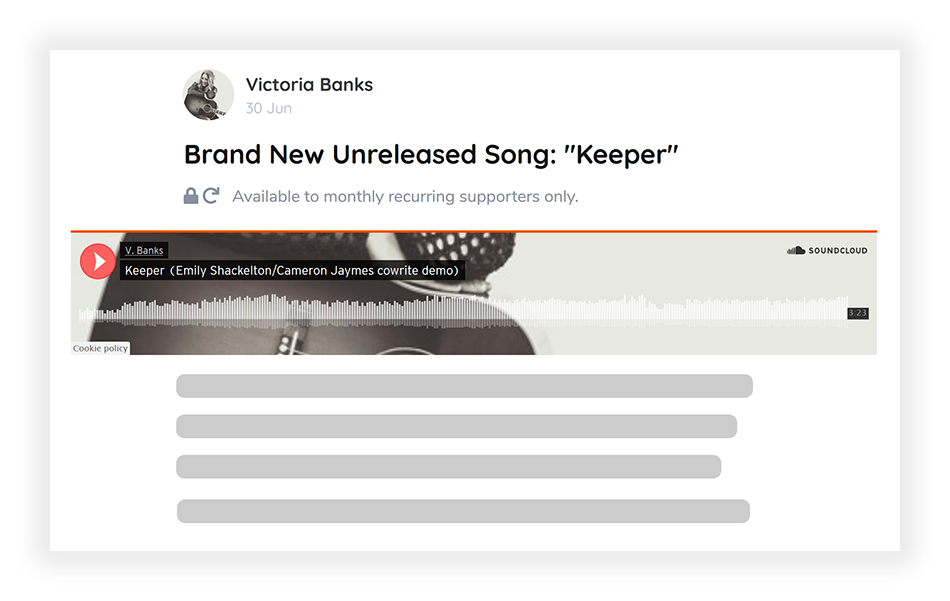 Victoria Banks – shares unreleased songs with supporters
💡 Tip: Set YouTube videos to "Unlisted" to make them exclusive to Ko-fi subscribers
Ideas for video and audio rewards:
Early access to your upcoming videos or podcasts
Behind the scenes or "making-of" content
Recorded Interview, Q&A or AMA (ask me anything)
Speedpaint and tutorial videos
Your personal playlist!
Promoting Your Supporter-Only Content
It's super important to tell your fans about what they get for subscribing to you on Ko-fi.
✍️ Write a Post to highlight exclusive content
🔗 Use the sharing links to share each new piece of content directly from Ko-fi
❓ Ask fans for subscriber reward ideas
🎁 Give extra rewards like fan recognition and shout outs
🙌 Ask fans to follow you on Ko-fi so they get notified when you post new content
Frequently Asked Questions
Why are supporters asked to create an account?
They need an account on Ko-fi so we know to unlock content when they visit your page.
How will supporters know when I post something new?
An email and Ko-fi notification (🔔) is sent to all of your followers, supporters and members.
When do I get paid?
You receive the money up front and directly with 0% cut taken from Ko-fi.
How do I set up Membership Tiers?
Can I let one-time supporters see exclusive content?
Sure, from the Audience menu, just choose All Supporters (one-off or monthly). Anyone who supports you with a one-off donation will get access to those posts and images for 30 days from the date they support you. After 30 days those posts will be locked again. Your members who pay you monthly will always be able to see these posts too.
What happens if I cancel Ko-fi Gold?
No problem, as long as you still have Memberships turned on you can still create and manage Supporter-only content. There will be a 5% platform fee charged now though.
Does this mean I have to publish to a schedule?
Nope - there is no commitment to publish content to any schedule.
Will Supporters gain access to all previously posted content in their audience view?
Yes, Supporters will gain access to all previous content available in their audience view. Not just from the point that they support you.