Getting paid monthly
Ko-fi Gold members can now build monthly subscription income from your supporters. You still get paid directly and instantly from the supporter and there is no waiting for a specific day of the month to receive your money. You can also reward these monthly subscribers or recent supporters with their own tier of content.
Choose your audience
You can now select your audience when you create a Post or upload a new Image to your gallery.

Everyone - all visitors to your page.
People who supported in the last 30 days - anyone who has supported you in the last 30 days, including monthly subscribers will see this tier of content. The 30 days starts from their donation date so if you upload a new post and a supporter donated 10 days ago, they will have access to this post (and all others in the tier) for 20 days.
People who support you monthly – this content is just for supporters who have an active monthly subscription (you can enable recurring payments in your Gold Settings). Supporters who have cancelled their recurring support will still see this content until the end of the month when their recurring support expires.
Content Types
Reward monthly subscribers or recent supporters + monthly subscribers with content such as;
Images - Upload to Gallery and choose audience
Text - add to a Post and choose Audience
Video - add to a Post and choose Audience
Links - add to a Post and choose Audience
Tip: Read the Guide to sharing your page and offering rewards for lots of examples of how to reward supporters with exclusive content.
What subscription or recent supporter content looks like
Content restricted for subscribers or recent supporters looks different in your Feed and your Posts section. A red image will display for content restricted just for monthly subscribers and a blue placeholder image will be used for content restricted to recent supporters + monthly subscribers.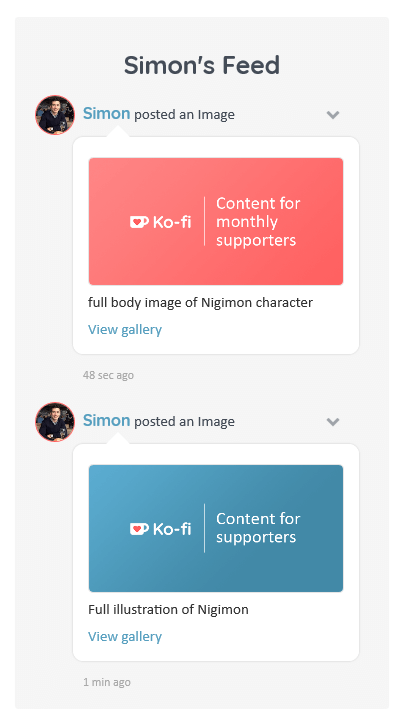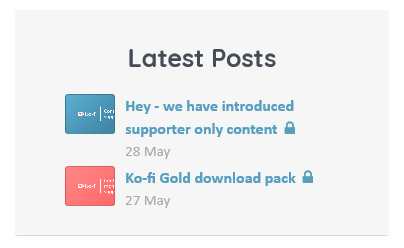 Questions
Does this mean I have to publish to a schedule?
Nope - there is no commitment to publish content to any schedule.
What if I want to offer different types of content?
The gallery is the best place to add images, but Posts can include an image, text, videos and download links.
Do I have to wait for my money and can I schedule payouts?
Payments on Ko-fi are direct between the supporter and the creator. You get your money up-front and instantly when someone subscribes to your page.
Can I convert existing content to subscriber or recent supporter only content?
Afraid not, supporter only content needs to be uploaded fresh. You can always delete existing Posts and gallery images and reupload them to control the audience.
How will my audience know I have published new content?
An email and Ko-fi notification (🔔) is sent to all of your historical supporters and active followers on Ko-fi when you publish a new Post. We just send the Ko-fi notification for gallery uploads.
What about more tiers, categories and albums?
We are working hard to make subscriptions more flexible and will be introducing more control over tiers, rewards and categories of content in the near future.