We're sorry you would like to cancel your subscription to Gold. If you need some help with your Gold subscription or you'd like some advice on making the most of the Gold features, please get in touch and we would love to help.
If you cancel Gold, you can still use your favorite features like Ko-fi Shop, Memberships and Commissions, but with a 5% platform fee. Consider becoming a Contributor to keep more of your Gold features like your custom "coffee" metaphor and page color.
Cancel Ko-fi Gold
Navigate to More > Account & Billing > Subscriptions > click the three dots and 'Cancel Gold'.
After you cancel, no further payments will be taken. You will still be able to enjoy your Gold perks up until the subscription renewal date.

Can't See the Cancel Gold Button?
If you signed up to Gold with PayPal and you can't see the 'Cancel Gold' Button, you can unsubscribe from your PayPal dashboard.
To cancel, log into PayPal account and find the 'Pre-approved payment' for Ko-fi Labs Limited. This is found under Account Settings > Money, banks and cards > Pre-approved payments >Manage Pre-approved payments.
Besides the status, click 'Cancel' to cancel the subscription.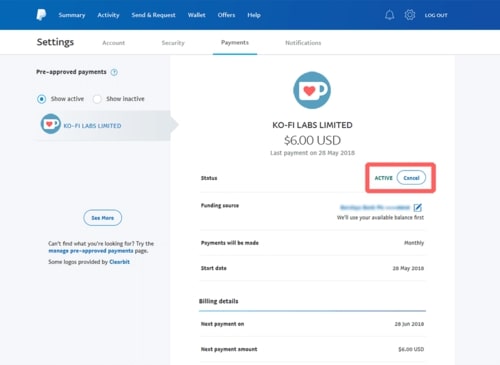 You will then reach a confirmation screen where it is possible to cancel the Pre-approved payment and your Gold membership will not renew at the next cycle.
If you're having any problems cancelling Gold please get in touch and we can help.