We're sorry you would like to cancel your subscription to Ko-fi Gold. If you need some help with your Gold subscription or you'd like some advice on making the most of the Gold features, please get in touch and we would love to help.
What Will I Lose if I Cancel Ko-fi Gold
Ko-fi Gold unlocks loads of ways to make an income from fans of what you do. If you cancel your subscription
You'll no longer be able to offer subscriptions & supporter-only content. Existing subscriptions remain active and content you've already created will still be available, but you won't be able to take any new subscribers or publish new supporter-only content for them.
Ko-fi Shop platform fees will increase to 5% (Gold members pay 0%)
Commissions and services sales will incur a 5% fee (Gold members pay 0%)
Your page will revert to showing "coffee" as the donation metaphor
You won't be able to offer downloads from your gallery
Your page color will revert to the basic theme colors.
You will no longer be able to track your page in Google Analytics
The Gold badge will be removed from your page at the end of the billing period
Cancel Ko-fi Gold if You Signed up With PayPal
(If you signed up with Credit Card please see instructions at the bottom of this article)
You can unsubscribe from Ko-fi Gold at any time from your PayPal dashboard and no further payments will be taken. You will still be able to enjoy the Ko-fi Gold perks up until the subscription renewal date.

Important Message from PayPal: If you don't cancel at least 1 day before the next due date, your payment might still go through.


To cancel, first, log into PayPal and find the 'Pre-approved payment' for Ko-fi Labs Limited. This is found under the Payments tab under the Settings cog.


Besides the status, click 'Cancel' to cancel the subscription.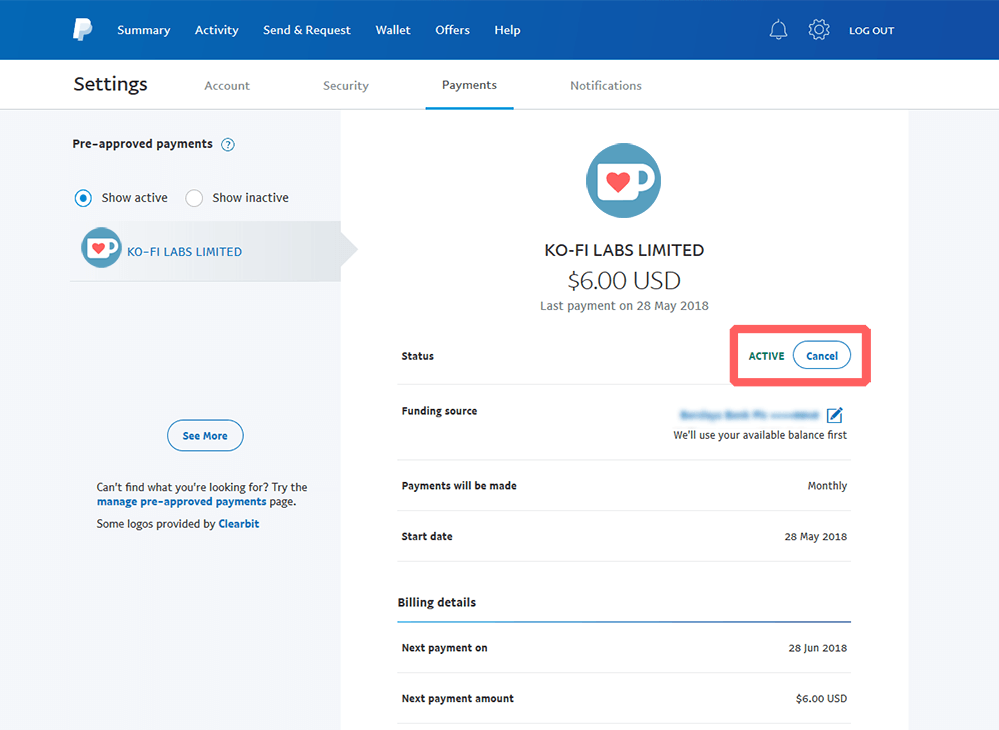 You will then reach a confirmation screen where it is possible to Cancel the Pre-approved Payment and your Ko-fi Gold membership will not renew at the next cycle.

Cancel Ko-fi Gold if You Subscribed With a Credit Card
If you signed up to Ko-fi Gold via credit card, you can cancel the subscription from within Ko-fi. Log into Ko-fi and navigate to More > Account & Billing and click 'Cancel Gold Membership'.

If you're having any problems cancelling Ko-fi Gold please get in touch and we can help.