Claim your free Ko-fi account in just 60 seconds and start receiving donations and Memberships, launch your free Ko-fi Shop or sell Commissions or services to your fans!

Get paid instantly and directly into your PayPal or Stripe account with 0% fees from Ko-fi on your donations (PayPal and Stripe charge their normal transaction fees).
Check the status of your payments, read and reply to messages from supporters and manage orders from the Payments History page.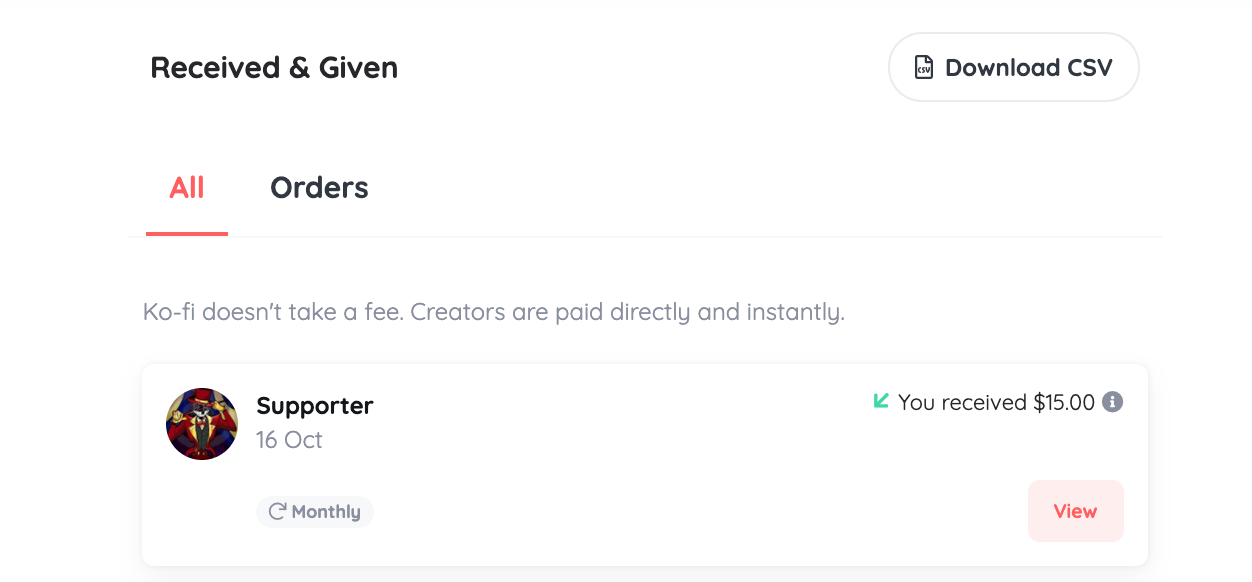 Get Paid Into Your PayPal & Stripe Account
Unlike most other services on Ko-fi, you get paid directly into your own Stripe and/or PayPal account.
Should I Use a Personal or Business PayPal Account?
You can connect to a personal or business PayPal account. We recommend using a PayPal Business account if you can. PayPal Business gives you more control over what information is shared by PayPal when you receive payment. Upgrading to business can be done from your PayPal dashboard and allows you to control the name and email shown on PayPal screens and emails.
FAQ
How do I make money on Ko-fi?
How do I withdraw money from Ko-fi?
There is no need to withdraw any of your donations, Ko-fi is a direct payments platform.
All donations are sent directly from your Supporter's PayPal account to yours!
What are the fees?
Unlike most other platforms, Ko-fi does not take a cut of your donations. PayPal and Stripe take their normal processing fee.
Commissions and Ko-fi Shop are available as part of Ko-fi Gold with no platform fees from Ko-fi or with a small 5% fee if you aren't a member of Ko-fi Gold.
I want to support a Creator but I can't see PayPal/Stripe as an option?
Creators can accept payments using PayPal and Stripe, but it's up to the Creator to decide which payment methods to offer. They can choose to receive donations through just Paypal or Stripe, or both!
Will Ko-fi add other payment methods?
We would like to add more payment options in the future. We'd ask you to keep sending your requests
here
as feedback.
Some common requests include:
Payoneer
Wise
GCash
CashApp
Venmo
Payeer
Direct Bank Transfers.
Will Ko-fi implement Non-fungible tokens (NFTs) or cryptocurrency payments?
As always, we are driven by our community first and what our creators want. Many Creators are strongly opposed to NFTs and as such, we don't have any roadmap plans involving NFTs or cryptocurrency payments.
How do I get paid via Venmo?
For most US Creators, their US Supporters will see Venmo appear at checkout as an option. If not, check that:
You are in the US
Your Ko‑fi is connected to PayPal
Your page currency is set to USD
Your Supporter is paying via one-time payments only, Venmo will not appear for memberships or recurring donations.