Claim your free Ko-fi account in just 60 seconds and start receiving donations and Subscriptions, launch your free Ko-fi Shop or sell Commissions or services to your fans!

Get paid instantly and directly into your PayPal or Stripe account with 0% fees from Ko-fi on your donations (PayPal and Stripe charge their normal transaction fees).
Check the status of your payments, read and reply to messages from supporters and manage orders from the Received & Given page.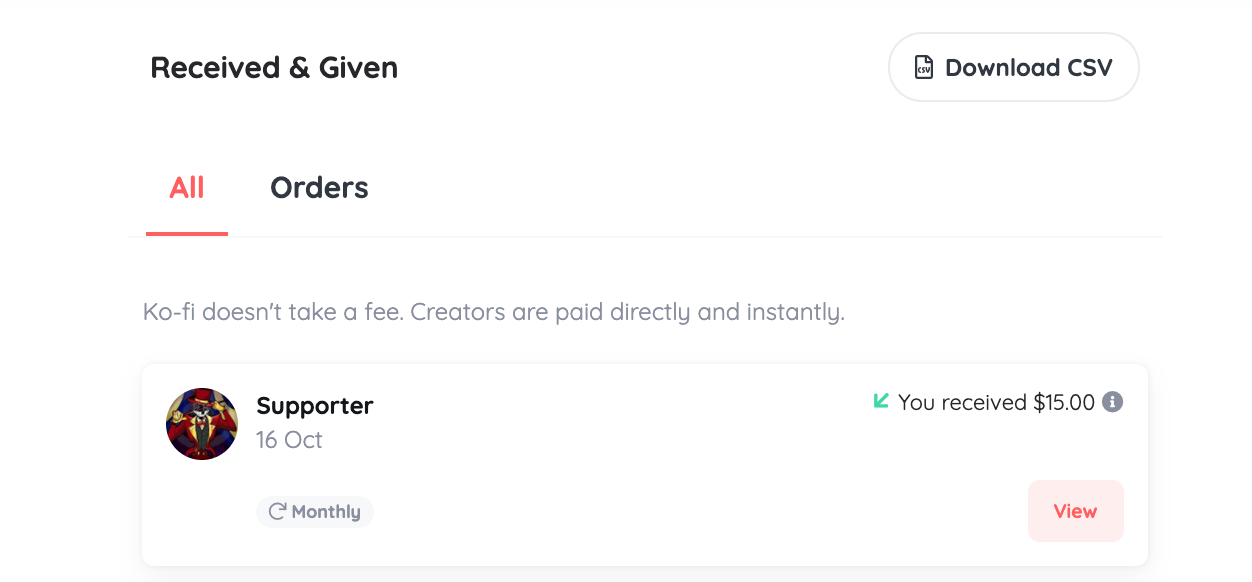 Should I Use a Personal or Business PayPal Account?
You can connect to a personal or business PayPal account however we recommend using a PayPal Business account if you can. It's a free upgrade from your PayPal dashboard and allows you to control the name shown in PayPal for transactions and you will need a business account if you want to offer monthly subscriptions.
FAQ
How do I make money on Ko-fi?
There are four ways to make money on Ko-fi: Receive donations (one-off payments from supporters), Subscriptions (monthly recurring support), selling products in your Ko-fi Shop or taking Commissions for services.

What are the fees?
Unlike most other platforms, Ko-fi does not take a cut of your donations. PayPal and Stripe take their normal processing fee.
Commissions and Ko-fi Shop are available as part of Ko-fi Gold with no platform fees from Ko-fi or with a small 5% fee if you aren't a member of Ko-fi Gold.
I want to support a Creator but I can't see PayPal/Stripe as an option?
Creators can accept payments using PayPal and Stripe, but it's up to the Creator to decide which payment methods to offer. They can choose to receive donations through just Paypal or Stripe, or both!