What Are Posts?
Posts are a great way of sharing text, images, video and audio updates with your audience. Use Ko-fi Posts to:
👋 Introduce Ko-fi to fans
💭 Explain your goal
🎁 Offer rewards
🔗 Share links to folders
📣 Give updates on work
🎟️ Offer early access
🎧 Share audio clips
🎞️ Show process videos
After you publish your first Post, a new tab will be visible on your page and followers will be notified when you publish new Posts.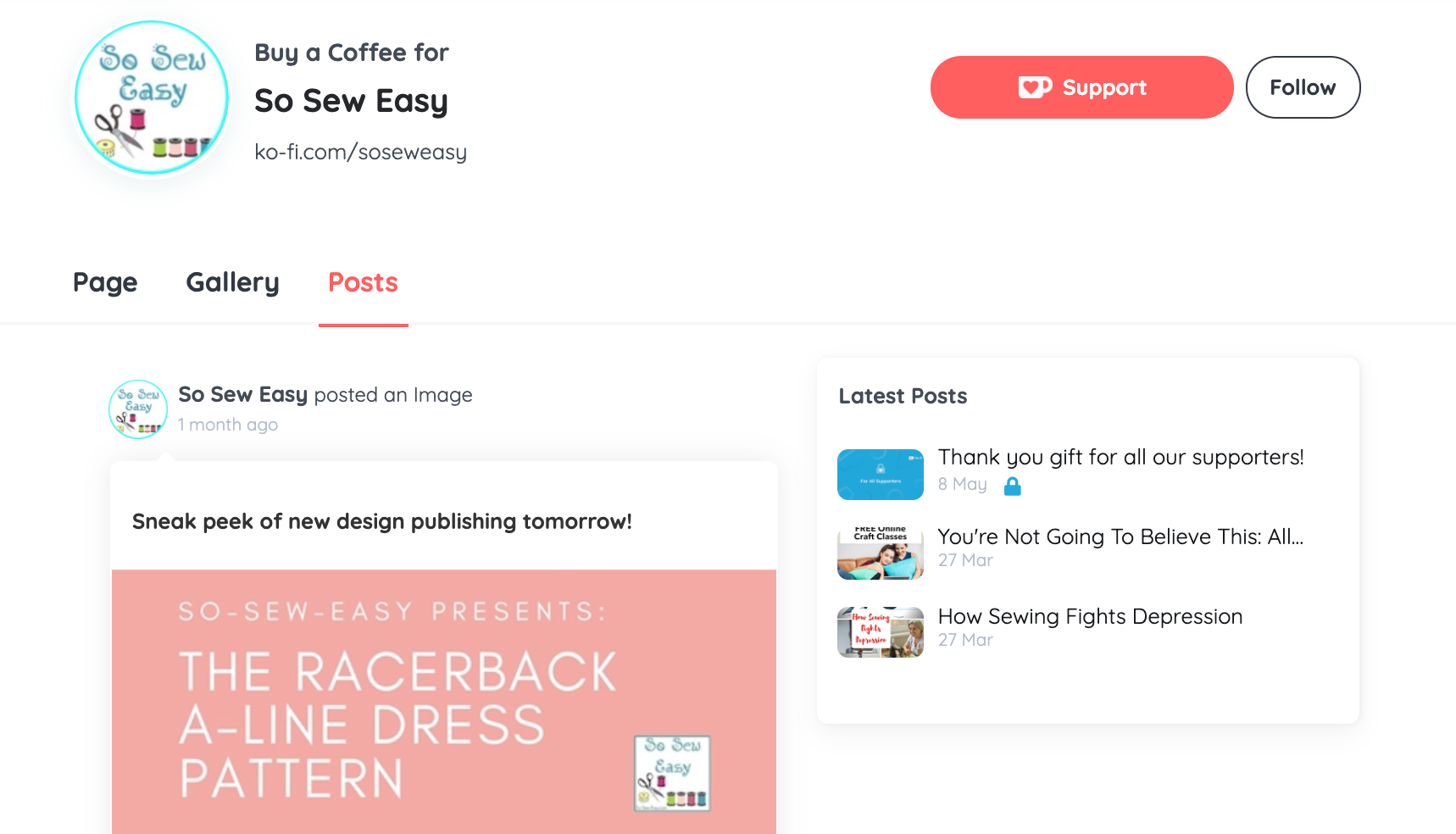 Creating Your First Post
To create a new Post, log in to Ko-fi and go to your Page and look for the "Add Something" tile.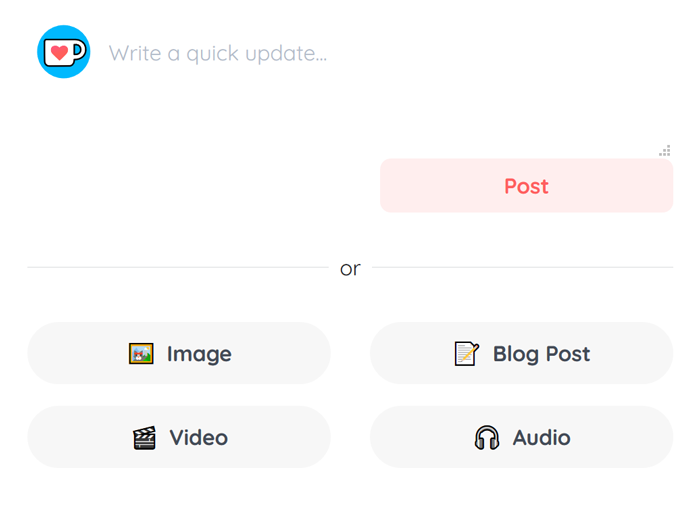 Quick Update - A bit like a Tweet, share a few lines about what's happening with you.
Image - Upload images to your Gallery. Add finished work, progress pics or anything visual.
Blog Post - Great for longer form articles which can also include images and videos.
Video - Embed your YouTube, Vimeo or IGTV's to share with your follwers and supporters.
Audio - Embed your SoundCloud, MixCloud or Spotify audio directly into a Post.
Writing a Blog Post
Once you've selected "Blog Post", you will be presented with the following screen: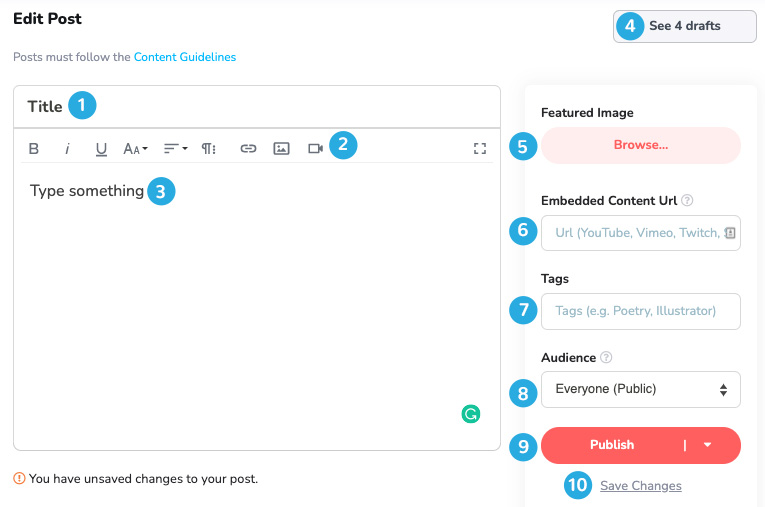 Title: The title is used to create the link to the Post and will show when you share the link to your Post on social sites.
Toolbar: Control the styling, add links embed videos and images from here.
Body Content: This is where you add the main content of your Post.
Drafts: of all your current Drafts & Scheduled Posts
Feature Image: Use the browse button to find an image that will display at the top of the article and will also show when you share the Post on social sites.
Embedded Content URL: Embed videos e.g. YouTube or audio clips e.g. SoundCloud under your featured image at the top of your Post.
Tags: Add tags to your Post that represent the content of the article. Tags aren't currently used in search results, but will be in the future.
Audience: Choose who can view your Post. You can choose between everyone or monthly supporters.
Publish: Allows you to Preview, Publish or Schedule a Post
Save Changes: creates or updates a draft Post
All these elements can be used to create a Post to share with your audience. Make sure you follow Content Guidelines when adding Posts.

Post Title
The Post title is displayed on your Ko-fi Page Posts tab, Posts tile and will also be used to create the Url (web address) for your Post.

Featured Image
Add a featured image to display at the top of your Post after the title and before the main text. It will also be used as a cover image for your Post in your Latest Posts tile. The best images to upload have an aspect ratio of 2:1 and are over 1000px wide.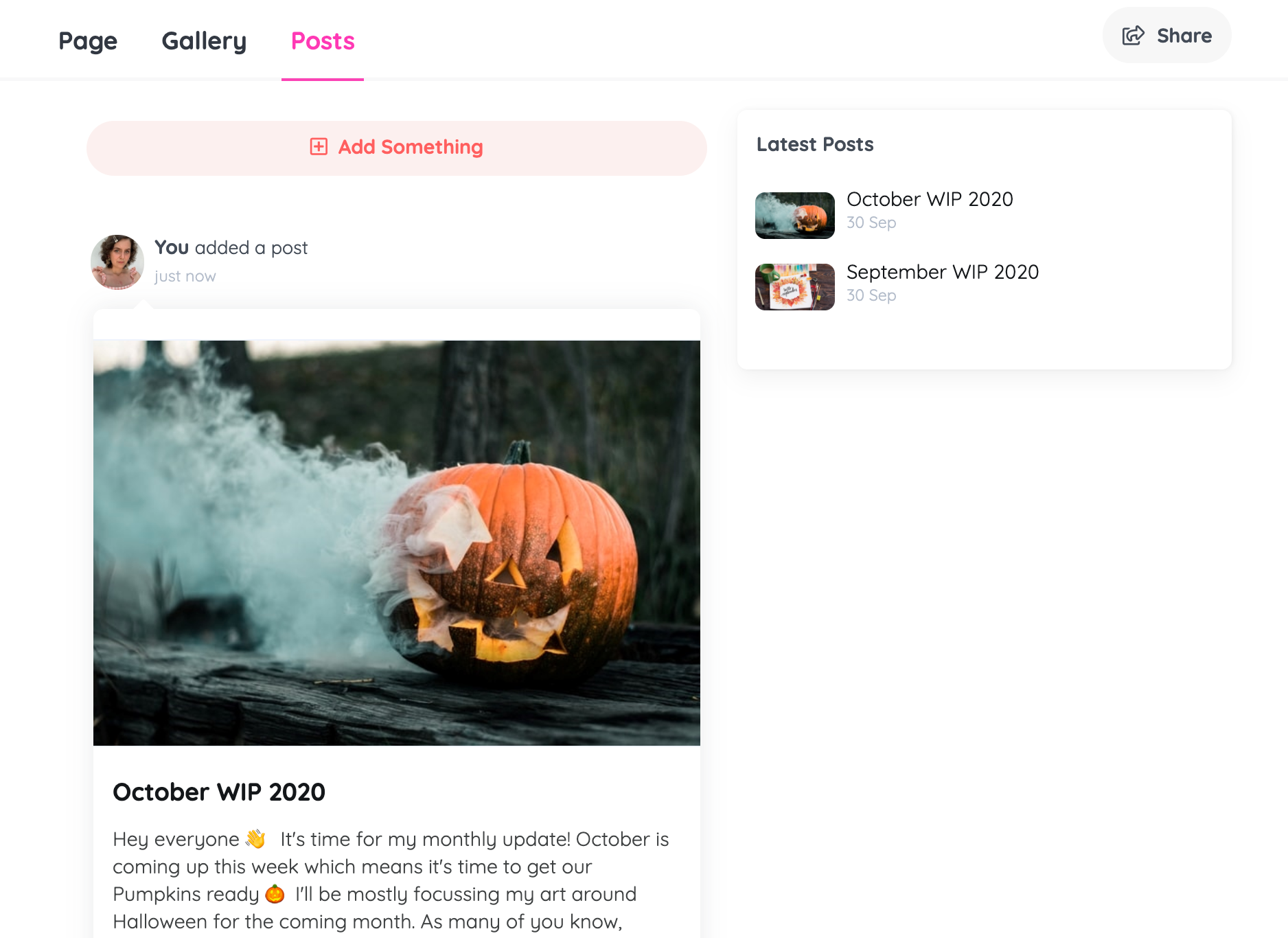 Adding Links
You can link to other pages online such as social media pages, blogs or downloadable files. If you want to share content within a Post simply highlight some text, click the Link icon and add the URL; the text will then become a clickable link. You can also choose to have the link open in a new tab by ticking the "Open in new tab" box.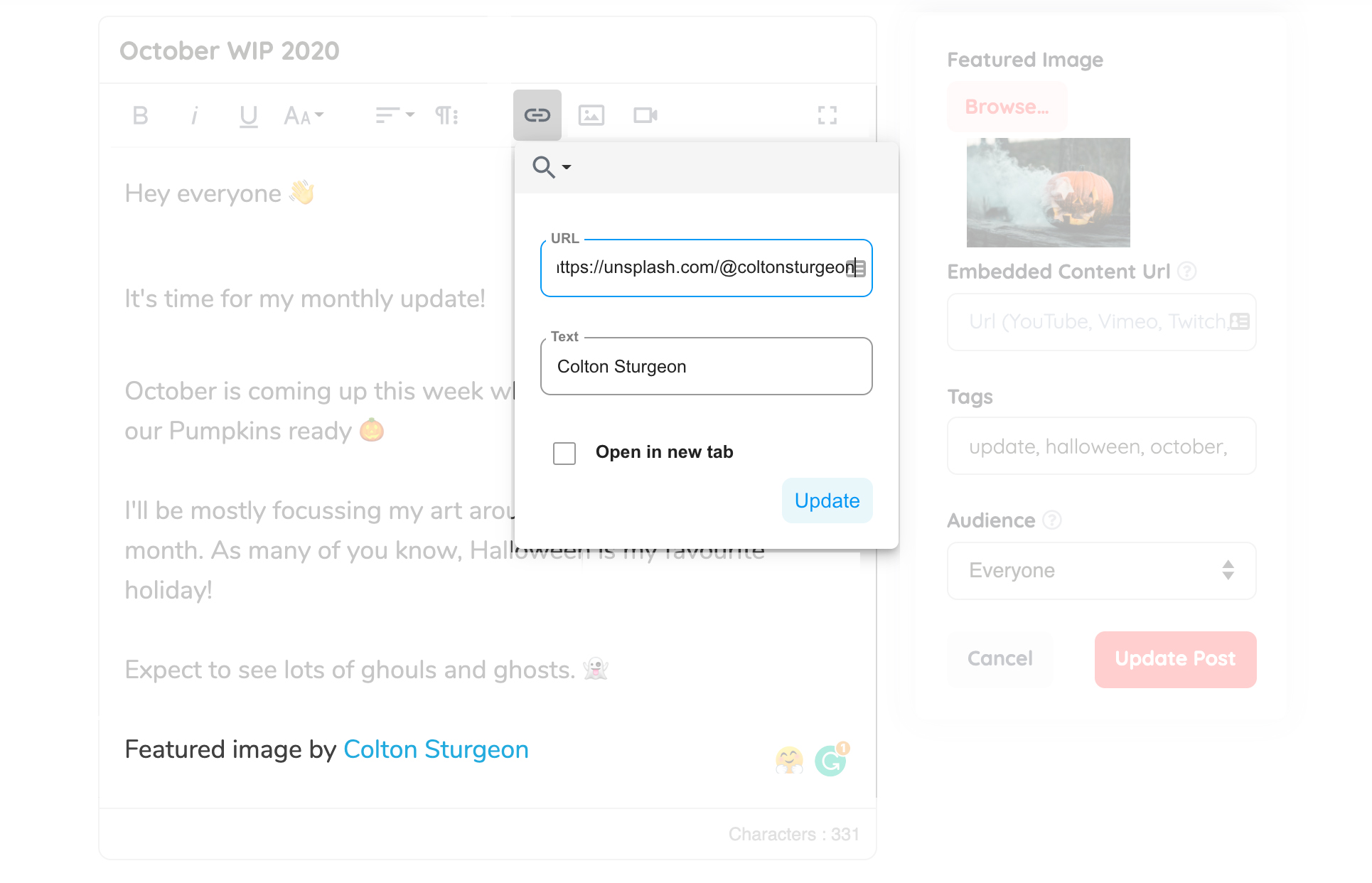 Tip 💡 Sharing Downloads and Files.
Using services like Drop Box or Google Drive allows you to share a file or folder with people who have the link. Simply add the link to your Post as a hyperlink by using the Link feature!
Adding Videos
You can add videos to your Posts by clicking the video icon in the toolbar and pasting in the sharable URL from YouTube, Vimeo, Instagram or Twitch.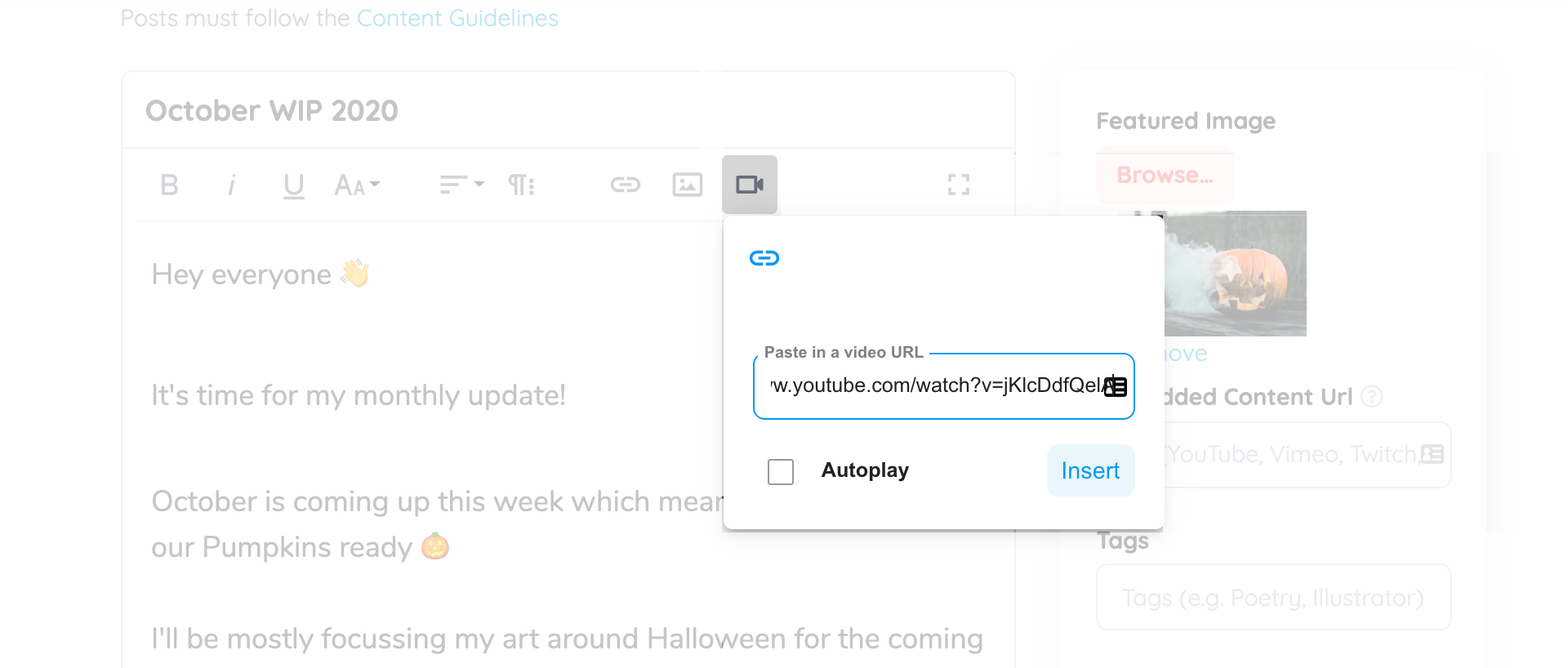 Audience
Creators can choose which audience can view your Posts.

You have the following options to choose from:
Everyone - Public Post, anyone can view it.
All Supporters - anyone who has donated in the last 30 days and monthly subscribers.
All Monthly Supporters - includes anyone that supports you with a recurring donation or is a member of any Tier.
Tier Members - choose the minimum Tier which that Post should be available (it will automatically be available for members of higher, more expensive Tiers).
For more information on the difference between Monthly Supporters and Members, do refer to our article here.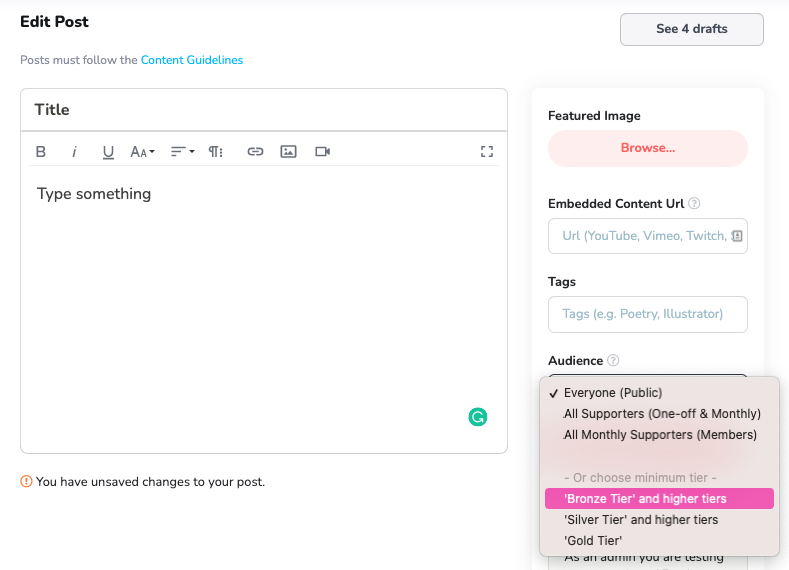 Preview and Publish
Once you've finished writing your Post add some tags that represent the content you've created, separated by commas and click "Preview Post" to see your Post the way your viewers will see it with the title, featured image and content. Once you are satisfied with your Post click "Publish" in the top right-hand corner.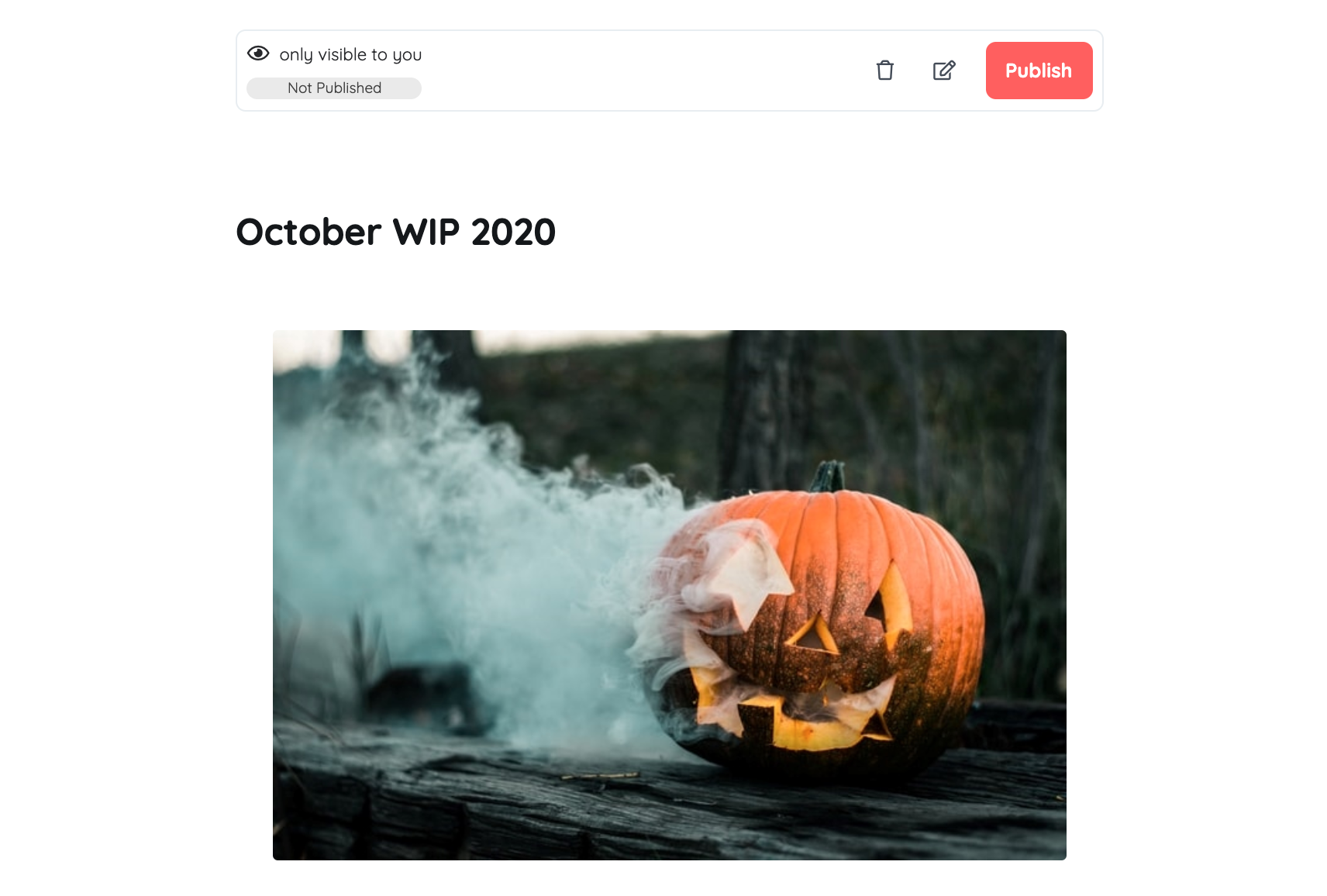 Once published the page will refresh and a "Share" button will appear on your screen. Be sure to copy the link and share it with your fans so your supporters will know you've published something new!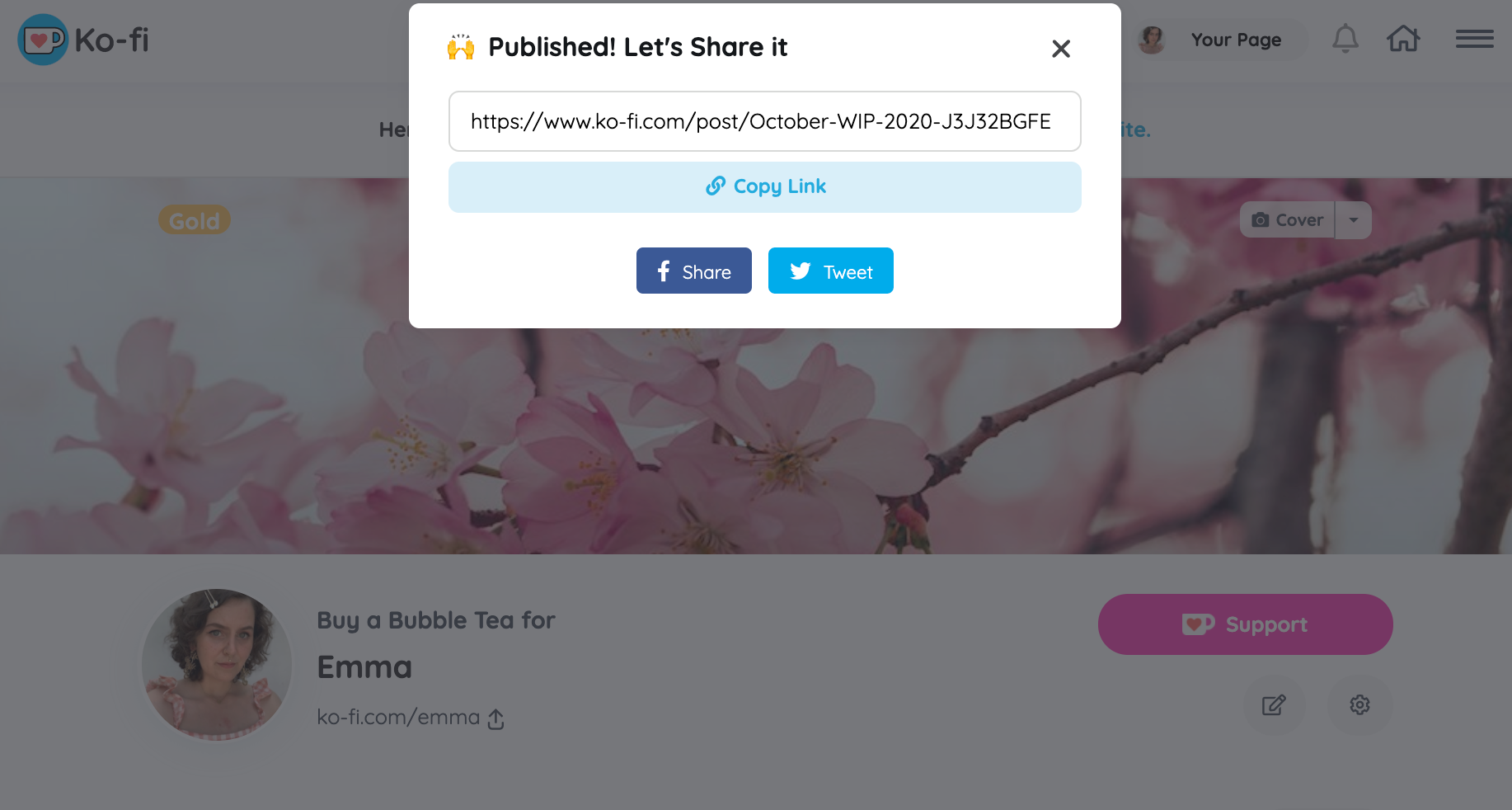 Draft Posts
If you are not ready to publish your work, save your Post as a Draft.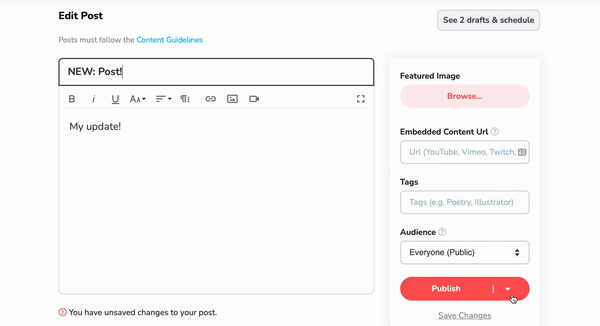 Come back to your Post through your "See drafts & schedule" on your Posts tab.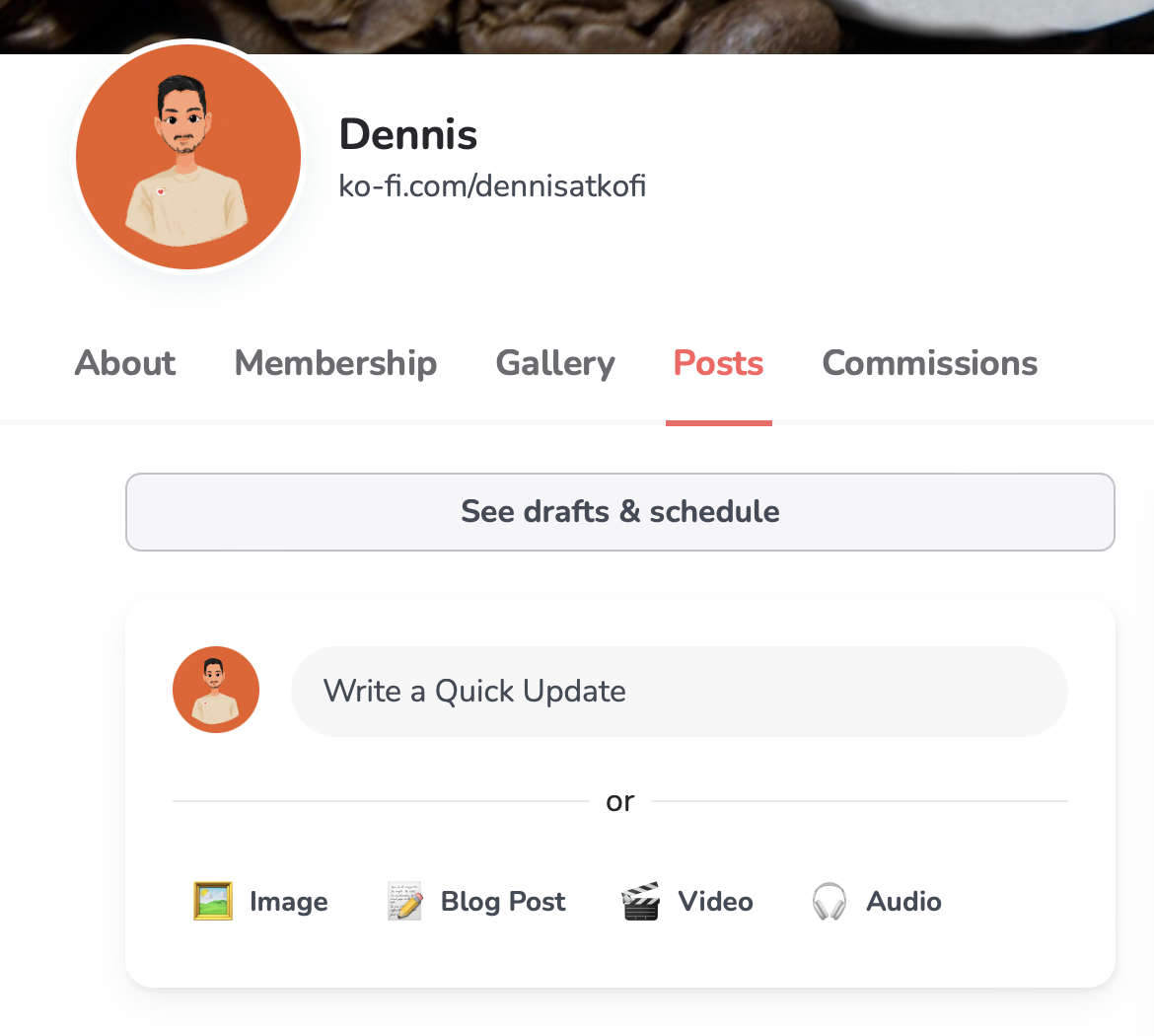 Schedule Posts
If you do not want to schedule a Post immediately, you can now schedule a date and time.
Note: The time is determined by your local time zone. If you set up your Post to publish in the UK on October 31st 2021 at 23:00 GMT, it will be live for US Supporters on October 31st 2021 at 19:00 CST.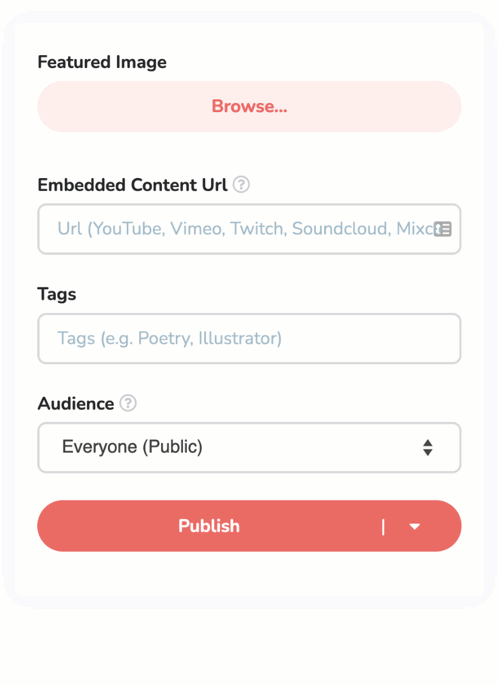 Manage and amend all your Scheduled Posts through "See drafts & schedule" on your Posts tab.
Here you can also reschedule, publish or delete your Post from the menu accessible from the three dots menu.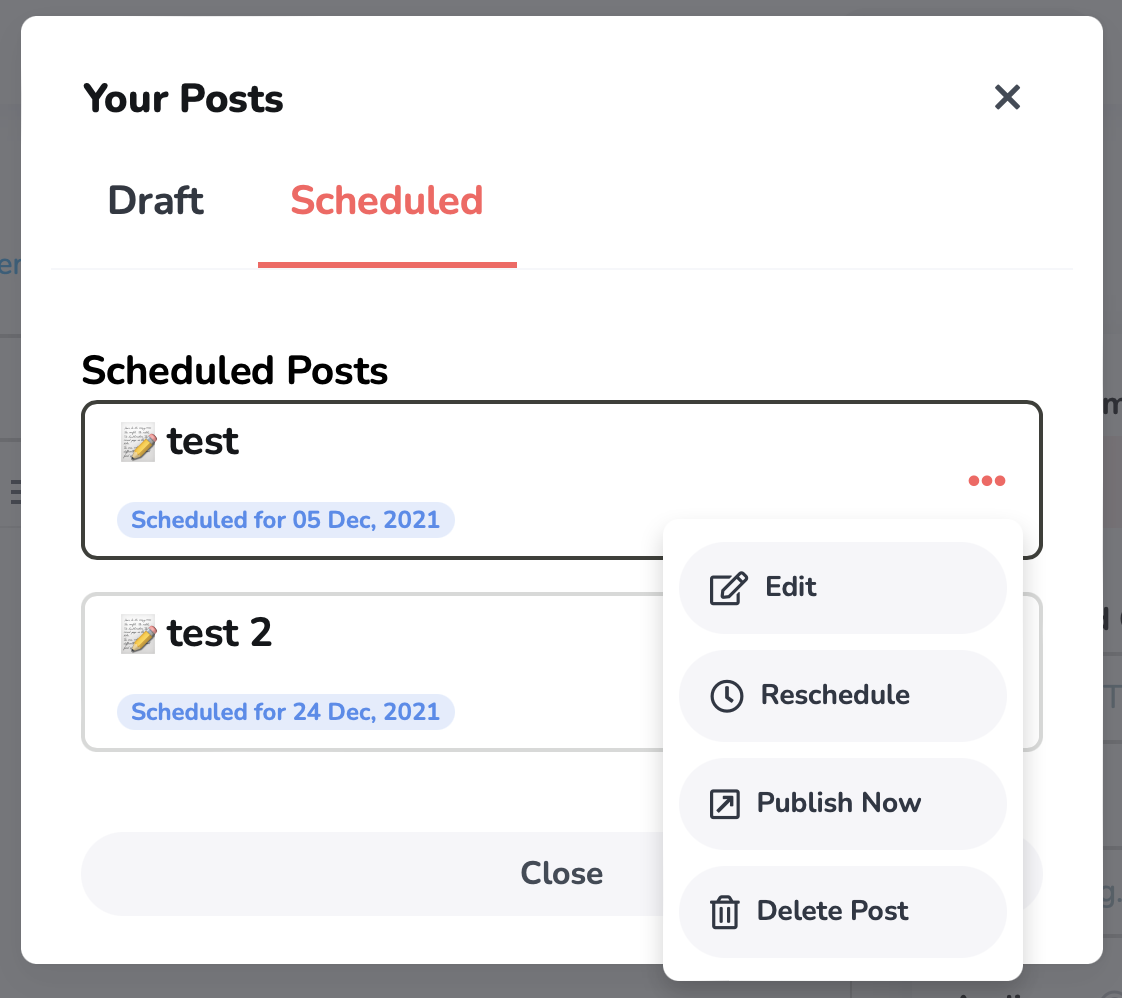 How Do I Remove a Post?
There are two ways to remove a Post.
In the Posts tab on your Profile, you can see Post previews that have the following symbols: a heart, text balloon and three dots. Click those three dots to reveal a "Delete" button.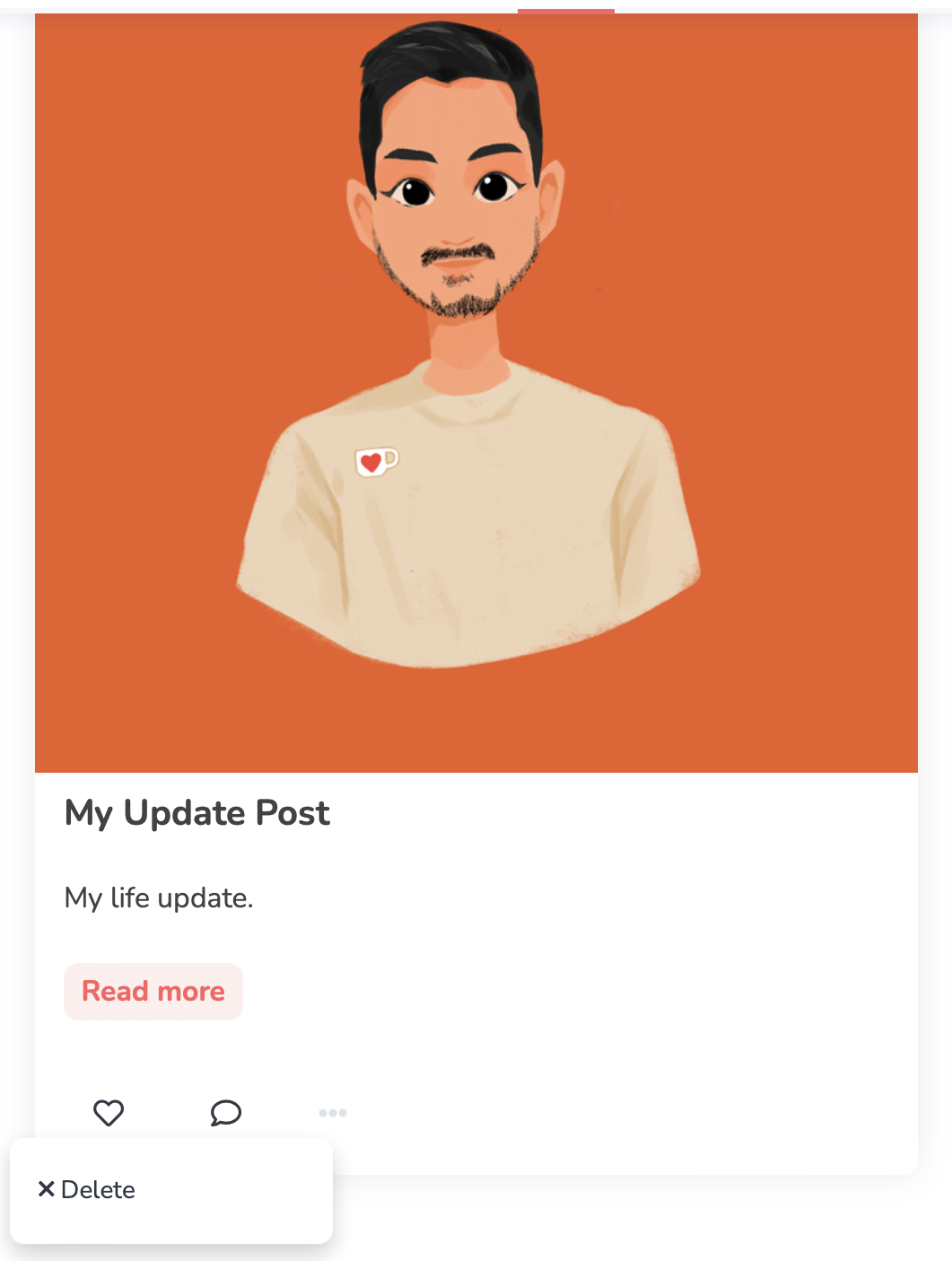 If you are already in full Post, you can find the Delete button at the top in the form of a little trash can.