How to Use Ko-fi With Twitch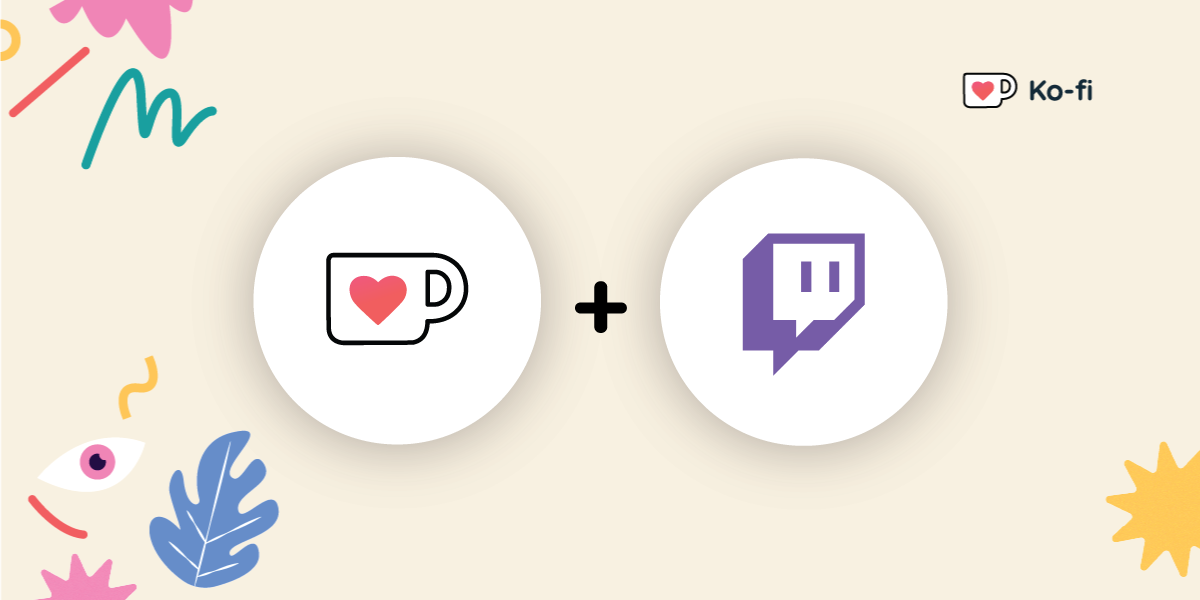 See Ko-fi tips/subs in your Twitch Chat, set up your custom Stream Alerts overlay, add Ko-fi to your Twitch links and create a Ko-fi info panel!
The Basics
Connect to Twitch and set up your custom Stream Alerts so your viewers always know how to support you.
Add a Goal Overlay to Your Stream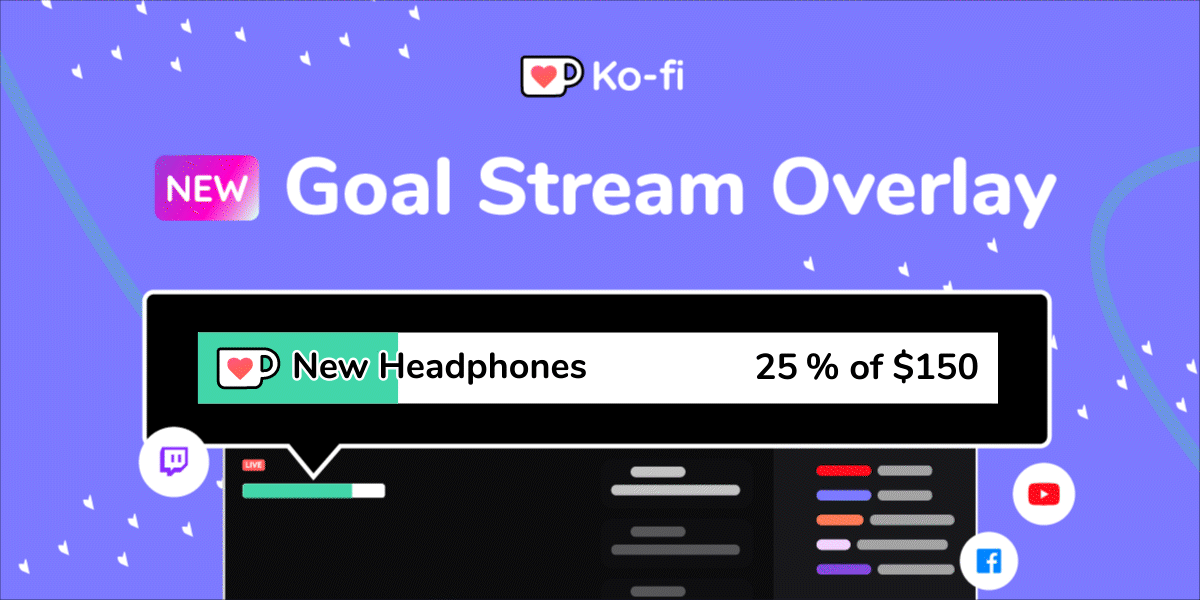 Whether you stream on Twitch, YouTube, or Facebook, you can now display your goal progress live, while you stream. Nothing is more satisfying than seeing that goal progress bar edge closer to 100%! Find out how to add your Ko‑fi Goal to your overlay here.
Set up Twitch Chat Alerts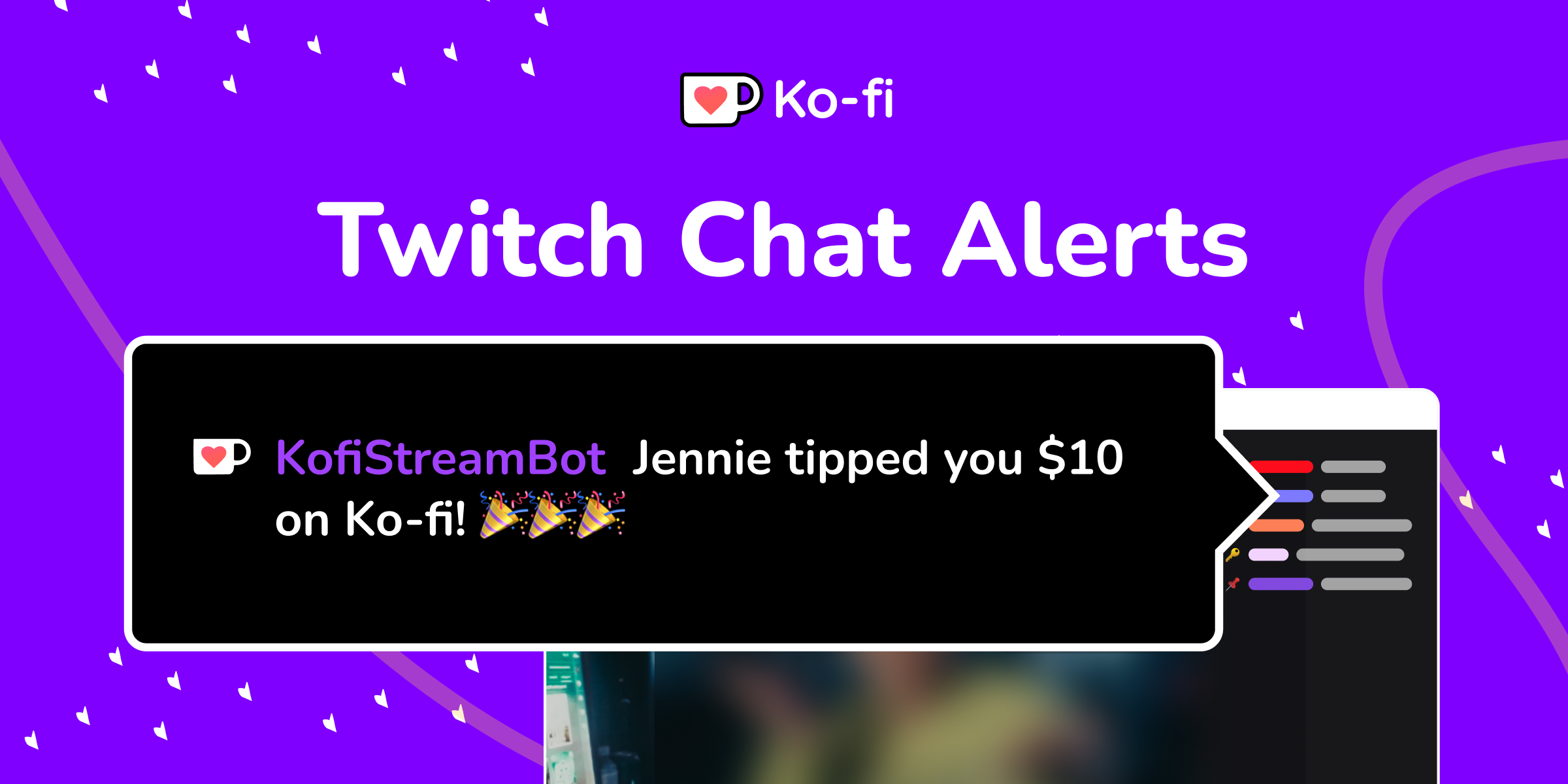 Get Ko-fi tip/sub alerts in your Twitch chat and encourage viewers to tip/sub by displaying your goal progress live in your stream chat! Simply set up a crowdfunding goal on Ko-fi, scroll to the bottom of your Stream Alerts settings, and hit connect! Get notified directly in your chat when you get a donation (or any payment) and when you reach your Ko-fi Goal!
Learn more about Connecting Ko-fi to Twitch here.
Set up Ko-fi Stream Alerts
Display your Ko-fi link on your overlay and receive live donation alerts while streaming.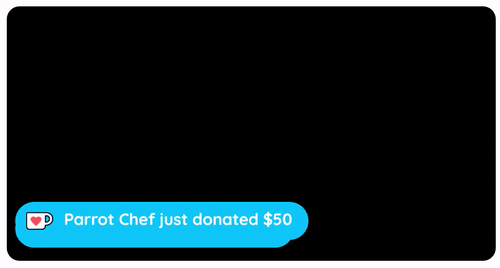 Head over to your Stream Alerts settings and follow our quick guide to setting up Stream Alerts. Set your Call-to-action, color, alert sound and loads more.
Create a Ko-fi Info Panel
Encourage your Twitch followers to donate on Ko-fi by creating an Info Panel.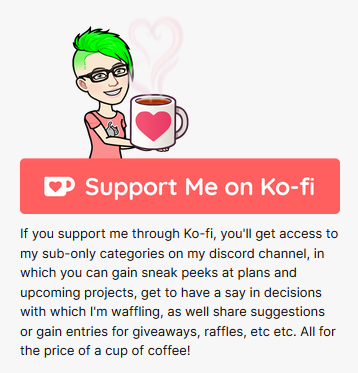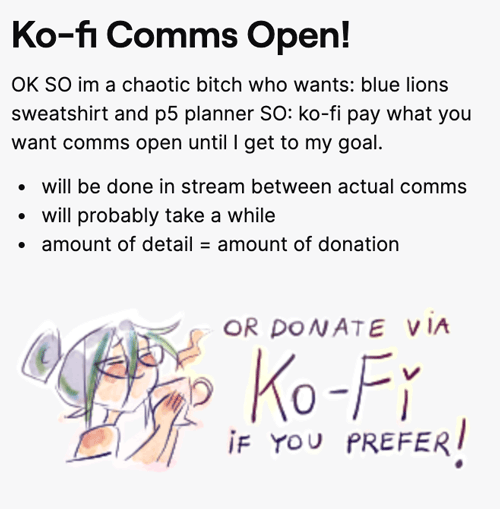 From your channel navigate to About and switch on Edit Panels
Add a Text or Image panel
Give the panel a title, image, and set your Image Links To your full Ko-fi page address. Help yourself to Ko-fi assets to include them in your Panel image.
Click Submit to save the panel.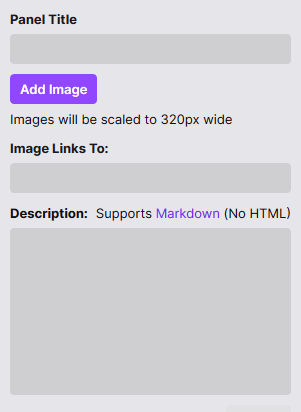 Pin a Ko-fi Message to the Top of Your Live Chat
Make your Ko-fi page super easy to find by pinning a message to the top of your chat! Add a direct link to your Ko-fi page, Membership, Shop or Commissions! Pinned chats are set to 20 mins as default, you can edit the settings to extend this time.
To get more tips, direct your viewers to a simpler version of your page that only has the donation panel and feed. Add either
/donate
or
/tip
to your Ko-fi URL "
ko-fi.com/yourpage/tip
" and put it in your pinned message.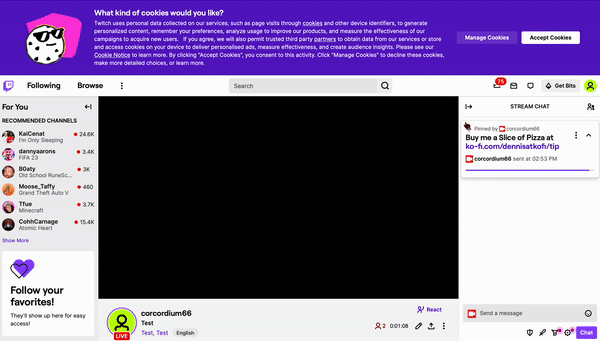 Use Ko-fi Chat Command
When viewers on Twitch type !kofi or !ko-fi in your chat, Ko-fi Chatbot will send a message to the chat with your Ko-fi page link. Viewers can click on the link and head straight to your Ko-fi page to support you.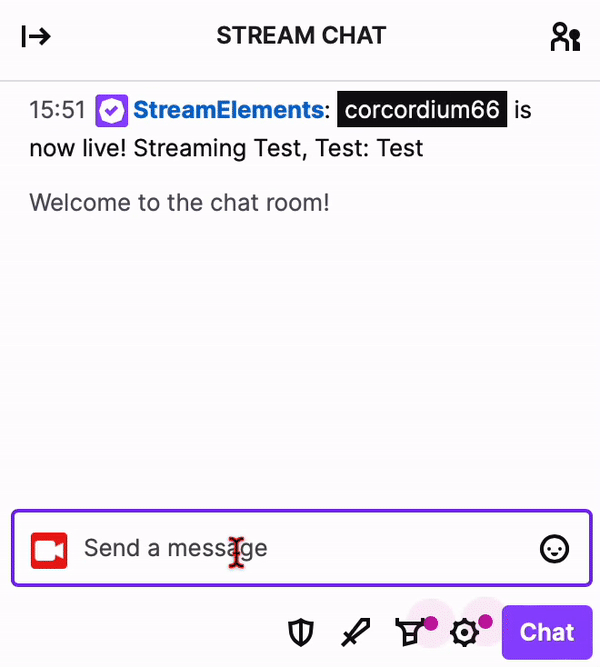 Here are the current commands you can use:
!koficommands - displays your available Ko-fi commands, !kofi, !kofishop and !koficommissions
!kofi / !ko-fi - shows your Ko-fi link "https://ko-fi.com/yourusername" which directs viewers to your donation panel or page.
!kofishop - adds your Ko-fi shop page link "https://ko-fi.com/yourusername/shop" to your chat.
!koficommissions - lists your Ko-fi commissions page link "https://ko-fi.com/yourusername/commissions" in your chat.
Turn On Ko-fi Chatbot Commands
Go to Stream Alerts > Scroll to the bottom to Stream Chatbots > Under the Twitch Chatbot, tap the

gear icon and switch on 'Respond to Commands'.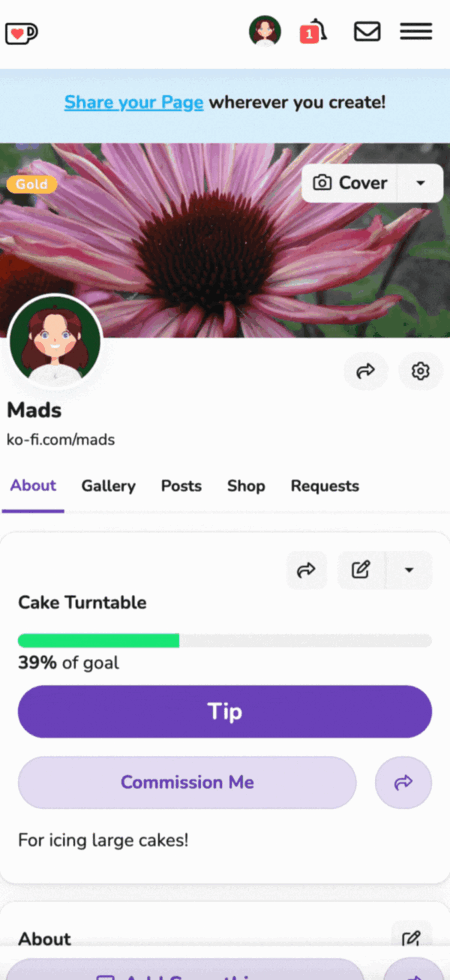 Tip
Add
!kofi
or
!ko-fi
command to your stream title so viewers know to use it on your chat. Head over to your Twitch stream settings to edit this title.

Note
Allow hyperlinks in Twitch chat for your page link to work. Go to Twitch Dashboard > Settings > Moderation > Chat Options > and Toggle off Block Hyperlinks.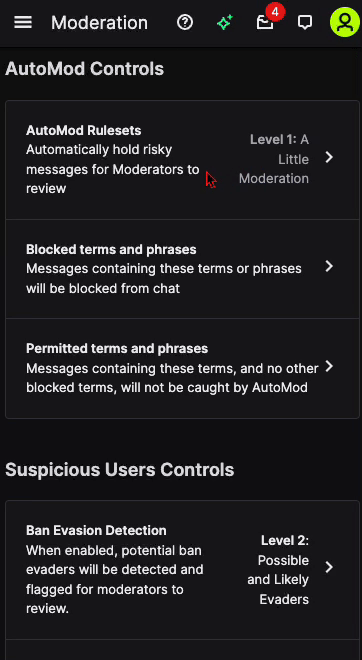 Share your Ko-fi link with timed messages
With timed messages, Ko-fi bot pops up to share your Ko-fi page link in your Twitch chat making it simple for viewers to tip or sub.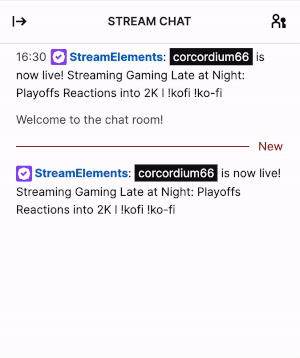 Set up your timed messages:
Choose how the chatbot promotes your page in the chat::
Go to your Ko-fi Stream Alerts page

Under "Connect to Twitch and Youtube", tap the settings cog for Twitch. (Make sure your Twitch account is connected, learn more here.)

Pick when you want your page shared in Twitch chat. Choose from "Never" or every 15, 30, 60, or 90 mins.
And that's it! Your messages will pop up at the times you've chosen.

My timed messages aren't working?
First, ensure you've switched on timed messages. If that's sorted, give disconnecting and then reconnecting Twitch on the Stream Alerts page a go here.
If you've reconnected but still don't see timed messages, here's a quick checklist:
You've got a Creator account with a payment method connected.
You turned on chat commands.
Ko-fi stream bot's been made a moderator, how-to guide
Your Twitch lets links through, how-to guide
We're always here for a chat. If you're stuck or just have a question, drop us a line. 💌
More Ways to Use Ko-fi to Make an Income From Your Viewers
Share exclusive behind the scenes content, sell merch in your Ko-fi Shop or let followers commission a custom service or video from you.

Open a Ko-fi Shop
Launch a Ko-fi Shop and let your followers buy products from you like merch or downloads!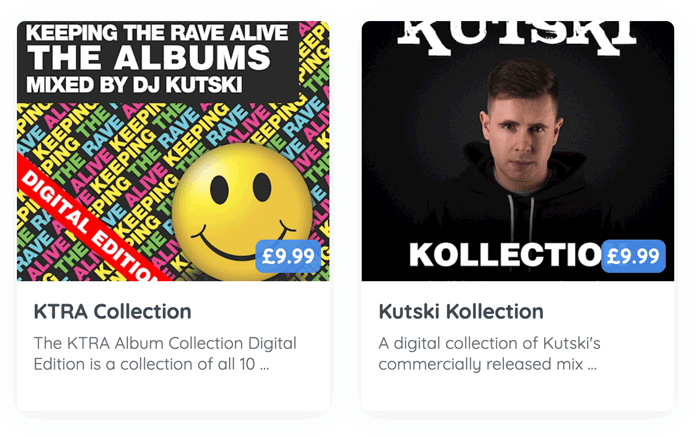 Create an Intro Video
Share an intro video that explains how you're planning to use Ko-fi and how your Twitch viewers can support you.
Share Your Ko-fi Link After a Live Stream
Direct viewers to your Ko-fi page by sharing a post on social, or mentioning your Ko-fi at the end of your stream.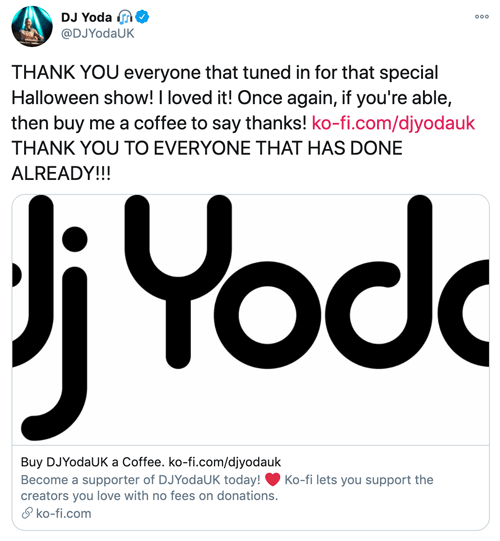 📣 Share your goal progress and encourage more fans to support you. Tap the share icon next to your goal to update your fans and thank your supporters on social after you stream!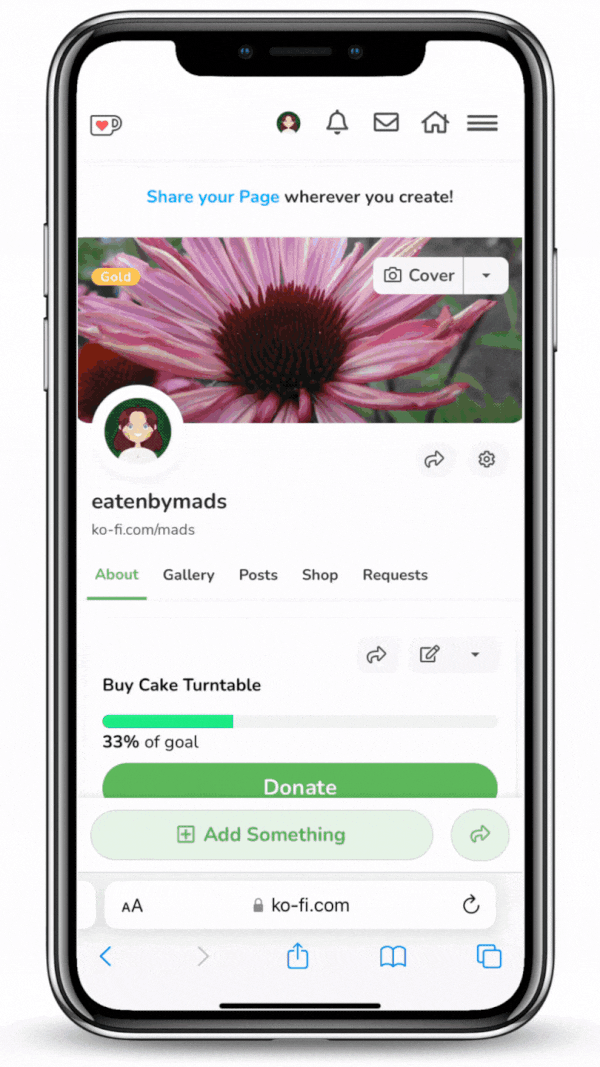 🏆 Celebrate your top supporters with the Ko‑fi Leaderboard! Go to the 'See Leaderboard' link in the 'Top Supporters' section on your Ko‑fi page to view your public Leaderboard. You can then share on social to recognize and thank the people who supported your work the most!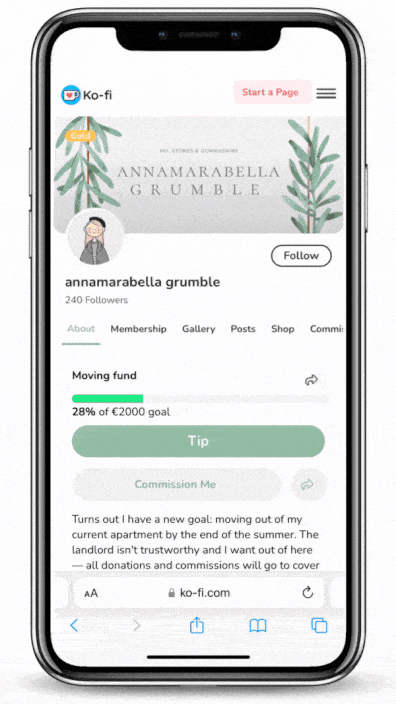 Use Ko-fi Commissions
With Ko-fi Commissions you can create a menu of commission options and show available commission slots. BombyD uses Ko-fi Commissions to offer custom Twitch emotes, panels, and alert packs.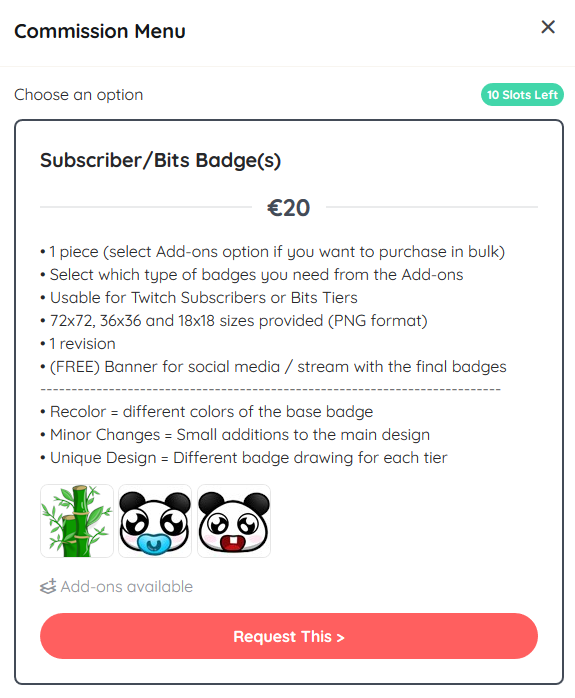 Host a Ko-fi Event On a Live Stream
Nearing the end of a goal or need that extra boost to help pay rent? Host an event in return for donations!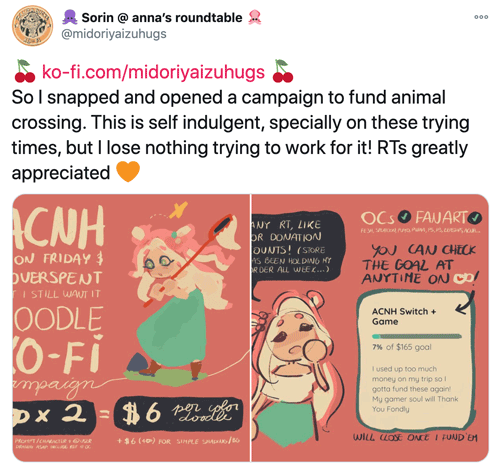 Sorin hosted a live event on Twitch to help reach their goal of buying an ACNH switch. They were doing live commission doodles in return for Ko-fi donations!
Share Exclusive Behind the Scenes or Work in Progress Content
Offer exclusive content to your supporters by sharing behind the scenes or work in progress content on your Ko-fi page!
WIP cosplay props

BTS of setting up a live stream

Outtakes or bloopers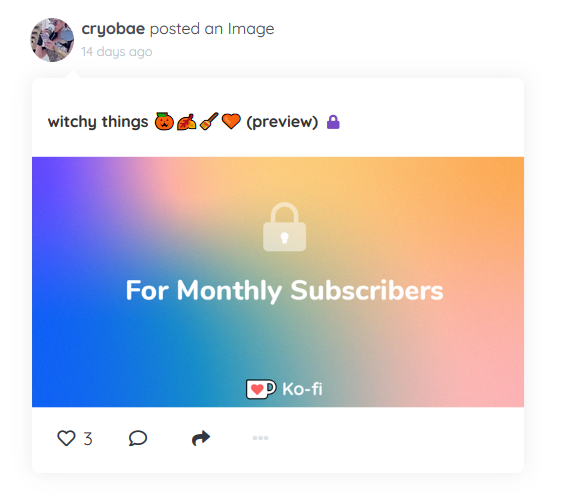 Sharing Twitch Clips on Ko-fi

From Twitch choose the video, clip or stream you want to embed on Ko-fi
Locate the "share" button for the video and click Copy to clipboard

Login to Ko-fi, go to your page, and add a Video Post
Paste your Twitch link into the Url field
Add a title and description for the post
Click Preview Post
Share the link to your post wherever you're active
We'll also send your followers a message to let them know you've added a new post
If you're sharing your page on Twitter or Instagram make sure you tag @kofi_button, we love seeing your posts!
More Ko-fi Guides
Using other platforms not just Twitch? Check out some of our other guides.