How Do I Block/Limit Supporters?
Ko-fi is a friendly and supportive community and we want to keep it that way! If you've had a bad experience with a supporter, you can limit future payments and messages from them. You can also control who can comment on your Posts and Images.
Blocking Future Payments From a Supporter
In your Account & Billing settings under the Safety header, select "Block or limit Someone" and the options will expand.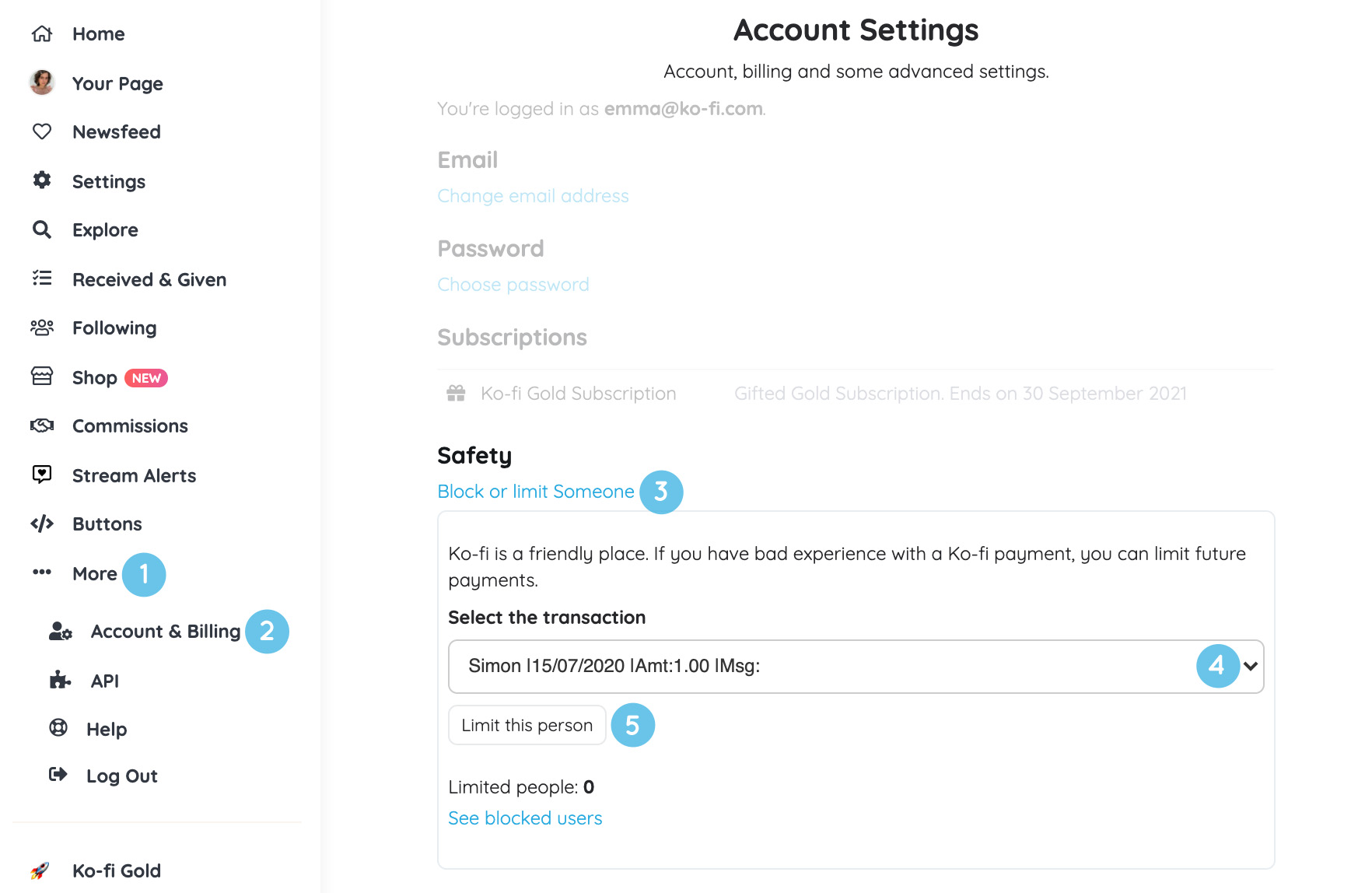 From the Ko-fi menu click "More" to reveal more menu items.
Select the Account & Billing option.
Navigate to the Safety section and click "Block or limit Someone".
From this menu, select the Supporter that you would like to Block or Limit.
Click the "Limit this person" button to finalize blocking the Supporter you have selected.
Unblocking Supporters
If you no longer wish to block a supporter you can do so on the same page.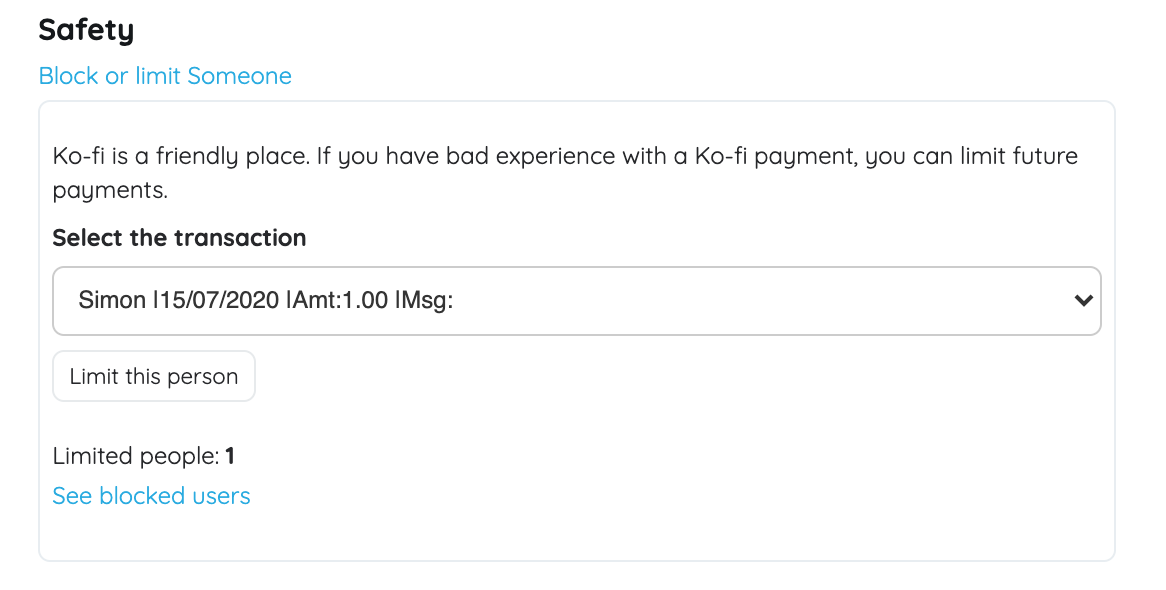 To view your Blocked and Limited users and/or edit this list, select "See blocked users".

This will bring you to a new page that has all your Blocked and Limited users listed.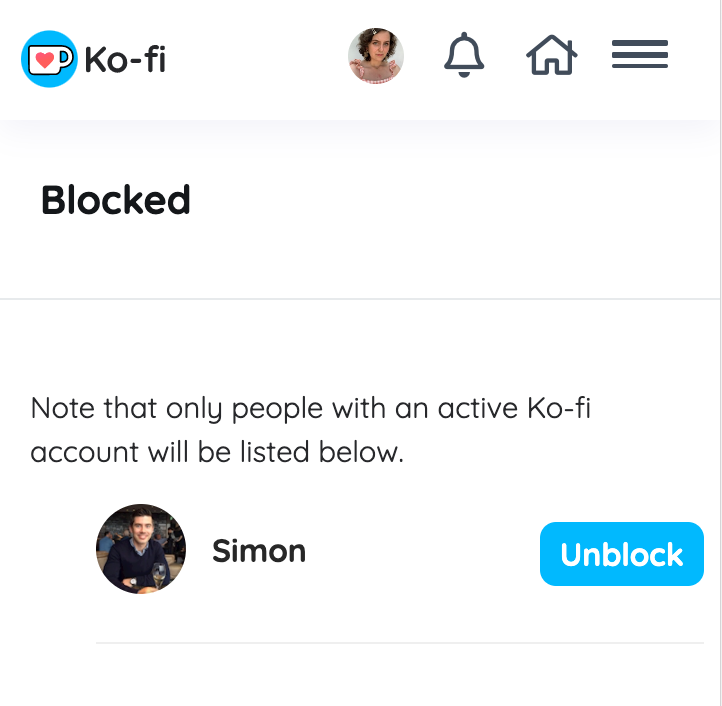 Once you have found the user you wish to Unblock/Unlimit in the list, you can click the "Unblock" button on the right of their username.
When you Unblock or Unlimit a user, they will be able to make donations to your Ko-fi account again.


Controlling Who Can Comment on Your Posts and Images
It is also possible to restrict who can leave comments on your Posts and Images. Navigate to Settings > Page and scroll to the section "Comments".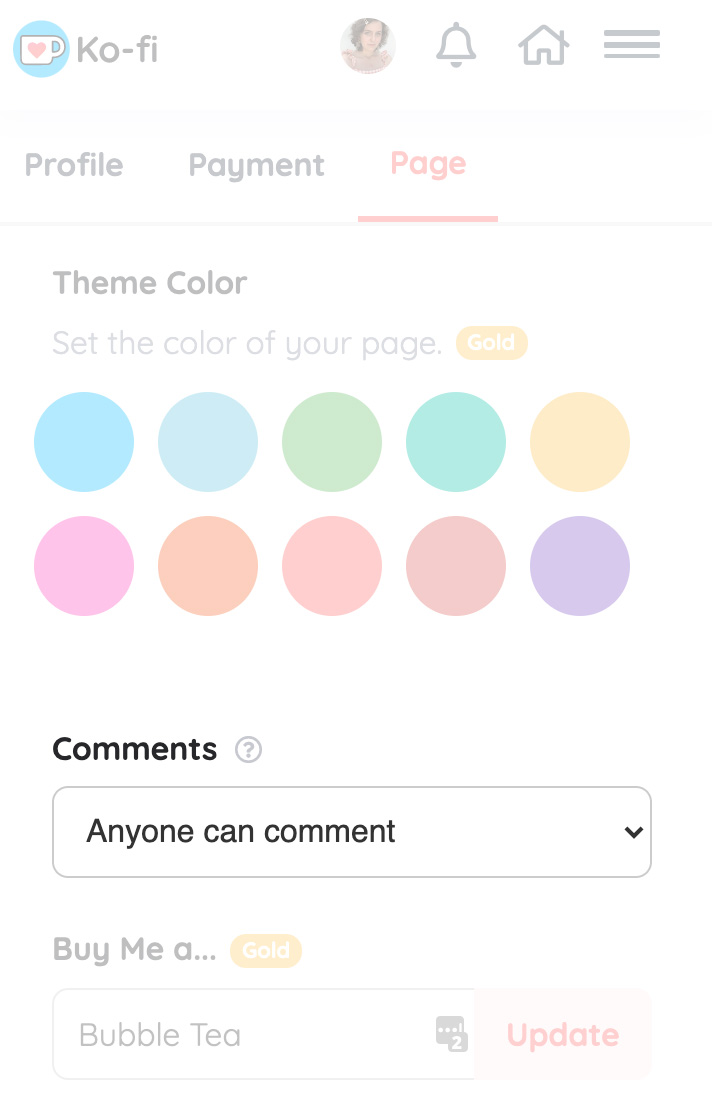 Choose between the following options:
Anyone can comment
Only supporters can comment
After making a selection, your choice will save automatically.
FAQ
How does Blocking/Limiting Supporters on Ko-fi work?
Blocking supporters stops people who have previously donated from donating again. It is only possible to contact a Creator on Ko-fi after making a donation to them, because of this it is only possible to Block or Limit users that have made a donation to your Ko-fi account.
Will Blocking/Limiting a Supporter make them unable to view my profile?
No, Ko-fi profiles are public, blocked supporters are still able to view your profile but they will no longer be able to send you a donation or contact you using Ko-fi.
How do I block someone with a Subscription to my page?
To block subscribers you will first need to cancel their subscription to you through your Stripe dashboard or your PayPal account. After cancelling their subscription, you will be able to Block them using the steps described in this article.
Can I block a user that has not supported me yet?
No, it isn't currently possible to block someone who hasn't donated to you on Ko-fi before. We only have the information we need to block them after making a donation to you.